Worst. Artist. Ever.
Posted on Jan 17, 2014


"To start this workshop, I want you to take out a piece of paper and a pen or pencil."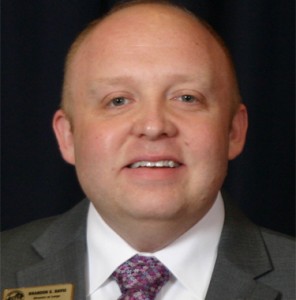 I've attended many leadership workshops and every single one starts with some kind of activity to plunge the audience into the topic. While I'd never heard of Mike Wagner before, I wasn't expecting anything too challenging at this workshop during the American Farm Bureau Convention. I mean I was one of the younger people in the crowd, so Mike would have to propose a fairly simple task, or risk losing the audience from the get-go. There was a likely chance I would ace this activity without breaking a sweat.
"I want you to draw the face of the person next to you."
A slightly painful laugh floated about the room. It was a laugh that said, 'Very funny, but you're not serious, right?' But he was serious and I felt my pulse take on the rhythm of a marching band hyped up on espresso. While the married couple in front of me was ready to take this challenge head on, I lacked their enthusiasm. Unlike them, I didn't know the person next to me.
There was only one thing left to do (other than act like my phone rang and run out of the room), and that was to make eye contact with the person next to me. I turned my head in the same slow way a person would that thinks a serial killer is sitting next to them. As I looked at my impromptu subject, the only relief I felt was the fact his face was absent of a giant mole or eye patch. As we surveyed each other, I said the only logical thing I could think of, "I'm sorry."
The 30 second activity felt like 30 minutes. If I made a list of talents I have, drawing wouldn't be in my top 100. My stick figures never have arms of equal length. Straight lines elude me. I once tried to draw a dog on my whiteboard when I was still teaching, and when I finished most of the class held back laughter. Then one student said, "Mr. Davis that is the most beautiful dog I've ever seen." Of course, the fact that this student was blind (and obviously had a great sense of humor), made the comment fall a little flat. Yes, that is a true story.
As I worked to draw the face of this man, I kept the air full of apologies on my lack of artistic skills. Each stroke of pen solidified the fact I will never have a side job as a sketch artist. I kept my work hidden as best I could.
"OK, time is up. Show your work to your neighbor."
Sheepishly, I turned the page toward my victim. As if the picture wasn't enough proof, I reminded the man that I was not an artist. I was ready to see his drawing, hoping it was equally bad, so I could have a little reassurance. Just seeing another monstrosity would help even the playing field. The man looked at me and said, "I don't have a pen."
The point of the activity was obviously not to test our skills in art, but rather on the way we attack issues in our lives. I was the poster child for what Mike Wagner wanted to prove. When faced with a difficult challenge, the first thing we typically think about is fear of failure. And when our presenter asked how many people apologized to their subject during this activity, I saw I was not alone.
The rest of the workshop revolved around how to embrace creative leadership. While Mr. Wagner did a great job at providing support to his presentation, it was his thesis statement that really stuck with me.
We have to create organizations where people can do something crazy without need for apology.
How many times do we shy away from a task because the risk of failure is present? How many times do we follow one road toward solving a problem, even if we think there is a better way? How nice would it be to work in a culture where we accept that there can be more than one right answer?
Mike Wagner told a story about Norman Bushnell, who asked the question, 'What is the purpose of televisions?' Most of us would say to watch TV programs. But Bushnell listed all the other uses he could think of for a television. Then he asked himself, 'What if TVs were for playing games?' This query resulted in the development of a game you might have heard of before – Pong. In the late 70's he pondered the purpose of pizza restaurants and what if pizza restaurants could be used for entertaining children. The result was his establishment of Chuck E. Cheese. He started with questions with seemingly easy answers, and then asked, 'what if?'
In agriculture, we often like one answer. The simplicity and track record of a proven path brings about confidence and expected results. But if we look at our industry's history, we find we have today's norms because of yesterday's imagination. Thomas Jefferson, George Washington Carver, and Norman Borlaug all believed that the "other answer" could also be the right answer. Will Rogers said, "Even if you're on the right track, you'll get run over if you just sit there."
Fittingly, the theme for the American Farm Bureau Convention this year is 'Our Heritage, Our Future.' We must be mindful of the past while preparing for the work ahead, knowing there is no challenge too great if addressed intelligently, passionately, and proactively.
'What if?' It can paralyze the scared and energize the dreamer. It has built walls and removed barriers. It will halt progress and fuel expansion. But I ask, 'What if we don't?'
Feeding a growing population will not come from complacent minds.
Advocating for the food and fiber industry will not come from fearful hearts.
Formulating a modern respect for the agriculture industry will not come from silent tongues.
Tagged Post Topics Include: AFBF, Annual Convention, Brandon Davis, Leadership, Norman Bushnell, San Antonio, Texas, Workshops