Woodford County's SPARK Community Café Fights Hunger from a Different Perspective
Posted on Jun 8, 2018


VERSAILLES – The issue of hunger is not always easy to see and unfortunately, approximately one in five Kentuckians suffer from some level of food insecurity. Because of statistics like this, many initiatives are being conducted in this state to help combat the problem.

Agriculture Commissioner Ryan Quarles has made this issue a top priority and began a Hunger Task Force comprised of various individuals, including representation from Kentucky Farm Bureau, coming together in hopes of finding answers that would alleviate the problem and to bring attention to its magnitude.
There are also local projects and programs popping up around the state to help bring attention to the fact that many citizens are hungry. A group of young people in Woodford County are taking somewhat of a different approach to do their part in seeing that hungry people have access to healthy meals.
By way of a community café, these college students along with a long list of local supporters are looking to make a difference in their hometown. The idea of becoming involved actually began in a high school class led by now retired teacher Kyle Fannin.
"I created a class call "Community Activism" in which we would look at problems in the community and the students would go out and try to solve them; not as a service project and not as any kind of school project but, in the real world to solve the problem," he said.
Even though Fannin has retired, the class lives on through teacher Andy Smith and with that "problem-solving" mindset, his students took a long, hard look at their community. Through "community building" events that included a pop-up coffee shop and festivals, they found the existence of a food insecurity issue in a place known more for its majestic horse farms.
Fannin said the perception is that Woodford County is a "rich" county, but the reality of its county seat Versailles is, free lunch levels at the public schools are approximately 50 percent and in the city itself, poverty is more prevalent than most realize.
In learning this, the students wanted to find a way to bring food to those who need it, finding themselves ready to take on this real-world issue in a big way.
After some of the students attended a national conference which focused on food insecurity issues, Smith suggested visiting an existing facility in Danville known as Grace Café which would serve as a model. From there the Spark Community Café was born.
This pay-what-you-can type of restaurant is part of a growing network of similar cafes located across the country known as the One World-Everybody Eats initiative.
As part of the process, the students created an official non-profit organization complete with a board of directors to guide the project.
The pay-what-you-can idea
Tristan Ferrell, serves as the café's co-executive director along with Fannin and is a student at the University of Kentucky (UK). He was also one the "Community Activism" students who discovered that issues such as hunger can be combated and done so by a younger generation. He along with fellow Spark board members, former high school schoolmates, and other community members have taken on this task.
"We really didn't know a hunger issued existed here and it has been eye-opening to discover that many people suffer from it," he said. "But the beauty of the community café is that it is a place where all are welcome and we want it to be a welcoming space."
In keeping with the mantra, "a hand up not a hand out," the café invites those who can, to pay a meal forward for those who can't. Those who can afford something, can pay only what they are able to, and those who cannot pay at all, can volunteer their time to the café to "pay" for their meal. And the method by which one handles their payment is done in a way that is unknown only to each individual person.
"The payment process will look no different whether a person is paying forward or if someone is volunteering to pay for their meal," said Ferrell.
Rachael Kral, also a UK student, serves as the Spark board treasurer. She said pride often keeps people from reaching out for help, but Spark can break that pride factor.
"Food insecurity is an invisible epidemic. There are no stereotypes or a model or a posterchild, and it can affect many different people. But most people think if you're hungry you are homeless and that's just not true. It could be your neighbors or your classmates or even your teachers," said Kral.
Keegan Elvidge, serves as the vice-chair of the Spark board in addition to being a UK student, as well. He said the issue of hunger isn't always easily seen.
"I think part of the reason is because people are ashamed to get help, so we, like so many others didn't realize there is a food insecurity issue here," he said. "But we have spent a year educating our community about the café and how it will work."
Community support
That communications effort is paying off. In addition to the mentorship given by Fannin and Smith, many other community members, including business owners, bankers, and the local Farm Bureau agency, have stepped up to become involved.
Maria Bohanan also has provided input to the group based on her experience as a former local business owner and as a member of several local committees and initiatives.
"I am crazy about the program Mr. Fannin started with these students long ago. My daughter was in the first class of 'Community Activism' and was one of the leaders of the Spark movement," she said. "If there was a worry about the future, all you have to do is look at what these young people."
Bohanan also said the space where the café is being located was home to her business for many years and now it has been given a new life by this project. Other notable locals coming to the table to help include Rural Sociologist Dr. Lori Garkovich and Kentucky restaurateur Ouita Michel.
The local food factor
While finding a perfect place and the right people to initiate this project was important, finding the right food was also critical. The Spark board felt as though a healthy local food supply would be the best bet to ensure patrons would be getting a nutritious meal whenever they visited the café.
Jesse Frost and Hannah Crabtree, owners of Rough Draft Farmstead located in Anderson County, have agreed to supply food for the café as well as Frost serving as its executive chef.
"Hannah and I started working with Spark Community Café because we fell in love with the idea and the concept," he said. "As organic farmers, often our produce is too expensive for people who may want to eat better but can't afford it, and we found this idea to be attractive in that we could possibly get our food to people who usually couldn't afford to buy it straight from us."
Ferrell said the idea of bringing local food to the café is something that is really at the center of the project.
"It was really important to us that the food served in the café would not only provide comfort to those who eat there but would be a nutritious meal for them, as well," he said.
How an idea became a Spark
The young people involved in this project may have never dreamed their idea would lead them to a project of this magnitude, but it has along with providing a lesson is how to bring a community together to make the idea a reality.
Fannin said it's exciting to see the initiative the students are taking in making this project happen but it takes all the community partners.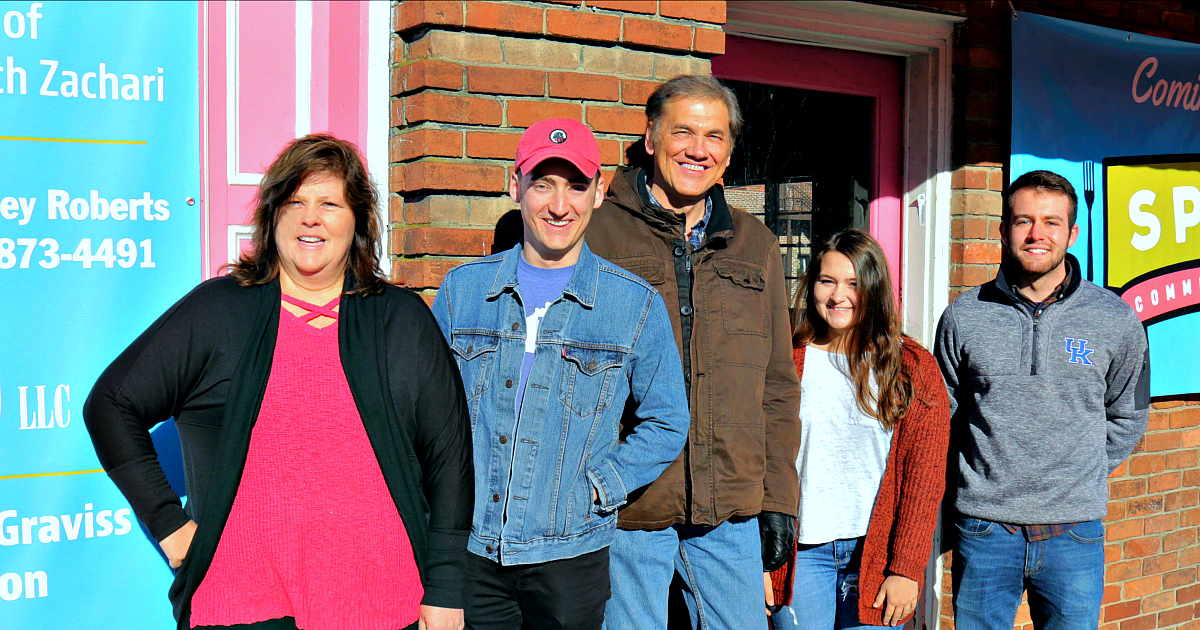 "I don't know that we would have had the confidence to do this without them," he said.
Ferrell said the journey has provided a good dose of reality in recognizing all that is needed to bring Spark to fruition.
"We have been a little surprised to find out how much certain things cost that are crucial to the operation of the café, including $40,000 for an oven hood," he said. "But we have never been daunted by the details and we couldn't ask for better community partners and the support they continue to give as we bring this idea to life."
A recent open house was held to give local citizens a glimpse of the café at this point. A grand opening is planned for August.
The Spark Board: Kyle Fannin, Tristan Ferrell, Rachael Kral, Keegan Elvidge, Katie Beth Craig, Reagan Jobe, Lori Garkovich, Ouita Michel, Andy Smith, and Maria Bohanon.
To learn more about Spark Community Café, visit their website: