Wife, Mother, Farmer: Let the Juggling Act Begin
Posted on Jan 26, 2015


Have you ever caught a glimpse of yourself in the mirror and asked, "Where did I go?" ,"Who is that?" ,"Do I really look that bad?"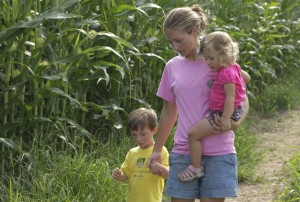 As a wife, mother, and farmer, I'm certain that I do that more often than the average 34 year old female. When we, as women, sign-up for these roles in life, we are raising our hand announcing to the world that we are a walking, talking Juggling Act. Let's face it, our plates are full.
At this year's Young Farmer Winter Conference we are addressing this very sensitive topic with the mothers, wives, single women thinking about joining a farmer, and actual women who farm. Saturday, just after lunch, we are having a gathering titled Wife, Mother, Farmer: Let the Juggling Act Begin.
My husband and I took the leap of faith in 2008 as we began full-time farming with 27 acres of tobacco, a newly purchased bare piece of land, a newborn in tote, a whale of a dream and a deeply rooted passion. After lots of expansion on our farm, the steep learning curve of developing enterprises and markets, many trials and errors, way too many all-nighters, and four children, I'm a work-in-progress while trying to keep priorities in line. I'm not alone is this quest to keep the balls in the air at the same time when you are a wife, mother, and farmer. When we've accepted the opportunity to be a Wife, a Mother, and a Farmer it becomes our responsibility to keep going when the going gets tough.
I have no doubt it will be enlightening, encouraging, and embracing to discuss our efforts amongst our peers. Are we going to solve it? No. However, without a doubt it's OK to re-focus your priorities as life unfolds, and it's humbling to make continual effort to re-hone that "look in the mirror". During late January when we've all spent the last few weeks hashing out last season's ups and downs, getting ready to hammer in on a new year, what better way for those of us with with a bond of family and farming to focus on what is our most important crop.
Tagged Post Topics Include: Farmer, Mary Courtney, Mother, Wife, Young Farmer Winter Leadership Conference