Vote for your Local Food Hero through Aug. 5
Posted on Jul 27, 2015


Frankfort, Ky. — Kentuckians are invited to select their favorite farmers in online voting for the 2015 Local Food Heroes through Aug. 5. The Local Food Heroes awards are a partnership of the

Kentucky Department of Agriculture

,

Seed Capital KY

, and

Louisville Metro Government

and are sponsored by

Farm Credit Mid-America

.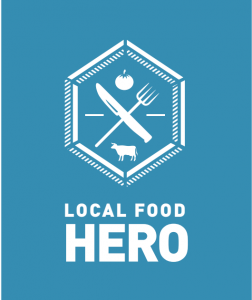 "This is a great way to publicly say 'thank you' to the Kentuckians who produce the food we eat," Agriculture Commissioner James Comer said. "This award also raises awareness of the many great food producers we have right in our own backyard. I hope every Kentuckian will go online and vote for their Local Food Heroes."
To vote, go to www.seedcapitalky.org/local-food-hero-2015-voting/. To find a farmer you would like to vote for, enter his or her name and click "Search."
If you don't have the name of a farmer in mind, you may use a link that allows you to scroll through the names and profiles of Kentucky Proud producers.
If you don't see the name of the farmer you'd like to vote for, another link allows you to nominate a producer.
The 2015 crop of Local Food Heroes, the top three vote-getters statewide, will be recognized by Louisville Mayor Greg Fischer and Commissioner Comer during the 2015 Kentucky State Fair, which runs Aug. 20-30 at the Kentucky Exposition Center in Louisville.
Seed Capital KY created the Local Food Hero Awards in 2013 as a way to publicly show appreciation for those who make it possible for Kentuckians to enjoy farm-fresh, locally-grown food.
The 2014 Local Food Heroes were Brooke Eckmann of Finchville, Russell Poore of Russellville, and Jacob Sharpe of Georgetown.
The 2013 Kentucky Local Food Heroes were Ramsi Kamar of Louisville, Michael Lewis of Berea, and Clay Turner of Russellville.
Tagged Post Topics Include: 2015, Agricultural Commissioner, Award, Berea, Brooke Eckmann, Clay Turner, Farm Credit Mid-America, Farmers, Finchville, Food, Frankfort, Georgetown, Greg Fischer, Jacob, James Comer, Kentuckians, Kentucky, Kentucky Department of Agriculture, Kentucky Exposition Center, Kentucky Proud, Kentucky State Fair, KY, Local Food Heroes, Louisville Major, Louisville Metro Government, Michael Lewis, Ramsi Kamar, Russell Poore, Russellville, Seed Capital KY, Sharpe, Vote