USDA raises estimates for US corn supply
Posted on Sep 14, 2012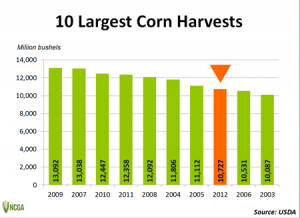 (NCGA: September 12) More U.S. corn will be available in 2012 and 2013 than previously anticipated, according to a U.S. Department of Agriculture report released Wednesday. Despite reductions to the corn production forecast, revised forecasts indicating higher projected carry-in increased overall supply estimates by 108 million bushels.
"The estimates released today illustrate how, even under such adverse conditions, U.S. corn farmers provide the corn that our nation needs," said National Corn Growers Association President Garry Niemeyer, a grower in Illinois. "Additionally, the increased overall supply further shows what our members have understood all along, that you cannot count the corn before it is harvested. In light of this, I hope that cooler heads prevail both in the media and our government. With harvest less than a quarter complete, we need to wait patiently for a clearer picture of the crop to emerge."
Estimated U.S. corn production in 2012 did decrease by 52 million bushels, with the national average yield dropping slightly to 122.8 bushels per acre. The slight decrease resulted in a total production estimate of 10.7 billion bushels. Increases in projected production across the South, where an early harvest is boosting currently available supplies have partially offset lower yield and production estimates in the Corn Belt and Central Plains.
The report also forecasts that total U.S. corn use in the 2012-2013 crop marketing year will be higher than previously expected, with increased expectations for feed and residual uses, which rose by 75 million bushels from August estimates, more than offsetting lower projected exports. Export projections for both the 2011-2012 and the 2012-2013 crop fell this month, by 10 million bushels in the current year and 50 million bushels in the next. The lowered estimates come as the pace of shipments continues to slow and competition from lower-priced South American supplies increases.
Ending stock projections for the 2012-2013 crop rose by 83 million bushels this month to 733 million. As estimated supplies increased, the projected corn season-average price dropped by 30 cents, now ranging from $7.20 to $8.60 per bushel.
For the full report, click here.
Source: Courtesy of National Corn Growers Association
Tagged Post Topics Include: Corn, Garry Niemeyer, NCGA, USDA