USDA predicts record corn crop despite early challenges
Posted on May 10, 2013


WASHINGTON, D.C., May 10, 2013 –

The May

World Agricultural Supply and Demand Estimates

report released today by the

Agriculture Department

shows that a record corn crop is still reachable despite a slow start to planting season, according to

American Farm Bureau Federation

analysts.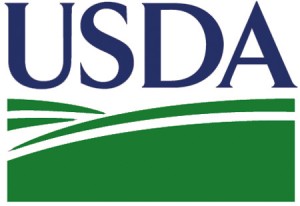 The report forecasts a corn yield of 158 bushels per acre, implying a record crop of 14.14 billion bushels, up 3.36 billion bushels from 2012 when much of the nation was overtaken by severe drought. The current record corn crop was produced in 2009 at 13.09 billion bushels.
"We are currently experiencing the latest planting season in nearly three decades across the Corn Belt due to extensive snow, rain and cool weather," said AFBF economist Todd Davis. "The May report reflects concerns due to heavy soil moisture. As of May 5, 12 percent of the U.S. corn crop was planted—only 8 percent in Iowa, 7 percent in Illinois and 8 percent in Indiana."
The report projects that if this large crop is realized, corn stocks could increase to slightly more than 2 billion bushels, reducing forecast farm-level price to less than $5 per bushel. This is down from $6.90 per bushel for the 2012-13 marketing year.
Davis said export predictions are down from the February outlook conference and use projections may be overly generous.
"The U.S. will still have to compete in the export market this fall with Brazil, which will be producing its second corn crop of the year," explained Davis. "USDA use projections might be optimistic moving forward. They are predicting a 925 million bushel increase in feed use and a 550 million bushel increase in exports from 2012-13."
Like corn, the May WASDE report also forecasts a record year for the soybean crop, projecting 3.39 billion bushels, up 375 million bushels from 2012. Soybean stocks are expected to increase to 265 million bushels, up 140 million from 2012-13 marketing year, with the stocks-to-use ratio at 8.1 percent. The farm price for the crop is also down from the year before, from $14.30 per bushel in 2012-13 to $10.50 per bushel.
The U.S. soybean crop will also have to compete with the South American crop that will be harvested six months into the marketing year. Due to the counter-seasonal production cycle, the marketing window for U.S. soy exports can be fairly short.
Davis said ultimately the weather will be the deciding factor of the report's predictions.
"All of this is still in the hands of Mother Nature. She will dictate the weather to allow for the amount of corn and soybeans that will be planted and the growing season weather," Davis said. "The May WASDE is a good starting point for the projections but there is a long way to go before the uncertainty of 2013 production and stocks become resolved."
Source: Courtesy of American Farm Bureau Federation
Tagged Post Topics Include: AFBF, Brazil, Corn, South America, Soybean, Todd Davis, USDA, World Agricultural Supply and Demand Estimates