UK Robinson Forest welcomed the curious
Posted on Jun 22, 2017


CLAYPOLE, KY (June 5, 2017) - University of Kentucky researchers regularly make the drive into Robinson Forest, but on a flawless June Saturday, local residents had the chance to see what the researchers see as they attended the first Robinson Forest Field Day.

Sunlight ricocheted around a green, breeze-stirred canopy. Buckhorn Creek scurried in its rock-strewn channel alongside the road, its surface diamond-studded from darts of sunlight. And then beyond the gate and beside Clemons Fork, lies the large camp where UK forestry, entomology, and natural resources and environmental science faculty, staff and students spend days or weeks studying the lessons the forest has to teach.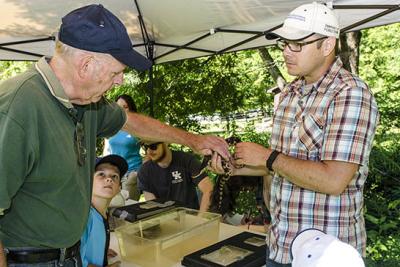 "This is an opportunity to bring the local residents in to show them what we do in Robinson Forest and why these projects and the research and programs we put on here are important," said Chris Osborne, forest manager. "It's one thing to say to folks, 'Hey, we do research in Robinson Forest,' and it's another thing to tell them the kinds of things we're studying and the impacts that have come from those studies. Yes, we've done some timber harvesting in Robinson Forest, and because of that, state best management practices for logging have changed, and because of that, water quality in logged areas has improved. And we've done invasive species work here that has led to programs going into the U.S. Department of Agriculture farm bills."
Robinson Forest is part of the UK College of Agriculture, Food and Environment. Managed by the UK Department of Forestry, in cooperation with the Robinson Center for Appalachian Resource Sustainability in Quicksand, the forest is a collection of eight tracts totaling 14,800 acres on the Cumberland Plateau in southeastern Kentucky. It is one of the largest research and educational forests in the eastern United States.
For four hours, a steady stream of visitors arrived at the forest, some to relive childhood memories, others because they had heard about Robinson, but had never seen it.
Osborne said one of the day's objectives was to educate his guests by giving them some forest management information, teaching them how to identify trees, and providing the youngsters a chance to hunt for aquatic critters in Clemons Fork. Guests were able to make their own cutting boards from native woods, as a souvenir of their visit.
It was Virginia Sallee's first trip to the UK forest. The Jackson resident had heard stories, of course, because her father was the electrician who wired the camp dining hall. She was very impressed with what she saw.
"I love it," she said.
"She wants to stay," said her husband, Ray David Sallee.
"If I lived here, I would only leave once a month to buy groceries," she said, laughing.
Adna and E.B. Clemons drove in from Somerset for the day. E.B. grew up in Jackson and had never been to the forest, but Adna grew up in Buckhorn and had played there as a child. At 72, she wanted to see it again, especially to revisit the fire tower, a structure that loomed large in many visitors' childhood memories.
A video welcomed visitors and explained some of the research that has come out of work in the forest. And then they were able to get face to face with aptly named red and spotted salamanders and snakes—docile corn and rat snakes and the more threatening timber rattlesnake and copperhead. Children draped the corn snake around their necks without hesitation, and UK Forestry doctoral student Tom Maigret was happy to scoop up a copperhead to show a guest, from a safe distance, the distinctive colored head of one of Kentucky's four venomous snakes.
Phillip Arant, working on his master's degree in forestry, was on hand to talk about his study of northern long-eared bats, which used to be the most common bat in the forest – as common as the American robin, Arant said. That was before the disease white nose syndrome devastated the population.
"We didn't learn a lot about their ecology before this," he said, "so now we're trying to catch up."
One of the things researchers don't know is how the northern long-eared bat is impacted by forestry treatments, so Arant is working with UK Forestry Professor Mike Lacki to study that.
UK forestry graduate student Jake Hutton was on hand with his professor, Steven Price, to talk about his study that examines the effects of mountaintop removal mining practices on salamander populations.
"Amphibians in general are considered pretty good biological indicators, so their abundance can really tell us how healthy an environment is, especially when we think about water quality," he said.
Jeff Stringer, UK Department of Forestry interim chair, has worked on projects in the forest since the mid-1980s.
"We can do research studies here that help us improve the health and vigor and economic value of forests," he said. "Back in 1983, we did one of the first projects in Kentucky that looked at the impact of timber harvesting on water quality. Since then, other studies have addressed that, as well. We've had other projects that look at how loggers can selectively harvest in the woods and still leave high quality trees there. That research has yielded valuable results that we can use here in Kentucky to help grow better forests."
Stringer has worked on studies looking at American chestnut restoration efforts and white oak regeneration—valuable from a distillery industry perspective, since white oak is the stuff from which whiskey barrels are made. He is also the creator and leader of the Kentucky Master Logger program. Regional training for loggers is done onsite in the forest, giving industry professionals first-hand experience they can take back to their own job sites.
"Robinson Forest represents a unique situation where we conduct research that helps us solve problems here in Kentucky, as well as a place where we can offer education and training for those who are involved in forestry to help landowners and to benefit the state," Stringer said.
Contact: Chris Osborne, 606-666-9995, chris.osborne@uky.edu