UK Ag Biotech student to serve on Agriculture Future of America student advisory team
Posted on May 8, 2018


LEXINGTON, Ky. l By: Aimee Nielson

Fabian Leon is motivated and determined to make a positive impact on the world. As a junior at the University of Kentucky studying agricultural and medical biotechnology, he is off to a good start.

From internships and work experiences to leadership and volunteer opportunities, Leon, a Nicholasville native, pursues experiences that set him apart from his peers and prepare him to pursue a career in agriculture and biotechnology. Recently, he was selected as an Agriculture Future of America student advisory team member.

AFA is a leader and professional development organization for collegiate leaders and young professionals. Providing leadership development, intern support and scholarships, AFA seeks to be a catalyst in the preparation of a new generation of agriculture leaders. Leon and his fellow team members serve as ambassadors between AFA and their college campuses and AFA's corporate partners.

"The biggest value in the organization lies in its people," Leon said. "AFA has allowed me to network with some of the best and brightest college students in my field."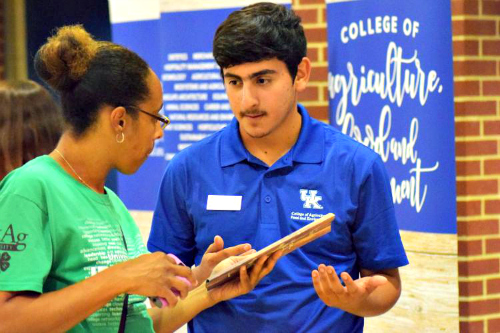 Leon and the other nine team members were selected through a competitive application process to serve as AFA's student voice and represent their peers on a national level. Leon said he is looking forward to his experiences with the team.
"I am extremely excited to participate in parts of AFA I haven't seen yet," he said. "I hope to see and learn about parts of global agriculture that I haven't explored yet."
A major component of the student advisory team's responsibilities is planning the 2018 AFA Leaders Conference. Held Nov. 1-5 in Kansas City, Missouri, this event is AFA's core leader development program with more than 800 delegates attending. The student advisory team and 16 AFA campus ambassadors met in April to kick off the planning process with team training and theme setting exercises.
"AFA Leaders Conference brings together leaders in agriculture from colleges around the nation," Leon said. "This dynamic makes for a tremendous atmosphere where there is much to learn."
Leon describes himself as an agriculture enthusiast and aspiring plant scientist. He hopes to eventually pursue at doctoral degree in plant and soil sciences. He is a 2017 Wallace-Carver Fellow and a UK College of Agriculture, Food and Environment Ambassador, and he is currently serving as the undergraduate parliamentarian for the national Minorities in Agriculture, Natural Resources and Related Sciences organization.