Truly a "haven", Adair County farm market caters to kids
Posted on Oct 2, 2013


Children, farm animals and farm life are high on Delaina Russell's list of favorites, and it shows in the business she operates on an Adair County farm. Usually with her three children in tow, she runs the market and agritourism activities at

Heavenly Haven Farm

, which is a participant in

KFB's Certified Roadside Farm Markets

program.
Located in a remote area along the Adair-Taylor County line about 12 miles southeast of Campbellsville, Heavenly Haven Farm is the product of Delaina's passion for a life on the farm and a close tie to children and nature. She was raised on a farm that adjoins the 147-acre tract that she and her husband, John Russell, acquired from her parents in 2009. At that time, the Russells were living in his native Washington County, where Delaina was working as a veterinary assistant and had just given birth to their first child.
For Delaina, the move back home opened up an opportunity for what she describes as "a dream come true." As John was establishing a farming operation with corn, tobacco, cattle and sheep, she put together an agritourism destination geared toward the popular fall season. This involves the production of such fall staples as pumpkins, mums and gourds. But the main focus is on drawing groups of children from schools, churchs and various youth organizations like the Girl Scouts. And so the farm's attractions include hiking trails, a picnic area, playground, corn maze and petting zoo.
Reflecting Delaina's love of farm animals, she has horses, pigs, sheep, goats, peacocks, chickens, turkeys, rabbits and a milk cow. "I really enjoy watching children react to the animals," she said. "I give them a little presentation with the cow, explaining how they get their milk. I also do something on the lifecycle of a pumpkin, to give them some knowledge about plants."
Meanwhile, this is the first season for a new market building with restrooms and a kitchen. The abbreviated season runs from early September until November, with the conclusion of the fall-Halloween rush.
And it is indeed a frantic couple of months, Delaina said. "Especially near Halloween; we're real busy with the haunted corn maze."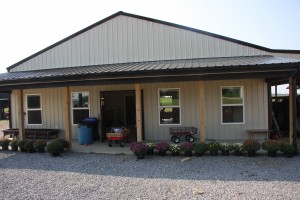 She not only promotes her business through the KFB program, but also goes to county fairs, festivals and other events. That and word-of-mouth from teachers and others have enabled her to attract groups from several area counties.
"We are centrally located, only 13 miles to Columbia, 11 to Campbellsville, 18 to Liberty and about 20 to Russell Springs, so they can get here in a reasonable amount of time," said Delaina.
One special source of satisfaction is the involvement of Taylor County FFA with operating the haunted corn maze. Delaina was in FFA at Taylor County High School.
"I've always felt that it's a privilege to live on farm," she said. "The land, the work ethic, the challenges . .it's just really a special way of life. I used to play in the creek down below the hill there toward my parents' farm. We're about a mile and half from their place. I never would have dreamed that I'd be back here like this."
The previous owners put the farm up for auction in 2008 so they could move to Indiana. Dwain and Theresa Brockman had the winning bid, and then sold the tract to John and Delaina a year later, according to Delaina.
Heavenly Haven is truly a diversified operation. Besides the aforementioned commodities, a huge field of soybeans (leased to another farmer) surrounds the winding gravel road that leads to their home and market building. The Russells also sell fresh lamb, beef and pork year-round. "All the meat is harvested here," Delaina said. "I'm all about knowing where my meat comes from."
As for the future, she wants to develop the market center, but not necessarily expand the sales season because she quite busy with children Hayden (5), Lucas (2) and Mason (4 months). "I kind of do everything with the kids," she explained.
Tagged Post Topics Include: Adair County, Agritourism, Campbellsville, Certified Roadside Farm Markets, Columbia, Corn maze, Delaina Russell, Dwain Brockman, Fall, Festival, Girl Scouts, Heavenly Haven Farm, John Russell, Liberty, Pumpkin Patch, Russell Springs, Taylor County, Taylor County FFA, Theresa Brockman, Washington County