Third quarter Marketbasket Survey shows slight drop in Kentucky's retail food prices
Posted on Oct 26, 2015


LOUISVILLE, Ky. (Oct. 22, 2015)

– For the third quarter in a row, the average price of retail food items across the Commonwealth has decreased according to the latest Kentucky Farm Bureau (KFB) Federation's latest Marketbasket Survey.

The survey, taken in September, denoted the average total cost of 40 basic grocery items was $121.64, a 3.5 percent or $4.47 decline over the second quarter results.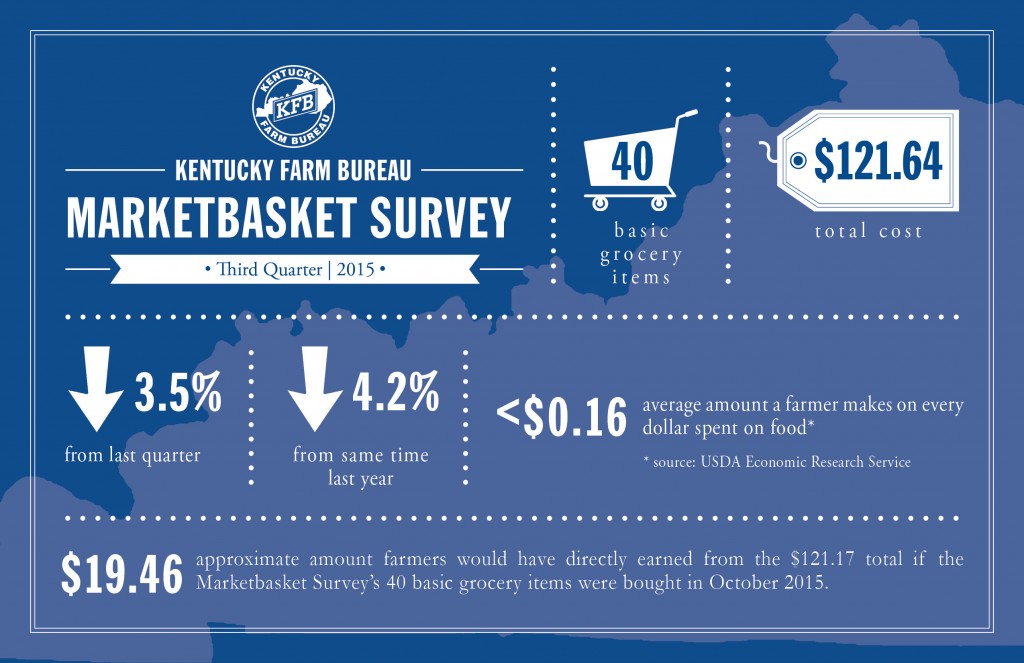 The continued drop in food prices across the state is in contrast to last year's increases that were indicated in all four of the KFB Marketbasket Surveys. The final quarter of 2014 showed the average price of surveyed items to be $129.14. Third quarter totals this year, indicated a 5.8 percent decline so far in 2015.
While food prices have been on the decline statewide, the latest results indicate it has taken all year for prices to fall back below 2014 second quarter levels. The average price of the 40 items surveyed in June of 2014 was $122.23.
Food index averages at the national level, according to the U.S. Department of Labor's Bureau of Labor Statistics' most recent Consumer Price Index (CPI) data, reflected increases of 0.4 percent in September after rising 0.2 percent in August. The CPI data shows that the index for food-at-home rose 0.3 percent in September, the same increase as in August.
Nationally, food prices could remain on the increase. According to information from the USDA Economic Research Service, in 2016, ERS predicts supermarket prices to rise 2.0 to 3.0 percent—a rate of inflation that remains in line with the historical average. That prediction is based on the assumption of normal weather.
Marketbasket Survey specifics:
In KFB's third quarter Marketbasket Survey, the overall trend of decreasing prices was spread across commodities with the exception of poultry and dairy products. Grains experienced the largest decline of nine percent followed by beef, with a 7.5 percent decrease, and pork with a 4.3 percent fall. Poultry price increases amounted to 2.4 percent while dairy products experienced a 2.2 percent increase.
Overall, 28 of the surveyed items saw decreases over the second quarter prices. The largest single item drop came from Rib-eyes which experienced a decline of $1.75/lb. followed by sausage which dropped $0.49 and T-bones with a $0.41 decline.
Conversely, eggs and extra-large eggs saw increases of $0.33 and $0.48 respectively. Bacon increased by $0.25/lb. and represented the only pork product that increased in the third quarter.
The Marketbasket Survey's top three average price decreases reported for items in the second quarter of 2015 were:
ITEM June 2015 Sept. 2015 PRICE DECREASE
Rib-eye $11.92 / lb. $10.17 / lb. -$1.75 / lb. or -14.68%
Sausage $6.01 / 2lbs. $5.52 / 2 lbs. -$0.49 / 32oz. or -8.15%
T-bone $11.02 / lb. $10.61 / lb. -$0.41 / lb. or -3.72%
Agricultural Economics in Food Prices:
Whether or not U.S. grocery prices fluctuate from one quarterly survey to the next, Kentuckians and all Americans continue to enjoy some of the lowest food prices in the world. Shoppers in the U.S. spend only about 10 percent of their disposable income on food each year. Those costs remain far lower than any other country in the world thanks to many of the agricultural efficiencies utilized in America. Today the average U.S. farmer produces enough food and fiber to provide for about 154 people – a significant jump from an average of 19 people per farmer back in 1940.
Yet while more food is now being produced on less land, the farmer's share of the retail food dollar in America is down. According to the USDA's Food Dollar Series, a farmer earns less than 16 cents per dollar spent on food, down significantly from the 31 cents earned in 1980.
Tagged Post Topics Include: Bacon, Beef, Consumer Price Index, Cottage Cheese, CPI, Dairy, Economic Research Service, Eggs, ERS, Food, Food Prices, Fruits and Vegetables, Grains, grocery, Grocery Prices, Ground Beef, Inflation, Marketbasket, Marketbasket Survey, Pork, Poultry, United States Department of Agriculture, USDA