The Faces of H-2A
Posted on Aug 9, 2022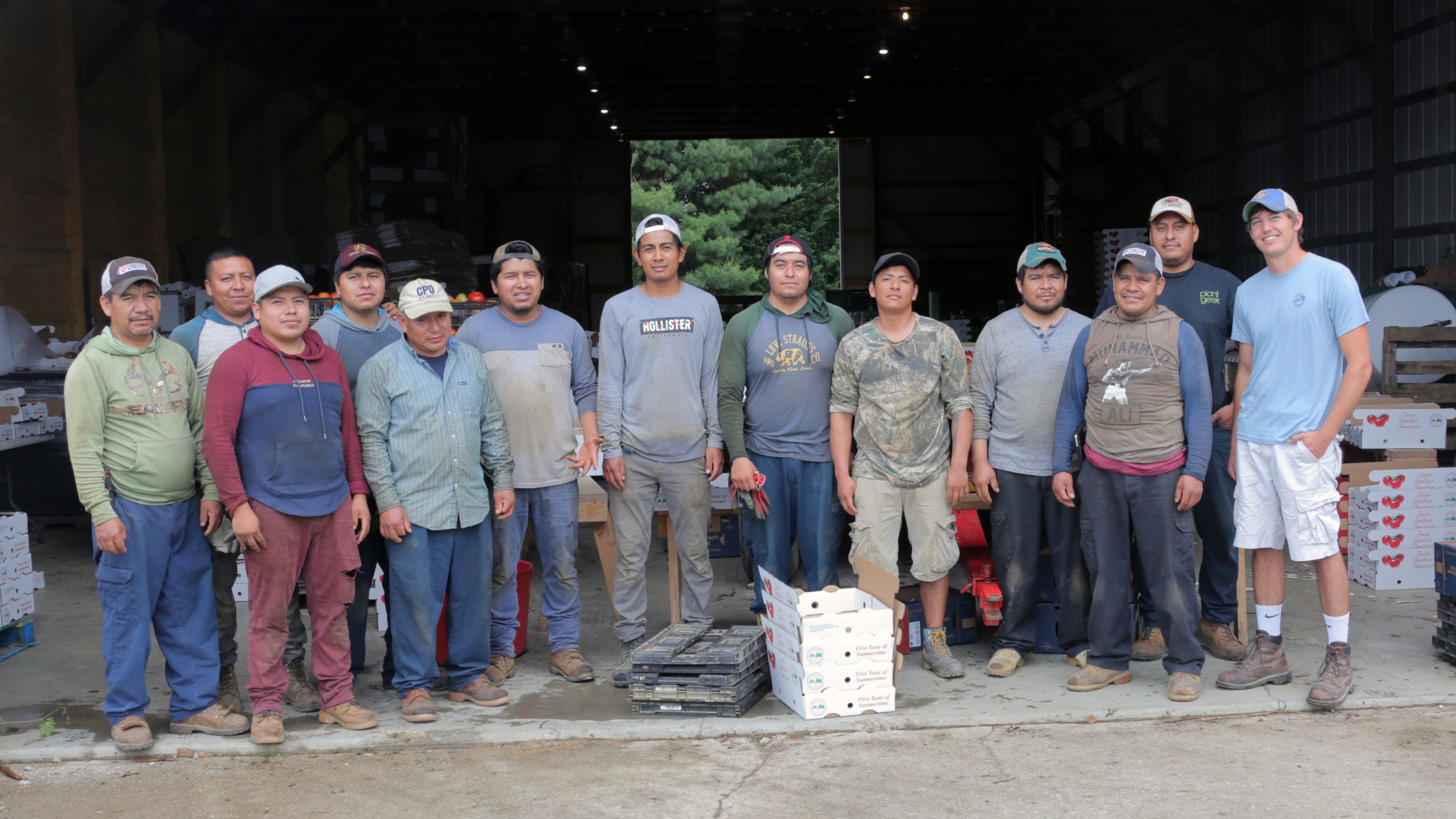 The large greenhouses located on the Jones Brothers Farms are a common sight for passersby in this small Gallatin County town. They are full of tomato plants by the thousands and are somewhat of an unusual sight to see, but have become a mainstay on the farm, along with other produce and a large tobacco operation.
The brothers, Taylor and Zac Jones, have created one of the largest tomato-growing systems in the state and are delivering their tomatoes, and other homegrown produce, to several surrounding states, as well as to local groceries and businesses closer to home.
On any given day, the delivery trucks rolling in and out of the main farm entrance pick up hundreds of boxes of produce headed to distances near and far.
But with such a large operation, adequate labor becomes an issue if there aren't enough workers to keep the farm running and the produce picked and packed for delivery at just the right time.
Taylor Jones said the farming operation moves forward because of many reasons, not the least of which is the hard work provided by the guestworkers he employs each year to make it happen.
"Between our tomato business and our burley tobacco operation, we will have about 30 H-2A workers throughout the course of a year," he said. "To be honest, we would be out of business if not for these guys and this program."
Julio Pedraza and Valentin Tepetate are two of those workers, both with a long history of working with the Joneses each year.
And while the two are very different people, they have very similar reasons for participating in the H-2A program.
Pedraza, the younger of the two, has been coming back to this farm for the past eight years, and does so because of the opportunity it provides for him and his family.

"I help my father who raises sheep at home but, I don't have an established job in Mexico," he said. "So, working in the U.S. provides a very big opportunity to support my family."
Pedraza began working through the H-2A program when he was 18. He said he has learned many things about agriculture since then, including how to raise the tomatoes and other produce grown on the Jones Brothers Farms, as well as operate farm machinery.
"I like working here because I've learned so much, but the best thing would be the salary compared to that in Mexico," he said.
Pedraza has become accustomed to the farm and the other workers and said they are like family to him, now.
"Being here is like being with family because we're together all the time," he said. "But the most difficult thing for me is to be away from my little girls. I have two daughters. The smallest is three."
Pedraza grew a little emotional when speaking about his family, which seems to be the case for many of the guest workers. However, the other common denominator is the opportunities they find in coming to this country to work on family farms.
"It's been very good to work with Zac and Taylor," he said. "They have provided a lot for me and have taught me quite a lot."
While he is happy for the work, being away from his family in Mexico can often take its toll for Pedraza.
Taylor Jones said if the H-2A program was better suited to allow more frequent travel back and forth to Mexico for these workers, as well as allowing their family members more opportunities to visit here, he believes it would be beneficial not only to those workers but to the employers here in the U.S.
"I realize these guys miss their families very much, and there have been occasions when we were able to get some of their family members here for a visit, but the system is often hard to navigate, and expensive, too," he said. "I feel as though if it were easier to get these guys home more often, it would take a lot of stress off of them, which in turn helps them emotionally and benefits us, as well."
Pedraza dreams of being with his family more but knows by working here, he can build a better life in Mexico for himself and his family.
"I don't know what the future holds so, in coming here, I can make the money to invest in my future and the future of my family."
Tepetate, from the Mexican state of Hidalgo, has worked with the Joneses for a decade and, like other guest workers, he finds opportunities in the U.S. he can't find in Mexico.
"I don't have work in Mexico, so I come here to provide for my family," he said. "I need to come here to have money to provide for them, to give my children an education and a good start in life."

Tepetate has a wife of 20 years and three children ranging in age from 10 to 20 years old. And while he enjoys the work here, leaving his family for such long periods throughout the year is difficult for him. Many H-2A workers are in the U.S. for up to 10 months at a time.
"I miss my family," he said. "To be far from them, it's the only hard thing about coming here to work. But we're like family here with Zac and Taylor. We're friends."
As for the future, Tepetate said he would like to continue to come to the U.S. to work.
"I would like to be here in the future and to bring my family here to be with me," he said. "That's all I want."
Editor's note: Spanish-English interpretation and translation provided by Camryn Clift