Students Will Cook For Scholarships at the Third Annual Junior Chef Competition
Posted on Aug 19, 2015


LOUISVILLE, Ky. – Fifteen high school teams from across Kentucky will compete for scholarships and the coveted championship trophy at the third annual Kentucky Proud Farm to School Junior Chef Tournament during the Kentucky State Fair at the Kentucky Exposition Center.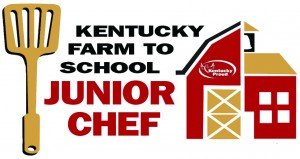 "The Junior Chef competition enables students to develop food preparation skills that will last a lifetime," Agriculture Commissioner James Comer said. "It also teaches students the importance of buying local Kentucky Proud foods. I look forward to a fun and competitive tournament."
All competitions will take place at the Gourmet Garden Stage in the lobby of South Wing A. The championship round is scheduled for Aug. 28 at 10 a.m.
The teams will compete for more than $70,000 in scholarship money from Louisville-based Sullivan University. Sullivan will offer a $6,000 scholarship to each member of the champion team; a $4,000 scholarship to each member of the runner-up team; and a $2,000 scholarship to each member of the other two semi-finalist teams. Sullivan also will present a knife set to the winning team. John Wiley & Sons will award $600 to the winning team and will present a copy of "The Visual Food Lover's Guide" to every contestant. An "All Junior Chef Team" and a "Top Chef" will be named at the championship cook off.
Junior Chef encourages high school students to learn how to cook by using local ingredients to prepare healthy meals while at the same time teaching students about agriculture, marketing, organization, teamwork, and community involvement.
"Research shows that students in schools with farm to school programs eat more fruits and vegetables and are more willing to try new, healthy foods," said Robin Bailey Jr., Southeast Regional Administrator for the USDA's Food and Nutrition Service, who will join the panel of judges for the finals. "Kentucky's Junior Chef Tournament is an innovative approach to get students involved in Farm to School."
The Junior Chef season begins with district competition in the spring and continues with regional matches to determine the teams that will advance to the state tournament. Junior Chef teams are made up of three to five students in grades 9-12. More than 152 students from 38 teams participated this year.
The Junior Chef competition is part of the Kentucky Proud Farm to School Program, which helps Kentucky schools purchase local foods to serve to their students. Children get fresh, nutritious foods to help them grow up healthy and strong. Local farmers get another market for their farm products.
The Farm to School Program and the Junior Chef competition are administered by the Kentucky Department of Agriculture. For more information, contact Tina Garland, the KDA's Farm to School Program Administrator, at (502) 382-7505 or tina.garland@ky.gov, or visit www.kyagr.com/junior-chef.
Press release courtesy of the Kentucky Department of Agriculture
Tagged Post Topics Include: Agriculture, Chef, Commissioner of Agriculture, Community Involvement, Food, Food and Nutrition Service, Fruits, Gourmet Garden Stage, Healthy Meals, Ingredients, James Comer, John Wiley & Sons, Junior Chef, Kentucky Exposition Center, Kentucky Farm to School, Kentucky Proud, Kentucky State Fair, Marketing, Organization, Preparation, Robin Bailey, South Wing, Sullivan University, Teamwork, USDA, Vegetables