Steve Wilson and Laura Lee Brown receive the 'Linda Bruckheimer Excellence in Rural Preservation Award' from Preservation Kentucky
Posted on Oct 10, 2017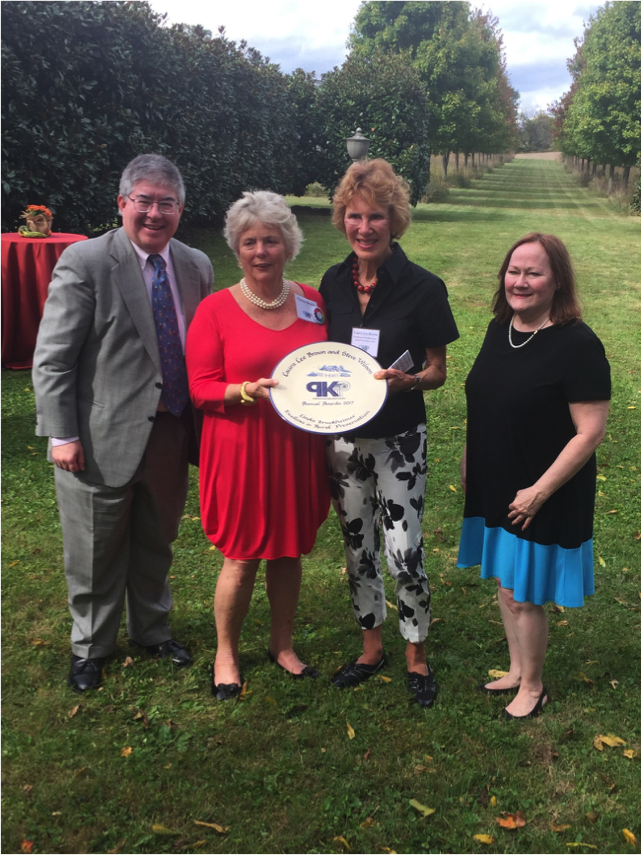 October 10, 2017 (Louisville, KY): The Annual Excellence in Preservation Awards Ceremony was held on Saturday, October 7th at the Historic John Dale House (Hosted by John David & Mary Helen Myles) near Simpsonville, KY.
The Excellence in Rural Preservation Award is committed to preservation leaders, projects, or programming devoted to preserving Kentucky's important rural heritage. This includes small town preservation, barn and farmland preservation, rural heritage-based education projects, and historic architectural or archaeological survey and National Register of Historic Places work intended to preserve rural properties.
Together, Steve Wilson and Laura Lee Brown purchased 700 acres of land named Hermitage Farm in 2010 to ensure it would not be turned into a housing development. Over the past 14 years, they have successfully transformed the farm into a world-renowned Thoroughbred horse operation and a scenic location for weddings and events. They are also in the process of creating a full bourbon experience, as well as farm to table dining options.
Upon receiving the award, Laura Lee Brown stated, "Steve and I are very honored to receive this recognition. We were surprised when we found out that this award was going to be given to us. It seems a little strange to be honored for doing what seems right and natural… Together, we realized land conservation is one of our core values. Kentucky's beautiful, wide open green spaces are its most valuable asset!"