Salty story . . . New book extols country ham's heritage
Posted on Mar 1, 2015


By: Ray Bowman
Kentuckians like their country ham.
For conformation look no further than the KFB Country Ham Breakfast at the State Fair, where well over a thousand guests enjoy the famous salted pork and businesses spend hundreds of thousands of dollars for the blue ribbon winner.
Country ham also has a State Fair spotlight over in Cloverville, where 4-H members have their prized pig parts on display and also compete to see who can present the best three to five minute speech on preparation of a country ham.
The honored yet humble epicurean enigma also warrants three of its own festivals each year; Marion County Ham Days in Lebanon, the Trigg County Country Ham Festival in Cadiz, and the Spring Hill Country Ham Festival in Spring Hill, TN.
It's a big deal. But how did it get that way?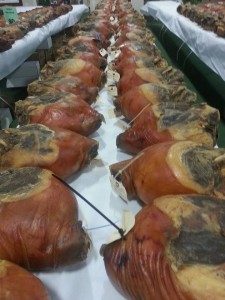 Food writer Steve Coomes of Oldham County provides some insight in his latest book, Country Ham: A Southern Tradition of Hogs, Salt & Smoke.
The Kentucky native spent 11 years in restaurant operations before leaving the kitchen to write about food.
"It was a way of life for some folks," Coomes reflects on the culture of hog killing. "It wasn't just the pursuit of some gourmet ingredient like it is for me."
Coomes' mother grew up in Graves County, where her family butchered hogs around Thanksgiving each year for their own use. "It was the mark of a good year if you had hogs to slaughter."
"Country ham is what sustained working class families for many generations, especially those in the upper South," Coomes quotes John T. Edge, director of the Southern Folkways Alliance, an institute of the Center for the Study of Southern Culture at the University of Mississippi. "Consumers still identify with the roots of that food as very much a subsistence activity, but that's not a bad thing. It's part of the South's rich history."
A dozen "Masters of the Craft" headquartered in four states are profiled in Coomes' book. They hail from Kentucky, Tennessee, Virginia and West Virginia and range in size from Harper's Country Hams in Clinton that cranks out some 200,000 units per year, to the award-winning Scott Hams of Greenville whose annual output is about 4,000 hams. What ties all these enterprises together is the history and tradition that Edge speaks of. Each recipe and process is unique, but they all stay very close to the methods that have been passed down for generations.
Hobbyists and home curers can benefit from the book's chapter on Making Your Own Country Ham, but Coomes says observing the process is part and parcel of learning the mysteries and the mechanics of doing it yourself.
The final portion of the book is devoted to recipes for both the featured ham and many of the side dishes that enhance the dining experience. They have been, according to Coomes, "shared by a host of generous ham curers, chefs and home cooks."
Whether a gourmet delight prepared by a famous chef or the center of the plate at a hearty country breakfast, country ham is still a star performer after all these years.
Tagged Post Topics Include: 4-H, Cadiz, Center for the Study of Southern Culture, Clinton, Country Ham Festival, Country Ham: A Southern Tradition of Hogs, Food Writer, Graves County, Greenville, Ham Days, Harper's Country Hams, John T Edge, Kentucky Farm Bureau Country Ham Breakfast, Kentucky State Fair, Lebanon, Marion County, Ray Bowman, Salt & Smoke, Scott Hams, Southern Folkways Alliance, Spring Hill, Spring Hill Country Ham Festival, Steve Coomes, Tennessee, Trigg County, University of Mississippi