Ruby Moon is a jewel among farm wineries
Posted on May 29, 2013


A steady stream of farm wineries emerged in Kentucky over the past 20 years; today there are more than 50 scattered across dozens of counties. One of the more unlikely spots sits in row crop country just south of Henderson in west Kentucky. That's where Ruby Moon Vineyard & Winery has found a successful home growing grapes , making wine and serving customers at its tasting and market center.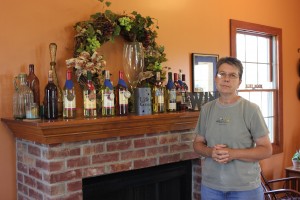 Ruby Moon sprang from the vision of owners Anita Frazer and Jamie Like in October 2003, with the dream of producing award-winning wine in a country setting.
"We began as home wine makers fifteen years ago," explained Anita Frazer. "Then we bought 5.9 acres here in Henderson in 2003, to start a vineyard. We planted an acre of vines in 2004 and have added two additional acres since that time. In 2006, we built our tasting room and gift shop and opened for business. We are now growing three American grape varieties (Concord, Niagara, and Steuben) and we have five French-American varieties (Chambourcin, Marechal Foch, Traiminette, Vignoles, and Seyval Blanc)."
Ruby Moon held its official ribbon-cutting ceremony in December 2006 and received the first of many honors when Henderson County Judge Executive Sandy Lee Watkins proclaimed the year 2007 as Ruby Moon Vineyard & Winery Year. Receiving such a notable amount of recognition in a short period of time has given this new business a great start.
Ruby Moon is not just a place to stop in and shop for an hour or two; it is a "stay-all-day" kind of place. Visitors to Ruby Moon can sample award-winning wines in a Tuscan-inspired tasting room, buy Kentucky-made cheese from Kenny's Farmhouse Cheese, purchase home wine and beer-making supplies, or relax on the blue stone patio.
"We stay open late on Fridays, which we call our Fabulous Fridays," explained Frazer. "We offer discounts to visitors on these days and provide complimentary cheese and crackers."
Besides hosting tasting events and selling Kentucky-made wine, Ruby Moon also hosts a major arts and crafts festival and rents out a banquet room and a one-bedroom suite.
"People come from all over to visit our annual Arts & Crafts festival," said Frazer. "Last year we had twenty vendors. Our only requirement is that products be handmade; we usually have vendors selling organic soaps, paintings, wood products, pottery, jewelry, and other hand-crafted items. We also have live music and food, and admission and parking are free of charge."
The banquet room seats up to sixty people and is known as the "Audubon Room." It is available for rental for private parties, rehearsal dinners, class reunions, and other large gatherings. The "Sunset Suite" is a private, one-bedroom suite that can be rented out nightly, and offers the perfect accommodation for a weekend get-away.
In the short amount of time Ruby Moon has been in business, it has earned some notable awards. In 2010, it won five medals during the commercial wine competition at the Kentucky State Fair, including a gold medal awarded for its Razzle Dazzle Raspberry wine. In December 2011, Ruby Moon was named Small Business of the Year by the Henderson County Chamber of Commerce.
Looking to the future, Ruby Moon plans to keep expanding.
"We sell about 10,000 bottles per year," said Frazer. "We hope to keep growing, and may eventually put in larger tanks. If we see that we are selling more wine, we will start to make more. We pay close attention to what our customers want."
Business continues to flourish, and people come from all over to sample wine made in Henderson County.
"We've had visitors come from all 50 states and also from ten or twelve different countries," said Frazer. "They are fans of small farm wineries and want to see what we have to offer."
Tagged Post Topics Include: Anita Frazier, Festival, Henderson County, Jamie Like, Kenny's Farmhouse Cheese, Ruby Moon Vineyard & Winery, Sandy Lee Watkins