Robey, Compton farms claim top awards at the 2013 Dairy Recognition dinner
Posted on Aug 19, 2013


LOUISVILLE, Ky. —Robey Farms of Logan County won the Kentucky Dairy Production Award, and the Tony Compton family of Adair County earned the 2013 Kentucky Dairy Quality Award.

The Robey and Compton farms were among those honored during the annual Dairy Recognition Dinner Aug. 16 at the Kentucky Exposition Center in Louisville.

"The Dairy Recognition Dinner honors the best of the best in Kentucky's outstanding dairy industry," Agriculture Commissioner James Comer said. "Kentucky's dairy farm families and dairy businesses work hard to provide the milk, cheese, ice cream, and other products that our families depend on. I hope everyone will join me in showing your appreciation for all they do."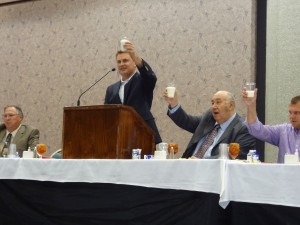 The Kentucky Dairy Quality Award is judged on industry quality standards and farm inspections. The Compton farm received a monetary award and a farm-gate sign. Other finalists were David Hutchison of Adair County and Kenneth Briggs of Taylor County.
The Robey farm took top prize in the Kentucky Dairy Production Award – All Herds competition for the fourth consecutive year. They achieved a rolling herd average (the average weight of milk a herd produces in one year) of more than 27,000 pounds. Top Herd Production – Mixed Herd was won by the Rowe Farm, Billy and Freddie Rowe of Adair County. The Proficient Dairy Producer Award also went to the Robey family. The Proficient Dairy Producer Award is given on the basis of several factors as recorded by the Dairy Herd Improvement Association.
District winners for the production award were Howard Yoder, Christian County; Sam Coblentz, Todd County; Kinslow Family, Barren County; L&B Dairy (Billy Russell), Metcalfe County; Corbin Brothers Dairy (Roger/David Corbin), Taylor County; Ross Russell, Russell County; Darrel Horst, Lincoln County; EKU Meadowbrook Farm, Madison County; Dan/Wayne Martin, Mason County; John Kalmey, Shelby County; Tri-Mast Dairy (Brent/Michael Masterson), Marion County; and Longview Farms (Larry Embry), Grayson County. The production awards were sponsored by the Kentucky Dairy Development Council and Kentucky Farm Bureau.
The fourth annual Kentucky Quality Milk Hauler Award went to George Lee "Pete" Clifton of Sparta. He hauls for Tom Slayback Trucking. Nominees were evaluated on activities that have contributed to the quality of their work and the positive image that they portray for the dairy industry.
The outstanding overall and Kentucky dairy products exhibitor at the Kentucky State Fair was Winchester Farms Dairy.
The Milk Safety Branch presented community service awards to Pat Klein, Dean Foods; Steve Ericksen, who is retired from the Dairy Farmers of America; Eric McClain, who is retired from the Southeast United Dairy Industry Association; Bluegrass Dairy and Food of Barren and Washington counties, and Gordon Jones, Stockyard Farm and Dairy.
The Dairy Promotion Award and Dairy Service Award went to Eric McClain. The Culinary Award went to Erika Tedesco of Louisville.
More than 180 dairy producers and industry representatives from throughout the Commonwealth attended the dinner, which honors the individuals and groups that produce, process and promote Kentucky's high-quality dairy products. The dinner and awards were sponsored in part by individual dairy plants and cooperatives, the Dairy Products Association of Kentucky, the Kentucky Dairy Development Council, Kentucky Farm Bureau, the Southeast United Dairy Industry Association, and the Kentucky Department of Agriculture.
Source: Press release courtesy of the Kentucky Department of Agriculture
Tagged Post Topics Include: Adair County, Dairy Recognition Banquet, Kentucky Dairy Production Award, Kentucky Dairy Quality Award, Logan County, Robey Farms, Tony Compton