Retail food prices in Kentucky decrease slightly during 4th Quarter of 2016 according to Kentucky Farm Bureau Marketbasket Survey
Posted on Jan 5, 2017


LOUISVILLE, KY (January 5, 2017) – Fourth quarter results of the latest Kentucky Farm Bureau Marketbasket Survey indicated a slight decrease in surveyed food prices and marked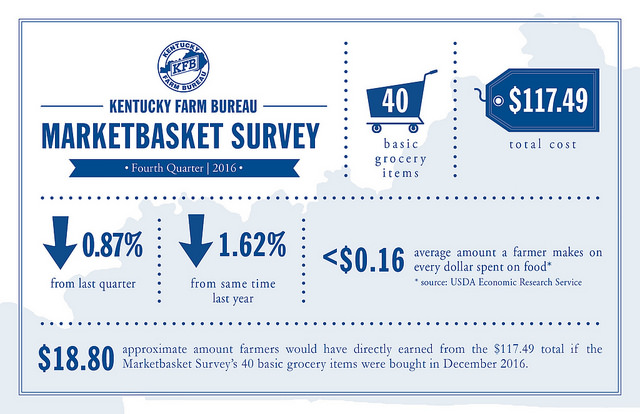 declines in three of the four quarters of 2016. With the exception of last year's second quarter, price declines indicated by the survey have been realized over the last two years.
These prices, which represent the average total cost of 40 basic grocery items included in the survey, declined by .87 percent or $1.02. The total cost of the 40 items was $117.49. During this same period last year, the total price for these same items stood at $119.43.
The largest decline, percentage wise, came by way of the grains category which dropped by 5.52 percent; followed by fruits and vegetables, which declined by 4.89 percent; poultry, which dropped by 3.02 percent; and dairy, which saw prices fall by 2.14 percent.
Beef products increased slightly by .45 percent while pork prices increased by 6.41 percent, the largest percentage change in all of the food categories.
The fall in prices mirrors what is happening nationally to food prices, although most of the declines are relatively small.
According to the latest information from the Bureau of Labor Statistics, the Consumer Price Index noted, "The food at home index declined 2.2 percent over the past year, (unchanged from last month's figures) with all six of the major grocery store food group indexes falling. The index for meats, poultry, fish, and eggs posted the largest decline over the span, decreasing 6.0 percent."
Marketbasket Survey specifics:
The price on a five pound package of corn meal declined by $.27; a 20 oz. loaf of white bread fell by $.15; a 10 pound bag of potatoes decreased by $.78; a dozen large eggs dropped by $.21; and a one pound unit of butter dropped by $.41.
A two-pound package of rolled sausage increased by $1.13; one pound of pork spare ribs increased by $.37; and rib eye steak increased by $.98 per one pound unit.
Agricultural Economics in Food Prices:
Whether or not U.S. grocery prices fluctuate from one quarterly survey to the next, Kentuckians and all Americans continue to enjoy some of the lowest food prices in the world. Shoppers in the U.S. spend only about 10 percent of their disposable income on food each year. Those costs remain far lower than any other country in the world thanks to many of the agricultural efficiencies utilized in America. Today the average U.S. farmer produces enough food and fiber to provide for about 155 people – a significant jump from an average of 19 people per farmer back in 1940.
Yet while more food is now being produced on less land, the farmer's share of the retail food dollar in America is down. According to the USDA's Food Dollar Series, a farmer earns less than 16 cents per dollar spent on food, down significantly from the 31 cents earned in 1980.
INFOGRAPHIC AVAILABLE FOR DOWNLOAD:
To download the Kentucky Farm Bureau Marketbasket Survey infographic that accompanies this story, click here.