Reid's Orchard caters to the crowd
Posted on Jun 24, 2013


Reid's Orchard in Daviess County is among the dozens of farm markets that have taken their business a step further from selling fresh produce, adding entertainment features and various types of facilities to offer something for everyone. And like most of those types of venues, the customers come in droves to get a taste of rural life.

With a convenient location on the outskirts of Owensboro, Reid's is a long-standing family tradition.

"We just celebrated 140 years of business," said owner Billy Reid. "We are one year older than the Kentucky Derby."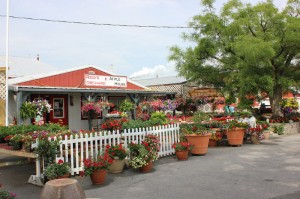 Billy Reid represents the fourth generation to own and operate the family business, which began in 1873 when Allan Reid bought the farm that still houses Reid's Orchard. Allan came from Scotland and tried his first peach in New York City, falling in love with it and deciding to start an orchard.
"Our bread and butter has always been fruits and vegetables," noted Billy Reid, with an obvious pride. "But our operation is diversified. At one point, this land was used to raise 200 acres of potatoes and it was also used to raise 5,000 turkeys."
Billy Reid took over in 1978 and has enjoyed watching his family's legacy grow. This year also marks the 26th year of Reid's Orchard's annual Apple Festival, a celebration that has the feel of a county fair. The event features 20 food booths, 90 crafts booths, live entertainment, and carnival-style rides. It has been named a Top 10 event by the Kentucky Tourism Council.
Reid's also hosts the Big O Music Festival. Hailed as the "Party Event of the Summer," the Big O Music Fest delights attendees every year with top names in country music. Past performers have included Jason Aldean, Dierks Bentley, and Blake Shelton. This year's event on August 31 will feature Jake Owen, Justin Moore, the LoCash Cowboys, Jaclyn Graves, and others. (for more information, go to bigomusicfest.com)
"Not many farms have chart-topping country music singers come and perform," noted Reid. "It is truly an amazing event. The Big O Music Fest usually brings in about 10,000 people, which is as many as we can hold. We can park about 3,000 cars, and last year we parked 7,000 in two days' time during the Apple Festival."
When they are not hosting large community gatherings, the Reid family offers seasonal products to customers and gives area families a place to come and relax on the farm. Attractions include a play area for kids, U-pick fruits, a store where customers can browse through homemade jams and jellies and try apple slushies, and a party rental area.
"One of our new features this year is our train," said Billy Reid. "It will be something fun for the kids, in addition to Playland. My daughter Valerie runs our Playland, which is an interactive area for kids."
Reid's daughter Valerie Reel said her goal is to keep Playland farm-oriented. So many children today are removed from farm life, and an opportunity to simply play in a rural setting is a treat.
"We have a corn crib for kids to explore, the new apple train that will take them down the avenue and through the orchard, a petting zoo and pony rides," said Reel. "It's a great place for families to come and spend the day. I've had parents tell me that their kids call it 'their farm,' and they ask to come to the orchard to play. We are thrilled to be able to offer a truly on-farm experience to the children of our community."
Reid's also hosts school field trips, giving local children the opportunity to pick apples, wash and grate them, and visit the storage room to see how they are processed.
Besides supervising Playland, Valerie also coordinates Reid's party rental area for weddings, birthday parties, and corporate parties. Billy's other daughter Katie runs the greenhouse and the apple house, as well as the mums sold by Reid's in the fall. Son Brad Reid operates a separate produce location and takes care of spraying the trees.
What makes Reid's Orchard unique is its proximity to the city; its location is easily accessible, but this doesn't take away from its "farm-like" feel.
"People enjoy driving out here to spend a day," said Reid. "They come and sit on the swings and bring the kids to play, and browse our products."
Reid's Orchard is open year-round. Beginning in April, it sells bedding plants; May brings greenhouse tomatoes and strawberries; vegetables are available in June; peaches come on in July and are available through September; September marks the start of apple and pumpkin season, as well as fall décor; and gift baskets are sold at Christmas time.
"You will find something different each month," said Billy Reid. "There is always something to do here."
Reid's is indeed a destination, with local citizens taking advantage of its beautiful surroundings. Area photographers visit the orchard to shoot school senior pictures, wedding parties sometimes stop on the lane to take photographs, and cross country runners from a local high school stop in to buy apple slushies for refreshment.
With the modern fast pace of life showing no signs of slowing, it's nice to know that places like Reid's Orchard still exist.
"So many people who move into the area say they have heard about us and that they didn't know a place like this existed," Billy Reid mused. "They love being able to spend a day here with the kids and see how things are grown. Our family is proud to share our love of farming with the community in a special way, and we plan to keep doing that for years to come."
Tagged Post Topics Include: Apple Fest, Big O Music Festival, Billy Reid, Daviess County, Jaclyn Graves, Jake Owen, Justin Moore, Kentucky Derby, Kentucky Tourism Council, LoCash Cowboys, Reid's Orchard