Register by June 6 to attend 2018 KAM/KDA LAND Forums!
Posted on May 30, 2018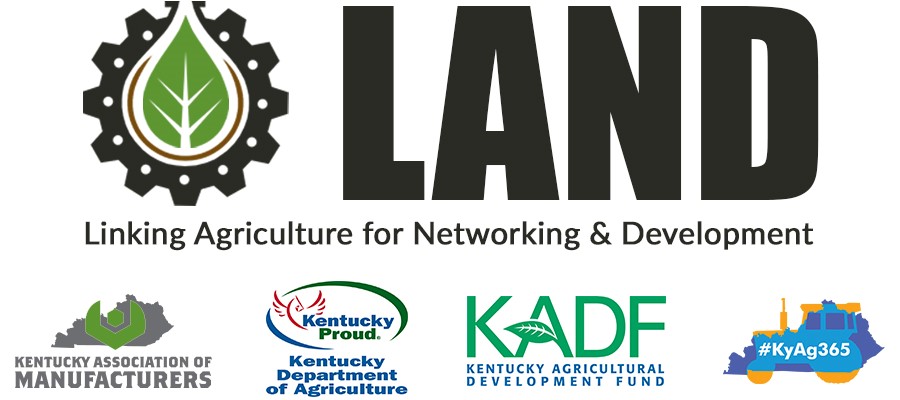 Manufacturing and agriculture are two of Kentucky's most significant industries!
Kentucky's food and beverage manufacturers employ over 50,000 people and add value to a multitude of agricultural commodities, many of which are, or could be, grown on Kentucky farms.
Over $6 billion in food, beverage, and tobacco products are produced annually in our Commonwealth's manufacturing facilities, and over 14% of Kentucky's manufacturing jobs are in the food and beverage products industry.
The Kentucky Department of Agriculture and the Kentucky Association of Manufacturers will host five LAND Forums this summer across the state that link agriculture with the manufacturing sector. Some of the agricultural markets for Kentucky manufacturers are:
Beverage and tobacco product manufacturing
Food manufacturing
Leather and allied product manufacturing
Paper manufacturing
Textile mills and textile product mills
Wood product manufacturing
Those interested in attending the June forums need to have their registration completed by June 6, but registration is also open for the other sessions in August and September. Registered attendees are encouraged to arrive at 10:30 AM local time to meet and network with fellow attendees. The program will start promptly at 10:45 AM. Lunch, featuring locally sourced farm ingredients, will be served at 11:45 AM and the program will conclude at 1:00 PM. Two panel discussions, one from the ag producers' perspective and one from the manufacturers' perspective, will be included.
[click.icptrack.com]
Here are the details on the first two forums, scheduled for June:
Monday, June 11, 2018
Boone County Cooperative Extension Enrichment Center [click.icptrack.com]
1955 Burlington Pike
Burlington, KY 41005
Tuesday, June 12, 2018
London Community Center [click.icptrack.com]
529 South Main Street
London, KY 40741
There will be two more forums in August, and one in September:
Wednesday, August 1, 2018
Cave City Convention Center [click.icptrack.com]
502 Mammoth Cave Street
Cave City, KY 42127
Thursday, August 2, 2018
Location TBD
Murray State University
Murray, KY 42071
Wednesday, September 26, 2018
Jeptha Creed Distillery [click.icptrack.com]
500 Gordon Lane
Shelbyville, KY 40065
You may register for any or all of them at the link below.
There is no cost to attend these forums, but seating is limited, and you must be registered! Please click HERE [click.icptrack.com]to register for one or more of these events!
Also Sponsored By:
Kentucky Highlands Investment Corporation [click.icptrack.com]