Randa Morris and Jacob Patterson win Outstanding Farm Bureau Youth contest
Posted on Dec 1, 2016


Louisville, KY (December 2, 2016) – Randa Morris of Garrard County and Jacob Patterson of Pulaski County were awarded top honors in the 2016 Outstanding Farm Bureau Youth contest. Both winners were recognized during the December 1 general session of Kentucky Farm Bureau's (KFB) 97th annual meeting, held at the Galt House Hotel in Louisville.
Morris and Patterson were selected from 22 district finalists out of approximately 400 young people who competed in county and district contests over the past several months. Judges met with finalists for personal interviews during the annual meeting, awarding points for each contestant's leadership record, conversational ability and scholastic achievement. KFB gave both Morris and Patterson a $2,000 college scholarship, an expense-paid trip to Washington, D.C. on the KFB Congressional Tour in February 2017, a luggage set and watch for winning the contest.
Runners-up in the contest were Alexis Cherry of Warren County and Alex Cochran of Washington County. They each received a $200 cash award and digital camera from KFB. Congeniality awards, which were voted on by their fellow contestants, were won by Megan Mitchell of Trigg County and Bradon Burks of Barren County. KFB awarded both of them with $100 cash prizes for the honor.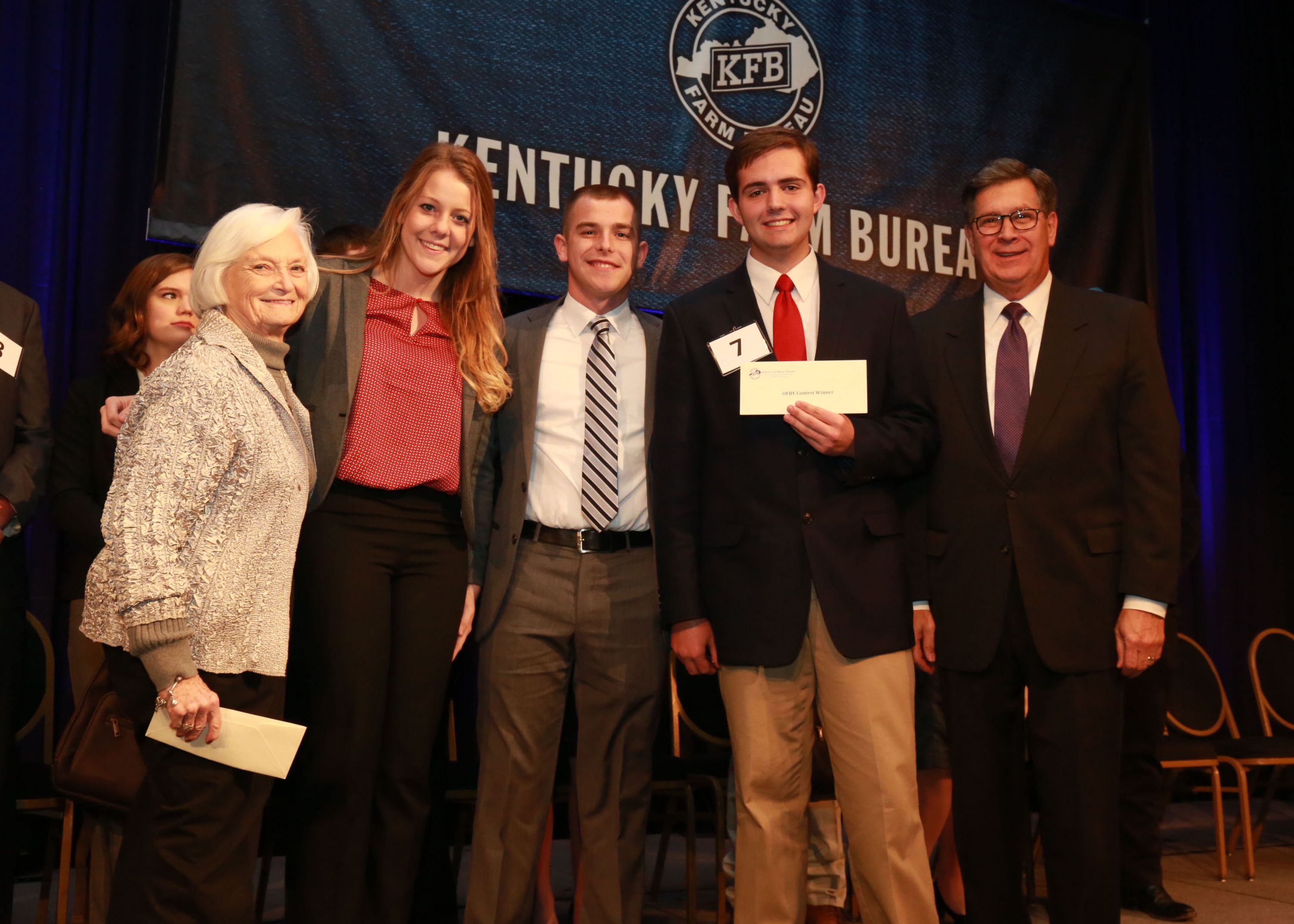 The 22 district finalists who performed at KFB's annual meeting included: Megan Mitchell, Trigg County; Tanner Hicks, Calloway County; Destiny Oliver, Caldwell County; James Payne, Henderson County; Madelaine Mink, Hardin County; Alex Burke, Breckinridge County; Alexis Cherry, Warren County; Brandon Burks, Barren County; Mollie Hurst, Fayette County; Alex Cochran, Washington County; Haley Varney, Franklin County; John-Michael Sachleben, Trimble County; Presley Woodrum, Casey County; Jacob Patterson, Pulaski County; Randa Morris, Garrard County; William Campbell, Lincoln County; Kyleigh Withers, Bourbon County; Logan Bechanan, Nicholas County; Miranda Robinson, Greenup County; Cameron French, Wolfe County; Xiao-Mei Zheng, and Ethan Morton, Harlan County.
All 22 contestants received luggage pieces and $100 for winning district competitions.