Rae Wagoner honored as KFB's 2017 Communications Award Recipient
Posted on Nov 30, 2017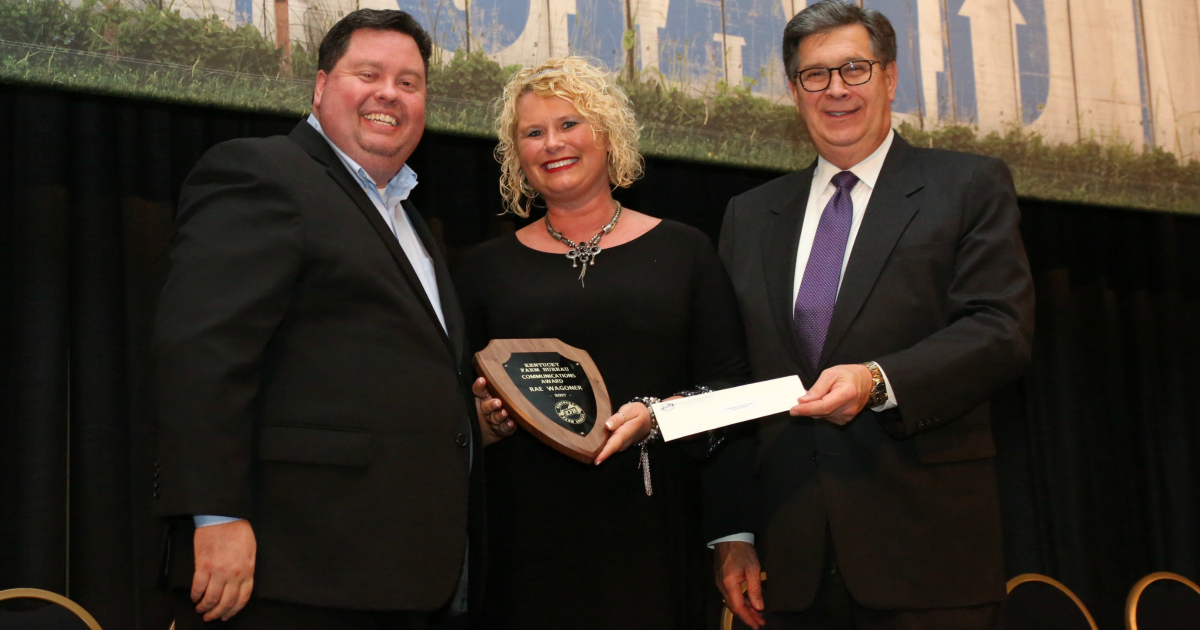 Louisville, KY (December 1, 2017) – Rae Wagoner, Communication Director for the Kentucky Soybean Board, was named the winner of Kentucky Farm Bureau's (KFB) 2017 Communications Award. She was recognized on November 30 during the general session of KFB's annual meeting at the Galt House in Louisville.
The Communications Award, which consists of a plaque and $300 cash prize, has been presented by KFB annually since 1960. Media outlets, county Farm Bureaus and other agriculture-related agencies nominate candidates whose outstanding journalism work has created a better understanding of Kentucky's agriculture industry over the last year.
Ms. Wagoner was nominated by the Mercer County Farm Bureau for the commendable work she produces daily on behalf of Kentucky agriculture.
Ms. Wagoner is currently working as communication director for the Kentucky soybean Board. As communication director, Ms. Wagoner publishes the Kentucky Soybean Sentinel Quarterly. She does most of the writing, photography, layout, design, and ad sales. She also manages the website and social media platforms.
Ms. Wagoner has also worked with the Paducah Sun's Agriculture Outlook, Webster County Ag Families, Ag Families magazine published by the Kentucky New Era, and the Farmer's Pride.
Ms. Wagoner has served as a member of the Ag Chat Foundation, the American Society of Association Executives, and State Staff Leader of Commonground.
To download a photograph of Rae Wagoner, click here.