Pork perfection . . . Kentucky Pork Producers Association fare is a hot commodity
Posted on Aug 15, 2013


Among the popular attractions at the Kentucky State Fair is an inch-thick pork chop, marinated in a vinagry-peppery sauce and grilled to perfection by the Kentucky Pork Producers Association cooking team. Unlike most cookouts, this is serious business: Sales of the famous chops -- along with the pork burgers and pulled pork sandwiches that are also served by the KPPA at events – account for about half of the organization's annual revenue.
Plus there's a reputation to uphold, says Wendell Ockerman, who as Director of Product Marketing and Special Events has headed up the cooking team for 26 years.
"People have come to look for us here," Ockerman said of the Kentucky Exposition Center, where the team operates at more than 50 events each year. "People tell me they come to the Fair to get a pork chop."
Grilling chops at fairs and festivals started out as a casual thing more than three decades ago. But the emergence of the 12-ounce pork loin marinated in a secret sauce, followed years later by a spicy pork burger, propelled the KPPA booths to icon status at the state fairgrounds. As the State Fair approaches, media reports mention the pork sandwich in the same breath as Freddy Farm Bureau, funnel cakes, blue ribbons and the World Championship Horse Show.
For major events like the State Fair and National Farm Machinery Show, KPPA will operate five booths and use around 75 workers to cook and serve. Most will be volunteers.
The regular team has about 18 paid members, Ockerman said.
The team used to travel the state, but now is mostly confined to Louisville for events at KEC plus University of Louisville football games at nearby Papa John's Stadium. Ockerman and the cooking team operate out of an office on the western edge of the KEC, near Gate 2. The Kentucky Cattlemen's and Aquaculture Associations also are housed there.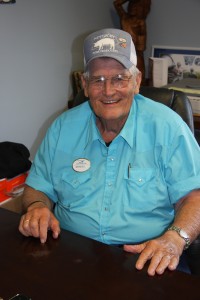 The KPPA cooking arsenal consists of two 24-foot-long automatic rotisserie-style units that can do 480 chops in 45 minutes, plus five 20-foot flat grills. KPPA buys its pork from Swift Company in Louisville and has the chops and burgers processed by a local company. Ockerman guards both the sauce's secret recipe and the seasoning for the tasty pork burgers. The burgers, which Ockerman developed, are quite popular too. But the chops are still the main attraction, accounting for about 60 percent of sales, according to Ockerman.
Pleasing the thousands of pork-craving State Fairgoers warrants the use of both rotisserie units and evokes a question: How much pork is cooked??
Ockerman says in an average year the KPPA team will cook around 100,000 pounds. (On a liveweight at slaughter basis, that amounts to around 400 hogs. The actual number of hogs rendering that poundage of meat is far higher, of course)
Tagged Post Topics Include: JBS Swift Company, Kentucky Exposition Center, Kentucky Pork Producers Association, Kentucky State Fair, National Farm Machinery Show, Papa John's Stadium, University of Louisville, Wendell Ockerman