Open Letter to Governor Andy Beshear
Posted on Jul 6, 2020


Dear Governor Beshear:

On behalf of the nearly half a million Kentucky Farm Bureau families I was elected to serve, I write to express my sincere disappointment with the lack of Kentucky farmers named to your AgriTech Council. Because farmers do not have a significant stake in your AgriTech Council, I have concerns about the effectiveness and purpose of this group.

There is no doubt that helping usher the agriculture industry forward with technology should be a priority for Kentucky's elected officials, but how you go about it matters.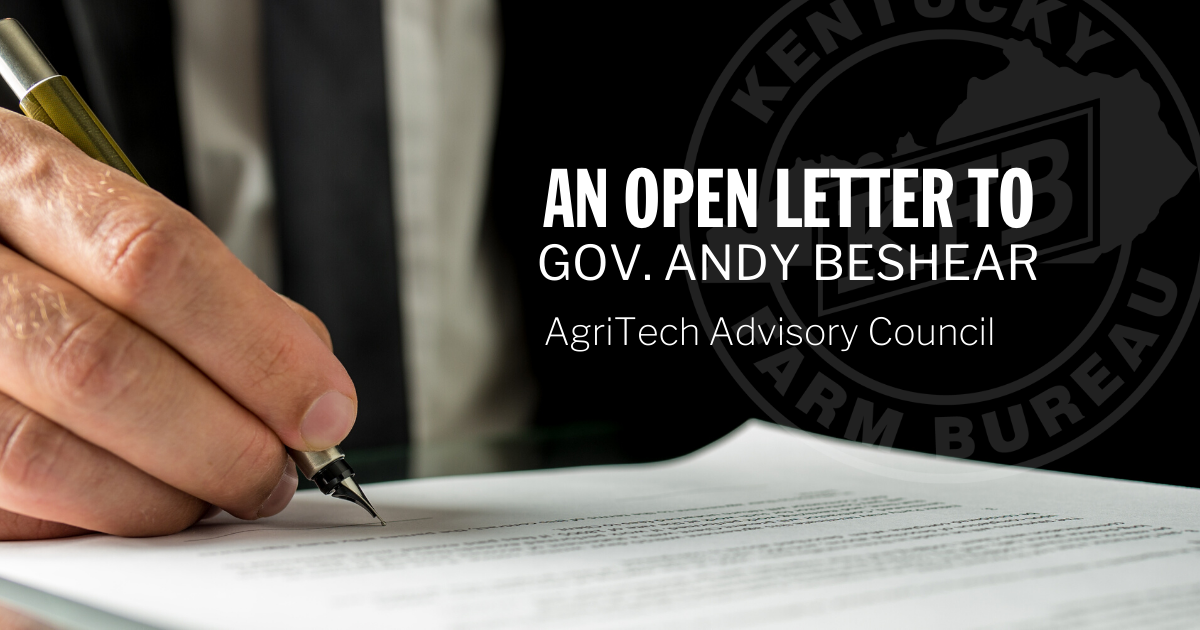 From what I can gather from the recent press release announcing the AgriTech Council, you have assembled a team of highly accomplished individuals who are experts in their respective fields. Unfortunately, apart from a small few, their field is not agriculture. How will they collectively represent our industry's needs and interests if they are not a part of it? Voices and companies from the Netherlands and California don't know what Kentucky farmers need. Our farmers do.
The good news is that there is no need to reinvent the wheel. Agritech is already alive and well here in Kentucky.
Broadband technology, perhaps the most vital piece of the puzzle when it comes to the future of Kentucky's agriculture industry, is a good example of agritech already playing an important role in our state. And, back in February, you got it right. Kentucky Farm Bureau was proud to work alongside you to bring House Bill 362, an expansion of broadband in rural, agricultural regions of Kentucky, to fruition.
The legislation passed the General Assembly and you signed it into law at the end of March. That was an agritech victory that we should all be proud of, and we did it as a team!
Kentucky farmers remain engaged at the federal level regarding broadband technology expansion. But, without appropriate representation on your AgriTech Council, it makes me wonder: Have you determined broadband is not a priority for the AgriTech Council? Or, have you decided the voice of farmers, the ones that helped you identify what kind of fixes were needed on the state level, should no longer be part of the conversation?
In addition to the broadband topic, Kentucky farmers have long been adopters and pursuers of technology. For more than 10 years, our farmers have been using precision agriculture to be more efficient and produce higher yields. The technology we're using covers all the bases — machinery, GPS, drones, soil sampling, variable rate fertilizers, etc.— and every season our farmers take what they learn and make it even better for the next.
I have no doubts that there is more work to be done as agriculture and technology continue to merge. But as that integration continues, its success depends on guidance and buy-in coming from the people who live and breathe its importance every day —our farmers. Working as a team, Kentucky Farm Bureau and more than half a dozen commodity groups are proud to help facilitate these ongoing conversations.
While I am disappointed by the surprising AgriTech Council composition, I remain optimistic about Kentucky's agriculture industry. The people who are part of our state's agriculture community are hard workers who care deeply. They are resilient and forward-thinking; they identify issues and opportunities, develop solutions and come out the other side stronger. I hope you will include them moving forward!
Sincerely,
Mark Haney
President, Kentucky Farm Bureau