Nearly $2 million in Agricultural Development Funds Awarded
Posted on Oct 19, 2012


SLADE, Ky. (Oct. 19, 2012) – The Kentucky Agricultural Development Board (KADB), chaired by Governor Steve Beshear, today approved $1,947,966 in 38 agricultural diversification projects across the Commonwealth during its October board meeting at Natural Bridge State Park.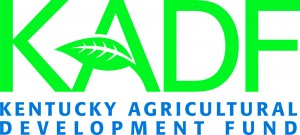 State and regional investments included:
$197,100 Nutrient Monitoring The U.S. Geological Survey (USGS) Kentucky Water Science Center was approved for $197,100 in state funds to collect and analyze water samples from the Ohio River near Greenup Dam and near the mouth of Green River. The samples will be analyzed for nutrients, silica, stable isotopes and suspended sediments.
$220,000 Pollution Study of Littler River Basin The Hopkinsville Surface & Stormwater Utility (HSSU) was approved for $100,000 in state funds and $120,000 in county funds as follows: Christian - $100,000; Todd - $10,000; Trigg - $10,000. The funds will be used to conduct a 3-year study to identify water quality and the actual sources of pathogens, sediment and nitrogen in the Little River Basin.
$60,000 Farmers' Market Facility The Henderson County Fiscal Court was approved for $25,000 in state funds and $35,000 in Henderson County funds to construct a 40? x 144? open-air pole barn with attached restrooms at the Henderson County Fairgrounds for the Henderson County Farmers' Market.
County investments approved included:
$50,000 County Animal Removal Project The Madison County Fiscal Court was approved for $50,000 in Madison County funds to purchase a new truck for the county's deceased animal removal program. The county provides free animal removal services to its citizens.
The County Agricultural Investment Program (CAIP) is designed to provide farmers with incentives to allow them to improve and diversify their current production practices. CAIP covers a wide variety of agricultural enterprises in its 11 investment areas. Nine CAIPs were approved by the board totaling $1,238,805 for Boone, Caldwell, Carroll, Clinton, Fleming, Greenup, Lawrence, Lyon and Simpson counties.
The Deceased Farm Animal Removal Program serves as a measure to facilitate the coordination of environmentally sound and cost-effective disposal of deceased livestock for Kentucky producers. Two County Deceased Farm Animal Removal Programs were approved for Fayette and Taylor counties totaling $15,000.
The On-Farm Energy Efficiency & Production Program provides incentives for Kentucky farm families to increase energy efficiency and renewable fuel production. Successful applicants may receive up to 25 percent reimbursement of the actual cost of a qualified energy saving or production project, up to $10,000. Twenty-two applicants for the On-Farm Energy Program were approved for a total of $167,061 in Adair (2), Calloway (3), Carlisle (2), Graves (3), Hickman (2), McLean (4), Monroe, Ohio, Pulaski, Russell, Simpson, Union and Warren counties.
Source: Press release courtesy of GOAP
Tagged Post Topics Include: Adair County, Boone County, Caldwell County, Calloway County, Carlisle County, Christian County, Clinton County, Fleming County, Governor, Graves County, Greenup County, Henderson County, Hickman County, Kentucky Ag Development Board, Lawrence County, Lyon County, Madison County, McLean County, Monroe County, Natural Bridge State Park, Ohio County, Pulaski County, Russell County, Simpson County, Steve Beshear, Todd County, Trigg County, Union County, Warren County