Miranda Chaplin wins Kentucky Farm Bureau's Discussion Meet
Posted on Dec 2, 2017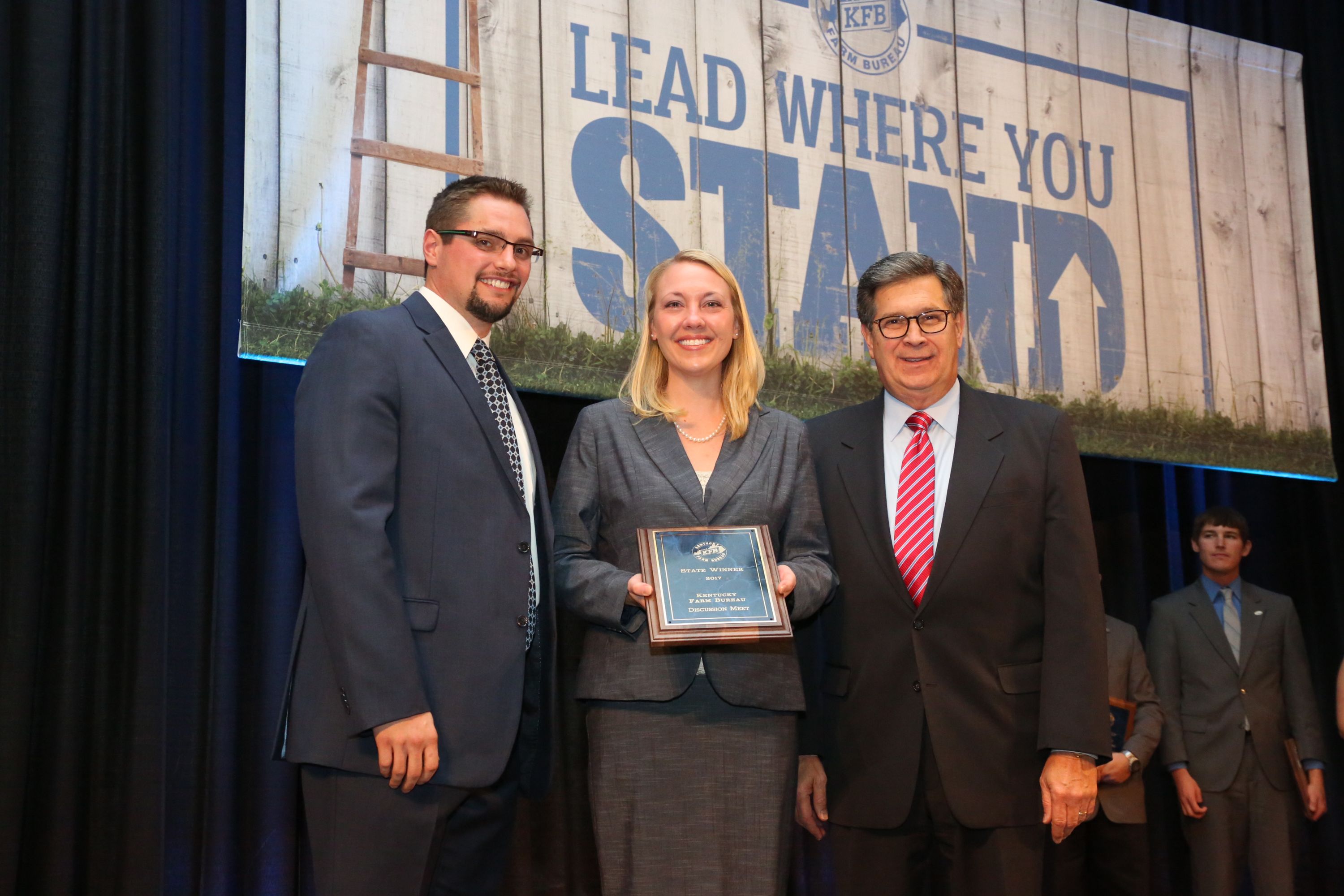 Louisville, KY (December 2, 2017) – Miranda Chaplin of Bourbon County won first place in the final round of Kentucky Farm Bureau (KFB) Discussion Meet, a debate-styled competition for young farmers that relies on an individual's skill in reasoning and logical discussion of issues. The event was one of the highlighted activities of last night's general session during KFB's annual meeting in Louisville.
Chaplin bested three other entrants in the final event, winning a Kawasaki MULE donated by Southern Farm Bureau Life Insurance Company and Jacobi Sales. She also won a trip to the national finals in Nashville, Tenn. as part of the American Farm Bureau Federation's annual convention, January 5-10, 2018. When Chaplin competes for top national honors next month in Nashville, she will be vying for a 2018 Ford pickup courtesy of Farm Bureau Financial Services, and a paid registration to the 2018 AFBF YF&R Conference in Reno, Nevada February 16-19.
Second place receives a Case IH Farmall 50A courtesy of Case IH.
Third place will receive a Case IH 40" Combination Roll Cabinet & Top Chest and a $500 Case IH parts card, courtesy of Case IH. They will also receive $2,000 of Stanley Black & Decker merchandise (PROTO, Dewalt, Stanley, Lenox & Irwin), courtesy of Stanley Black & Decker.
Fourth place receives a Case IH 40" Combination Roll Cabinet & Top Chest and a $500 Case IH parts card, courtesy of Case IH.
Runner-up in the state Discussion Meet was Cody Rakes, who received $1,000 cash from KFB.
The two other finalists in the state-level contest were Lilly Robertson of Logan County and Taylor Jones of Gallatin County. They each received $200 cash awards from KFB.
KFB's Discussion Meet tests entrants on their basic knowledge of critical farm issues and their ability to respond in a panel setting to differing points of view. The topic debated by the four finalists was: "With a growing demand for U.S. farm products abroad, how can agriculture overcome public skepticism of foreign trade to negotiate new trade agreements and open new world markets?"
Kentucky Farm Bureau, with more than 478,000 member families statewide, is the state's largest general farm organization. Approximately 2,000 members attended KFB's 98th annual meeting in Louisville, November 29 – December 2, to recognize this year's individual and organizational achievements and adopt policy for 2018. To view all the updates released from this year's annual meeting, visit KYFBNewsroom.com.
PHOTO AVAILABLE FOR DOWNLOAD:
To view or download the photograph that accompanies this story, click here.