Mayfield prevails by a knife's edge for the first Junior Chef Championship
Posted on Aug 29, 2013


LOUISVILLE, Ky. —

Mayfield High School

earned the first

Farm to School Junior Chef

championship with a narrow victory over

Fern Creek

on Friday during the

Kentucky State Fair

at the

Kentucky Exposition Center

.

"The Junior Chef competition is one of the great successes of the 2013 Kentucky State Fair," Agriculture Commissioner James Comer said. "The great thing about this program is that it teaches young people where their food comes from and to have an appreciation for agriculture. I think a lot more schools will be a part of this in the future."

Sophomores Jade Gowins, Aolani Madera, and Morgan Newell used a baked fajita recipe to win the competition. Nicknamed "The Multi-Cultural Diverse Martha Stewarts," the trio has been perfecting the baked fajita recipe since last spring. Their coaches are Leah Holland-Mills and Tracey Tashjian.

"What an exciting competition, with narrow decisions and students giving their all to win," said Tina Garland, Farm to School Program coordinator for the Kentucky Department of Agriculture, which created and conducted the competition. "I am deeply grateful to Commissioner Comer and Bill Wickliffe [director of the KDA's Division of Food Distribution] for supporting this effort. I also want to thank Sullivan University and John Wiley Books for their generous donations of scholarship and book money. We've already started planning for next year, and I can't wait."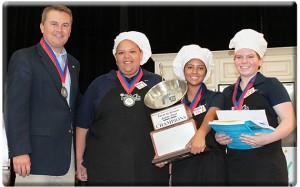 Sullivan awarded $6,000 scholarships to each member of the winning team, $4,000 scholarships to each member of the runner-up team, and $2,000 scholarships to each member of the two third-place teams, Boyle County and Whitley County. John Wiley & Sons will give $600 to the winning team and provide books to any student on the winning team who enters a college culinary program where John Wiley books are sold.
Commissioner Comer surprised the Mayfield students with the news that they will get to cook their winning dish on a future episode of "The Kentucky Proud Kitchen."
The Farm to School Junior Chef competition was created to teach students cooking skills, encourage them to make healthy food choices, and raise awareness of the quality and variety of local foods available in Kentucky. High school teams competed at the district and regional level for the right to move on to the state tournament. The competition attracted 38 school teams made up of a total of 177 students.
Source: Courtesy of the Kentucky Department of Agriculture
Tagged Post Topics Include: Aolani Madera, Bill Wickliffe, Boyle County, Commissioner of Agriculture, Department of Agriculture, Division of Food Distribution, Farm to School Junior Chef competition, Fern Creek, Jade Gowins, James Comer, John Wiley & Sons, John Wiley Books, Kentucky Exposition Center, Kentucky State Fair, Leah Holland-Mills, Mayfield High School, Morgan Newell, Sullivan University, The Kentucky Proud Kitchen, Tina Garland, Tracey Tashjian, Whitley County