Matthew Chadwick receives 2016 Farm Public Relations Award
Posted on Nov 21, 2016


Louisville, KY (December 2, 2016) – Matthew Chadwick, a Calloway County Extension Agent with University of Kentucky Cooperative Extension, is the recipient of Kentucky Farm Bureau's (KFB) Farm Public Relations Award. He was recognized on December 1 during the general session of KFB's annual meeting at the Galt House in Louisville.

As the County Extension Agent, Chadwick works with the community in determining, prioritizing and addressing county needs relating to agriculture and natural resources. In addition, he counsels with community members that provide input and feedback regarding Extension's work in the area and designs and implements programs based on identified needs that provide educational opportunities in fields such as horticulture, agronomy, livestock, and marketing.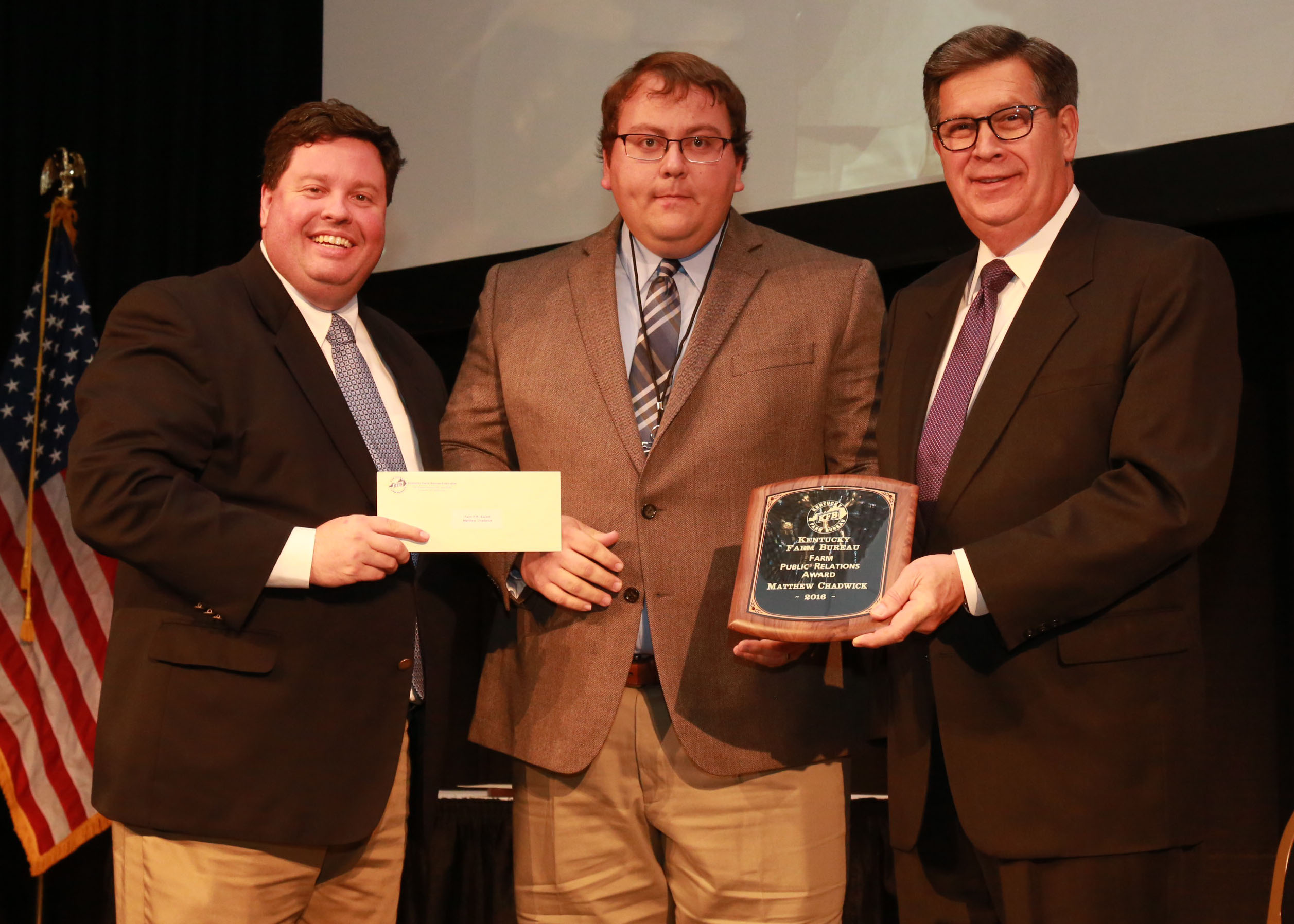 Chadwick also creates multiple newspaper articles, newsletters and flyers that produce awareness about current topics in the agriculture industry. All of these efforts have resulted in positive promotion of agriculture in Calloway County.
A graduate of Murray State University (MSU), Chadwick serves with many professional organizations included among them are: Purchase Area Cattlemen's Association, the Board of Directors for the Arboretum at MSU, the Kentucky Sheep and Wool Producers Association and the Calloway County Farm Bureau Board of Directors.
Having grown up on a farm in Calloway County, he currently has his own farm where he raises Registered Polypay Sheep.
Chadwick is the recipient of many awards related to his work including a Communications Award from the Kentucky Association of County Agriculture Extension Agents, an Outstanding Graduate Student in Agriculture award from MSU as well as the "Go-Getter" award from MSU.
In addition to his many duties in Extension, he also speaks to civic organizations about agriculture and promotes agriculture at the state level.
Chadwick was nominated for the KFB Farm Public Relations Award by Calloway County Farm Bureau President Robert Guerin.