Market Update and Crop Production - September 12, 2012
Posted on Sep 12, 2012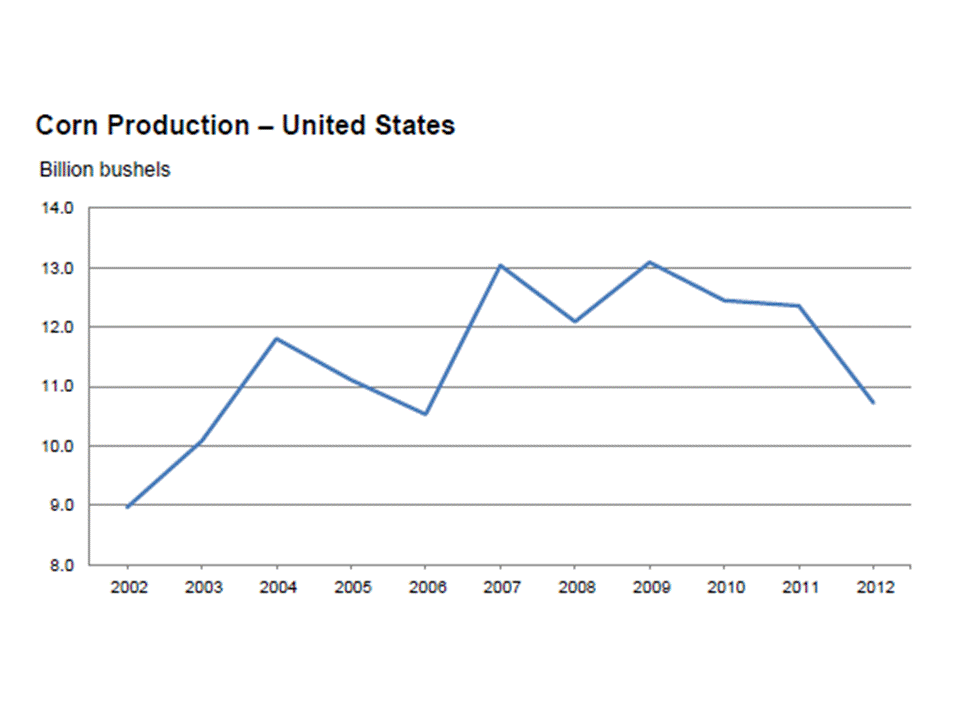 Today's CBOT price action is the result of this morning's USDA Crop Report and WASDE update. The reports are considered a bit bearish corn but friendly to soybean prices. With November Soybeans up sharply after trading lower earlier, the chart will look very positive (bullish key reversal) with a test of the all-time highs possible – it's already half way there.
Live Cattle futures are trading mixed. The October contract is taking a breather after the recent $3.00/cwt rally in futures. Cash cattle need to keep edging higher to support futures. Feeders are higher on the lower corn price.
Treasury yields are up sharply today even as traders believe the FOMC will announce quantitative easy tomorrow afternoon. The German court approved Germany's participation in the ECB's bailout fund. More money printing in Europe and the U.S. is supportive to commodity and equity values.
Corn Dec -10 767; Mar -11 770; Dec'13 -8 647
Bean Nov +43 1745; Mar +37 1686; Nov'13 +21 1367 Meal +15 533 Oil +69 5616
Wheat Dec -9 874; Jly -6 857 KC -4 900; MGE -1 934
LC Oct +7 12717; Feb -12 13245
FC Sep +45 14510; Oct +95 14730; Jan +75 15055
LH Oct +15 7287; Feb +15 7742
Milk Sep -3 1878; Oct -4 1920
Oats +1 389
Rice +21 1493
US$ -.2%
Dow +.2%
SP +.2%
NAS +.1%
Tran +.4%
VIX -1.9% 16.09
WTI steady
Brent +.5%
Gas steady
NG -1%
HO +.9%
Eth -1.3%
Gold unch
Slvr -1.5%
5-yr +.046 0.686%
10yr +.095 1.749%
30yr +.104 2.909%
Tagged Post Topics Include: Economics, Market updates