Market Update & 7-day Rainfall - September 4, 2012
Posted on Sep 4, 2012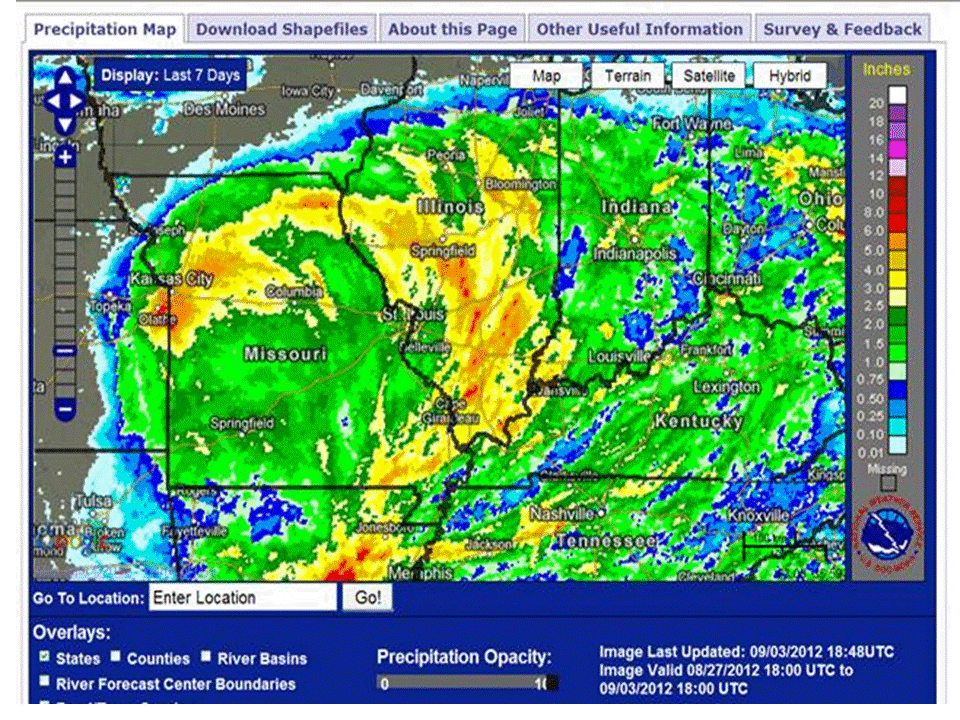 Soybean futures are leading the CBOT higher today after prices moved to new highs in the overnight session. Corn and wheat futures are higher but still some distance from chart resistance. The tight supply-demand situation should keep prices firm into next Wednesday's USDA Crop Report.
Live and feeder cattle futures are slightly higher as traders believe the cash cattle markets are strengthening even if boxed beef is not.
Lean Hog futures continue downward on very weak supply-demand fundamentals.
The outside markets are somewhat bearish today after responding to disappointing economic reports from the U.S. and China. Adding to risk-off trade is nervousness over the Euro zone sovereign debt situation. A news story today talks about the amount of money and people leaving Spain. Moody's lowered its outlook for the European Union to Aaa-negative. The ECB is expected to announce a bond purchase program on Thursday.
Corn Sep +12 815; Dec +12 812; May +12 807
Bean Sep +16.5 1781; Nov +19 1776; May +32 1622
Meal +1 548 Oil +86 5728
Wheat Sep +7 877; Dec +9 899; Jly +7 865 KC +9 890; MGE +13 945
LC Oct +20 12622; Feb +30 13255
FC Sep +32 14492; Nov +30 14810; Apr +40 15440
LH Oct -45 7372; Dec -50 7190
Milk Sep +1 1890; Oct +10 1986
Oats +15 412
Rice -3 1498
US$ +.2%
Dow -.7%
SP -.6%
NAS -.6%
Tran -.9%
VIX +6.7% 18.64
WTI -1.3%
Brent -.9%
Gas +.4%
NG +2%
HO -.2%
Eth +1%
Gold +.4%
Slvr +2.1%
5-yr +.017 0.606%
10yr +.015 1.564%
30yr +.011 2.679%
7-day Rainfall according to NOAA: http://www.srh.noaa.gov/ridge2/RFC_Precip/
Tagged Post Topics Include: Economics, Market updates