Local leaders meet with Congressmen
Posted on Aug 29, 2013


The Congressional recess in August brings a good opportunity to strengthen relationships with our delegation by inviting them to various events like cookouts and county FB meetings. State legislators and local government officials usually are invited as well, creating an opportunity to discuss many issues.
Two cases in point took place last month at different ends of the state, with First District Congressman Ed Whitfield coming to the Calloway County farm of KFB Director Tripp Furches and his wife, Sharon; and Fourth District Congressman Thomas Massie visiting the Grant County farm of Mark Kinsey, who is an officer for Grant County FB.
Around 30 people turned out to visit with Congressman Whitfield. Also on hand were State Senator Stan Humphries, State Representative Kenny Imes, Calloway County Sheriff Bill Marcum and Dr. Tim Miller, interim president at Murray State University.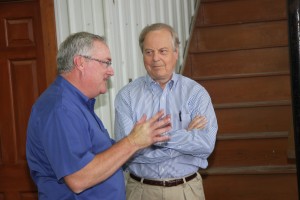 Congressman Whitfield addressed the farm bill situation, concerns about Obamacare and prospects for farmworker legislation. He noted that he had a meeting that morning in Hopkinsville with a group connected to the ethanol plant there who were concerned about the Obama administration's announcement to reduce ethanol use as part of the Renewable Fuels Standard (RFS). "The Renewable Fuels Standard will not be repealed," said Whitfield, "but there are people who want some adjustments that could hurt ethanol. I'm very concerned about this."
Whitfield said the House wants to pass food stamp legislation and attach it to the farm bill in a conference committee. He feels a farm bill will pass this year. "We will try to get the farm bill behind us," he said.
In Grant County, the meeting with Congressman Massie attracted Farm Bureau leaders from seven counties plus several county officials, including the judge-executive, sheriff and several magistrates.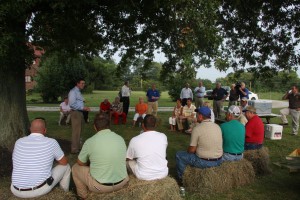 In an interview, the freshman Congressman called Farm Bureau "an excellent resource that helps give us the farmers; perspective." Massie told the audience that his relationship with Farm Bureau was so good that he called KFB National Affairs L. Joe Cain from the House cloak room just minutes before casting a vote on the farm bill.
"I had 10 minutes (remaining on the clock) to vote so I called Joe to run some things by him," said Massie, who has a farm in Lewis County.
Of Washington, Massie said "it's worse than I thought up there."
"I've had as little as four hours to read a bill and 10 minutes to read an amendment," he said. "I won't vote on a bill unless I know everything that's in it."
Massie said he closely considers the fiscal impact of every issue he studies because "I take very seriously the financial situation we're in." He went on to talk about the situation with the farm bill and farm labor issues, which he said he was very eager to address. He said immigration reform has become "a political football" that neither party wants to resolve.
He drew laughter when telling the small group that "August is anything but a recess - - I was up at 6 this morning" to begin a series of meetings throughout his sizeable district.
Tagged Post Topics Include: Bill Marcum, Ed Whitfield, Grant County, Hopkinsville, Joe Cain, Kenny Imes, Lewis County, Murray State University, Renewable Fuels Standard, Stan Humphries, Thomas Massie, Tim Miller