Livingston becomes first Kentucky Proud town
Posted on Jul 16, 2015


Livingston, Ky. – The mayor of Livingston sees

Kentucky Proud

as a way to jump-start his town's economy. On Tuesday, Agriculture Commissioner

James Comer

joined Livingston Mayor Jason Medley to welcome the Rockcastle County community as the first municipality to join the

Kentucky Proud program

.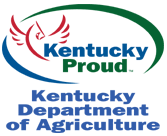 "Mayor Medley shares my vision of agriculture as an economic development tool," Commissioner Comer said. "He has an innovative plan for raising revenue for his city and creating jobs in agriculture. Mayor Medley's idea could become a model for other small communities to follow."
"I love the idea of Kentucky Proud," Medley said. "It puts local people to work doing things they're skilled in. A lot of places that worry about jobs put all their eggs in one big industry. I'd like to do something smaller. There are people who like to work out of their homes, older people, people who like to raise a garden. If they see there's someplace for their produce to go so it doesn't go to waste, they might grow more."
Medley said inmates at the Rockcastle County Detention Center are helping raise green beans, cabbage, cucumbers, onions, tomatoes, and corn on a half-acre lot that a Livingston resident loaned for that purpose. Volunteers will can and label the vegetables, and the city will sell them to local restaurants in Livingston and nearby Mt. Vernon to raise revenue, Medley said.
"There's not a lot of tax base here," Medley said. "Every little bit that goes back to the city helps."
Medley hopes that, perhaps as early as next year, local farmers and gardeners will sell their excess produce to the city, and the city can add value to the produce and sell it at a profit.
"Around here, we don't raise taxes – we raise produce," Medley said.
Livingston, a town of 300 people, also is a Kentucky Trail Town, a state designation for communities that offer adventure tourism opportunities.
Kentucky Proud is the state's official program for marketing farm products raised, grown, processed, and/or manufactured in Kentucky. About 4,000 farmers, retailers, restaurants, processors, school districts, colleges and universities, farmers' markets, Kentucky state parks, and Kentucky Farm Bureau roadside markets are members of Kentucky Proud.
Source: Kentucky Department of Agriculture Press Release
Tagged Post Topics Include: Agriculture, Agriculture Commissioner, Economic Development, James Comer, Jason Medley, Jobs, Kentucky, Kentucky Farm Bureau, Kentucky Proud, Kentucky Proud Program, Kentucky State Parks, Kentucky Trail Town, KYFB, Livingston, Local, Local Farmers, Major, Mt Vernon, Produce, Profit, Revenue, Roadside Markets, Rockcastle County, Rockcastle County Detention Center, Tourism, Volunteers