Larry Jaggers Honored for Distinguished Service to Agriculture
Posted on Nov 30, 2018


Hardin County farmer Larry Jaggers has been named the winner of Kentucky Farm Bureau's annual award for Distinguished Service to Agriculture. He was honored today at the organization's 99th annual meeting at the Galt House Hotel, receiving an engraved watch and a plaque.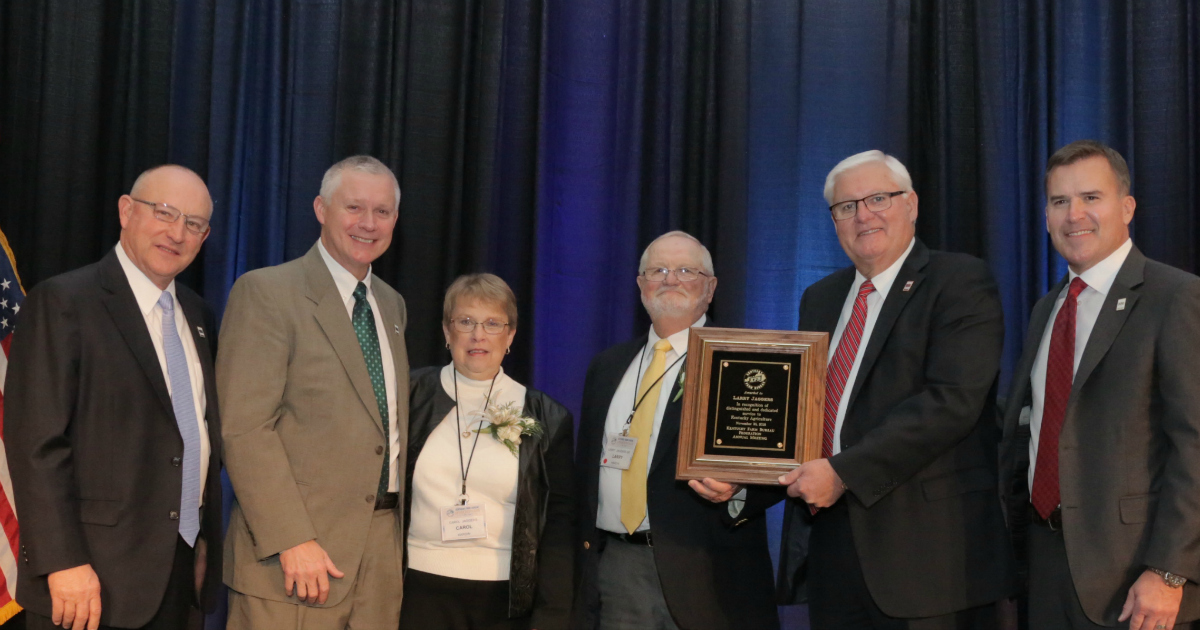 A life-long farmer, Larry and his wife Carol made a small family dairy farm into a larger dairy, grain, and tobacco farm. Known for his hard, efficient work and good farming practices, Larry is involved in many agribusiness organizations and has been rewarded for his achievements and donation of time with many awards. After maintaining a dairy farm for 47 years, he has now cut back to a smaller operation and his son runs the grain operation.
Larry has spent a lifetime pursuing the improvement of agriculture and educating others of its importance, working with farmers and agribusiness across our county, state, and nation. Specifically, he has focused on improving dairy farming as an industry, connecting the local non-farm community with its agriculture community, and making sure future and young farmers are set up with the tools they need to succeed.
"My father has been instrumental in making agriculture work for all of Hardin County," said Larry Jaggers II, president of the Hardin County Farm Bureau. "His selfless approach to improving practices for fellow farmers, engaging with young farmers, and merging city and farm interests has been nothing short of extraordinary. As a member of the farm community, and as his son, he will forever be my role model."
For 45 years and counting, Larry has served on the Hardin County Fair Board, promoting agriculture to the entire county. He has served as chairman for the Hardin County Farm City Committee and is dedicated to bridging the divide between urban and rural communities. Larry serves on the board of the Kentucky Agricultural Financial Corporation, setting new farmers up with the financial assistance they need. Along the way Larry has been instrumental with farm organizations and youth groups like 4-H and FFA.
And the list goes on: Larry has also served in leadership positions with the Hardin County Farm Bureau Board of Directors, the National Dairy Board, American Dairy Association, United Dairy Industry, County Extension Council, Extension District Board, and KY Ag Finance to name a few.
"Larry and I have known each other for years," said Maury Cox, President of the Kentucky Dairy Development Council. "His work in the dairy industry is appreciated, and the leadership he's shown over the years will have a lasting impact on the agriculture community."
Kentucky Farm Bureau, with over 473,000 member families statewide, is the state's largest general farm organization. Approximately 2,000 members attended KFB's 99th annual meeting in Louisville, November 28 – December 1, to recognize this year's individual and organizational achievements and adopt policy for 2019. To view all the updates released from this year's annual meeting, visit KYFBNewsroom.com.
PHOTO AVAILABLE FOR DOWNLOAD:
To view or download the photograph that accompanies this story, click here.