Landon Young's Story of Faith, Family, Farming and Football
Posted on Jan 27, 2021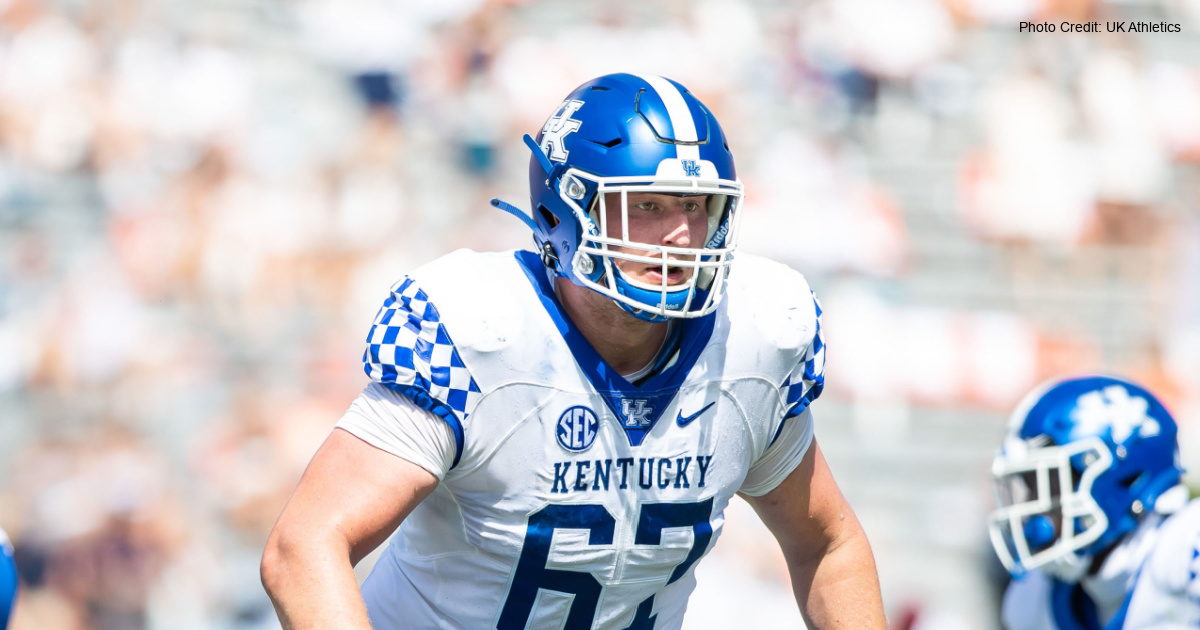 The standout former UK football player shares his journey…thus far.
It hasn't been that long ago that Landon Young was spending half of his school day at Locust Trace AgriScience Center, participating in FFA events as a chapter president, and honing his skills as a standout senior football player at Lexington's Lafayette High School.
At that time, the University of Kentucky football star was about to embark on a stellar college career which would include many state and SEC conference honors both on and off the field, ultimately leading to a chance of continuing on to the National Football League.
Fast-forward to today, and after his five-year career as an offensive lineman at UK, the Grayson County native is now preparing for the NFL Scouting Combine that will give him a chance to be seen by NFL coaches from across the country.
But Young credits his lifelong commitment to his faith, family, and farming as being the things in his life that have guided him through this journey thus far and will continue to do so.
"I can't thank God enough for blessing me with the opportunity to do what I'm doing," he said. "But he has a bigger plan than any of my plans at the next level. And he's using me as an outlet, and that's what I want him to do."
Young said he is excited to be able to play the game he loves and do it at a higher level, crediting a work ethic taught on the farm by his father and grandfather.
"We had a farm in West Kentucky where my dad and my granddad raised pigs and cattle, and I was there for the first couple of years of my life, before we moved to Lexington," he said. "But we always kept the farm and wanted to make sure that we could still introduce some of that into my life."
Young said he was always taught from an early age that if you set your mind to it, you can do it. If you're going to start something, you better finish it.
"Being able to go out and work in the summer with my dad and working some long days on the farm and being able to finish up jobs on the farm, as I've got older, I've realized more of the importance of it now that I have more responsibility on that farm than I did when I was younger," he said. "I definitely think it gave me a good work ethic because if things don't get done around the farm, you get cattle out or you get grown-up fields or things go haywire. There's always something to do on a farm."
It would be his experience as a "farm kid" that led him to attending Locust Trace and joining FFA.
"That was one of the best times of my high school experience, above everything, just being able to get out and meet kids with like minds, like values, and like morals," he said. "I was able to learn in a hands-on environment at Locust Trace and learn something that I can take into my professional career one day. I'm not much of a guy that likes to sit at a desk all day, and I like to actually get my hands-on things and learn how to do it the practical way."
Young said one of the most useful skills he received from his experience in FFA while in high school was the gift of leadership, specifically public speaking, a skill he continually uses.
"My speaking skills and doing impromptu speeches, doing prepared speeches, going to camps, meeting new people, and being able to tell them about my background and what we do at Locust Trace, those things were so beneficial and things I can now apply to regular-day life," he said.
As is the case with so many high school ag students, they are able to bring a set of diverse skills to the next level.
"While at Locust Trace, I learned the textbook side of farming and about agriculture, taking several classes learning about horticulture classes and aquaculture, as well as animal science," he said.
Carrying that knowledge with him into classes at UK, Young graduated with a major in animal sciences and a minor in ag-economics allowing him to understand the business side of farming as well as everyday operations.
"I feel as though I can also help other people realize some things about their farms, which is a potential for them to be able to do something bigger or something better, or be more economical," he said.
Young definitely sees himself as an advocate for agriculture and has discussed it with many of his peers. In doing so, he has learned a lot about his teammates and their backgrounds, as well.
"I've tried to spread the word about agriculture as much as I could," he said. "The guys on the team were pretty fascinated by being able to sit down and talk about something that they didn't know much about. I liked having those conversations because I always learned something about them, as well.
As part of his advocacy efforts, Young said he has encouraged those teammates to try working in the ag field or take related classes because the industry needs a younger generation to become involved.
"We definitely need more people to get into agriculture in order to continue to provide for a growing population," he said.
As Young has moved to this next chapter in his life, he recalls many fond memories and a few sad ones from his college playing days.
"I was hurt my 2018 season, but that time gave me some perspective. It allowed me time to be with my faith, to be able to walk back in on that and get closer with God, and it also allowed me to learn the game a little better and prepare my body a little better," he said. "And then, of course losing one of the most beloved men in my life, (UK Assistant Coach) John Schlarman. That was a big hit for the team. I loved the man, I love his family, and I can't ever thank him enough for the impact that he's had on my life and my career. But more than just coaching me, he taught me how to be a man."
Young, who has been recognized nationally for his volunteer service work, has taken those lessons to not only excel on the field but in his community. He relayed a story about a fan, Mr. Biggs, who sat near the team's field entrance and always had a good word or a "hello" to share.
"One day he asked if I would like to visit Cambridge Place, a nearby nursing home, and I said absolutely," Young explained. "I got to spend quite a bit of time there over the last couple of years as a way to give back something to these folks, but I never did any of those things for the awards or the recognition. I did it because I wanted to; because I wanted to give something back."
Young credits his parents and grandparents for instilling that sense of "giving back" and treating people the way you want to be treated. But the real foundation for Young is his faith in God.
"I love being able to spread the word of God and tell people about how great he is and everything that he's done," Young said. "And if that saves one person's life or plants one seed, then I feel like that was a job well done. As many people as I can bring to faith and as many people that I can tell about my faith, the better, and I know that's what God would want for me. I know that's what my grandparents and parents would want me to do."
As he continues to prepare for the next step in his football career, Young brings with him a treasure chest of memories and lessons learned throughout his journey thus far. But he also looks toward the future and knows he will one day be coming back to the family farm.
"I want to be able to come back at some point, whether I have a one-year career or it's a five or ten-year career in the NFL," he said. "I couldn't see myself coming back to anywhere but Kentucky and I just love the state. I love the people. I love being around family and friends and the farm's something that I could never give up in my life."
Young added that his family and wife know how much it means to him to do that.
"And I know how much it means to my dad. It's been in our family since about 1932," he said. "I want to be able to go back and do it justice, and put my own cattle back into it, and be able to go back to the farm lifestyle.
For Landon Young, he says it's not about a great living but it's about a great life. Amen!