KyCorn Showcases New Agriculture Curriculum at Kentucky Farm Bureau Teachers Workshops
Posted on Jun 23, 2014


Kentucky Farm Bureau is holding its Regional Teacher Workshops this week across the Commonwealth, and KyCorn was invited to provide information about the association's latest curriculum offerings.

Communications director Jennifer Elwell recently developed a Passport Program as a companion to the Kentucky Farms Feed Me Virtual Field Trips that were created in 2012. The curriculum encourages teachers to show each video in the classroom, discuss what they saw, and have the students complete activities that reinforce what they have learned. The curriculum aligns to current Kentucky Core Academic Standards, a feature that is critical for today's educators.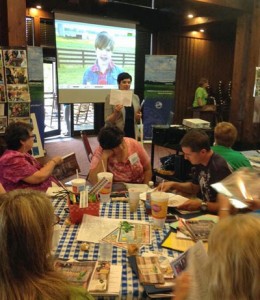 Teachers were also introduced to a Corn in the Classroom economics game that provides students a lesson in supply, demand, and the risks of farming. Students must make decisions about a theoretical corn crop, as well as take risk cards on weather, market prices, and pests. Their cost per acre, yield, and price changes along the way. The object of the game is to have the highest net profit once it is delivered for sale. Because of factors farmers cannot control, however, producing profitable crop is not as easy as it looks.
"Both programs have been very well received, and teachers are taking these resources to use in their classrooms for the next school year," said Elwell. "I am extremely thankful that KFB provides these workshops to showcase how teachers can use agriculture to teach every subject available, from math and science, to social studies and practical living."
The teacher workshops will run through Thursday, and KFB's Scott Christmas anticipates 300-400 will participate in this professional development opportunity. The Kentucky Department of Agriculture is also showcasing their education programs such as the Mobile Science Activity Centers and the Ready, Set, Grow program. Award-winning Louisville educator Darlene Horton is headlining the workshops by giving teachers a wealth of agriculture-infused ideas for classrooms.
To learn more about the Kentucky Farms Feed Me Virtual Field Trip Series and curriculum, visit www.kyfarmsfeedme.com. The program is jointly funded by KyCorn and the Kentucky Small Grain Growers Association. The Kentucky Livestock Coalition provided funding support for the Passport Program materials.
Additional teaching resources can be found at www.kycorn.org.
Press release provided by Kentucky Corn Growers Association.
Tagged Post Topics Include: Kentucky Farms Feed Me, Kentucky Livestock Coalition, Kentucky Small Grain Growers Association, KFB, Ky Corn Growers Association, Passport Program, Regional Teacher Workshops