KY. Proud Urban Garden Project Breaks Ground to Teach Youth Life Lessons Through Agriculture
Posted on Jul 2, 2014


LOUISVILLE, Ky. — Agriculture Commissioner James Comer, Louisville officials, and local youth broke ground on a program designed to teach young people about nutrition and how to grow, cook, market, and sell their own food.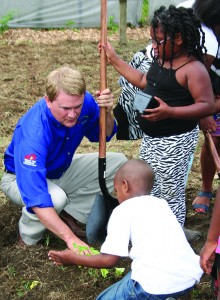 Commissioner Comer was joined by Louisville Mayor Greg Fischer and District 1 City Councilwoman Attica Scott to launch the Seed to Sale initiative July 2 at the Parkland Boys and Girls Club at 3200 Greenwood Ave. Participating youth members from the Parkland club presented each dignitary with a new shovel and helped them plant the first summer crop.
"Focusing on urban agriculture was one of the issues I wanted to address when I ran for ag commissioner back in 2011," Commissioner Comer said. "I'm proud that we were able to raise the funds to kick off this initiative as it's important to me that everyone has access to healthy food."
"Connecting young people to gardening is a proven way to move the needle when it comes to children accepting fresh fruits and vegetables – they will eat what they grow," Fischer said. "Community gardens and programs like this also build entrepreneurial skills in young people, and they build stronger, safer, and more connected and engaged neighborhoods and communities."
"The importance of this garden means these young folks are going to go home and talk to their parents about gardening. And they're going to go home and start a garden at home," Councilwoman Scott said. "Kids, gardening is like building a community. You're going to plant something, and you're going to watch it grow. You're going to watch it flourish, and you're going to watch it make a difference for folks."
"We are excited for this partnership and believe the program will be a great success," said Jennifer Helgeson, president and CEO, Boys and Girls Clubs of Kentuckiana. "We plan to roll it out to other Boys and Girls Clubs across Kentucky in the coming years as interest grows around the state."
This program was made possible by funds raised through the May auction of misappropriated items obtained from former Agriculture Commissioner Richie Farmer. The Kentucky Department of Agriculture will carry out the initiative in collaboration with the Boys and Girls Clubs of Kentuckiana, Louisville Grows, and the University of Kentucky Cooperative Extension Service. Anthem Blue Cross and Blue Shield of Kentucky provided additional funding for the project.
The Seed to Sale program will run through November.
Press release courtesy of the Ky Department of Agriculture
Tagged Post Topics Include: Anthem Blue Cross an Blue Shield, Attica Scott, City Councilwoman, Commissioner of Agriculture, Greg Fischer, James Comer, Jennifer Helgeson, Kentucky Department of Agriculture, Louisville, Louisville Grows, Mayor, Parkland Boys and Girls Club, Seed to Sale, University of Kentucky Cooperative Extension