KFB Legislative Drive-In and Food Check­Out Day
Posted on Feb 12, 2020

Annual event brings volunteer members to the Capital for meetings with their legislators
Nearly 300 Kentucky Farm Bureau (KFB) members, from across the state, made their way to Frankfort on February 5 to participate in the organization's annual Legislative Drive-In and Food Check­Out Day activities.
Both initiatives assist members in their advocacy efforts through visits with state lawmakers. KFB President Mark Haney said nothing is more important to the agriculture industry than keeping legislative members informed about issues affecting farm families.
"This is such an important day for our organization as our volunteer leaders meet with their legislators to discuss KFB priorities and to hear progress on pending legislation that will affect their family farms," he said. "And by showing up in big numbers, it leaves no doubt as to how involved they are as advocates and how interested they are in the legislative process."
Those attending first met with KFB leadership and the Public Affairs team to discuss ag-related legislation making its way through the General Assembly and to pick up food baskets which are handed out to lawmakers and constitutional officers, including the Governor, during this event.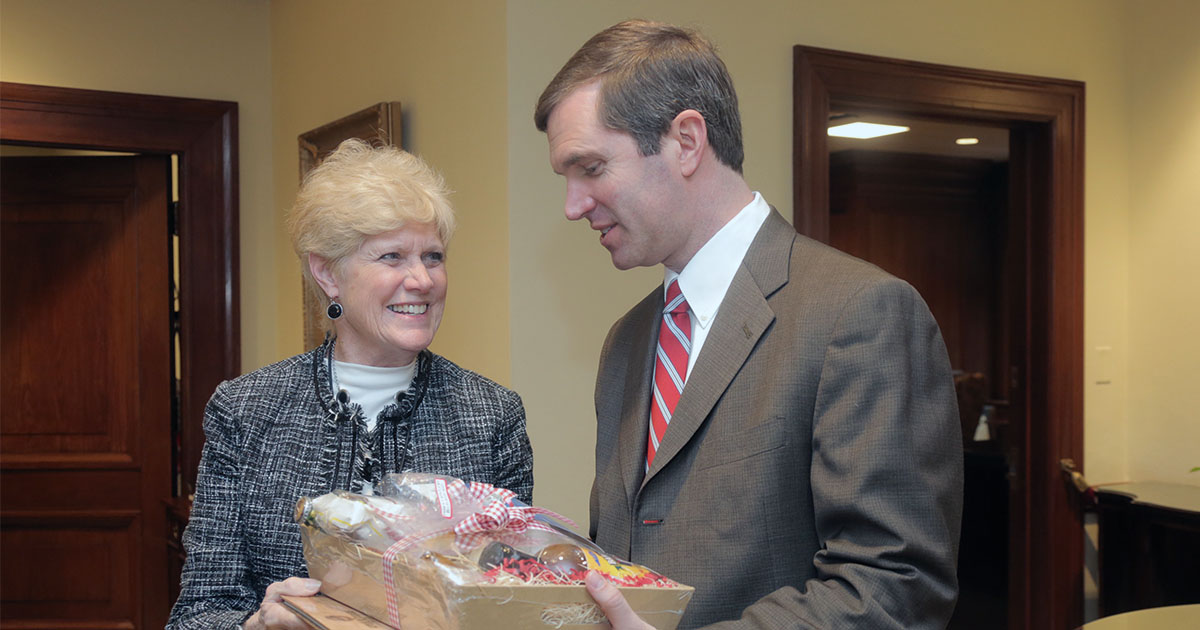 KFB State Women's Committee Chair Judy Hayden said the food baskets not only showcase Kentucky produced goods but also helps legislative members understand how much of a person's income goes toward their food costs.
"Food Check-Out Day and Week is a national campaign in which many state Farm Bureaus participate in each year commemorating the calendar day when the average American family will have earned enough income to pay for the entire year's food supply," she said. "By delivering the food baskets we not only demonstrate how inexpensive our food supply in this country, but it gives us a chance to offer some of the great food that is produced right here in the Commonwealth and the value of our farm families."
Representative Bart Rowland said he looks forward to this day each year to hear from members.
"It's always impressive when Farm Bureau comes to town. Some of the best friends I've got from back in my district are Farm Bureau members. They always welcome me to their local meetings, and I'm always glad to have them up here to hear about issues that are important to them and their organization.," he said. "You always remember the groups that come year after year after year, and especially the groups that come out in large numbers like Farm Bureau. And it makes a difference when it comes to taking a side on these issues. The legislators always remember the folks that have visited and talked about those issues."
Senate Majority Floor Leader Damon Thayer spoke of the importance of agriculture and having Farm Bureau members come to Frankfort to meet with their respective legislators.
"I love food checkout week. It's a great way to remind legislators that it takes about six weeks of income to pay for our food and how fortunate we are here in the United States to be able to rely on our farmers to provide food on the table and to remind people that it just doesn't come from the grocery store," he said.
Thayer also mentioned that the one issue he hears from citizens the most deals with rural broadband.
Broadband is the number one issue that I hear from constituents about on a year-round basis, and especially getting it out into these rural areas and I hear about this a lot because it's important for farmers and other small business owners, who are in the rural areas to be able to have that level of connectivity."
Haney offered his thanks to the hundreds of members who participated in the day's event and reminded them to keep up the good work in advocating for the agriculture industry.
"The very farms we live and work on are invaluable to us and we must always remain vigilant in our efforts to ensure that way of life is preserved for us and generations to come," he said. "I can't thank our volunteer members enough for making the trip to Frankfort and speaking up for this industry that is so important to every citizen of this great state."