KFB Candid Conversation: Jacob Tamme, A Wildcat Raising Cattle
Posted on Sep 10, 2019


KFB Candid Conversation:

KFB Candid Conversation presents a discussion about the topical issues facing the agricultural industry and rural communities in a question and answer format. In this column, Jacob Tamme, a cattle producer and wealth management advisor from Boyle County discusses life on the farm after a storied football career at the University of Kentucky and in the National Football League.

Most of the people who know you are familiar with your football career. Could you talk a little about that and how you ended up on your farm?

The experiences we've had as a family, and the experiences that I got to have as a player of the game of football are things that you can only dream about as a kid. My goal was to go to UK and play football there. To accomplish that and do what we did with the program during those years was a dream come true. Nine years in the NFL was really icing on the cake along with all of the relationships that we built and friendships we made during that time. Getting to be a part of some really good teams, and going to three Super Bowls, that was beyond anything I could have imagined as a player. From a farming perspective, I didn't grow up on the farm, but my father did, and I spent many summers on my grandfather's farm which has been in my family since 1910. During those times, I learned a couple of important things. I learned to follow directions and work hard. So, I knew I always wanted to come back to this place.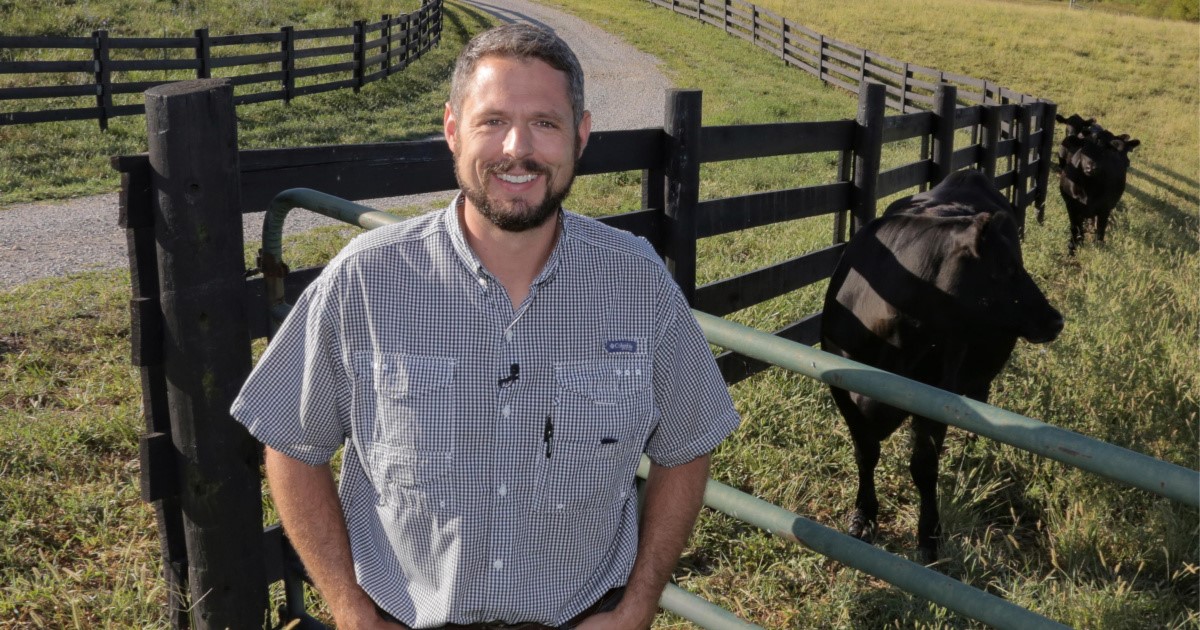 Talk about the farming operation at Tamme Valley Farms.
My family has done a lot of things on this farm, going back nearly 110 years. But the one thing that has been constant, is the cattle business. And I wanted to jump into it, as well. So, we raise registered Angus seedstock and really try to raise and create a premium product, both from the maternal cow side, to an end-product that can be something the consumer really wants and prefers. Our first goal is to have females that can go somewhere and end up being great producers, and bulls that can be a part of a commercial or registered operation and really do the job they are supposed to do. We want to produce cattle that have longevity, better than sufficient pounds, and all of those maternal qualities that producers want. It is a passion of mine, trying to produce that great animal. That part of it has been so much fun for me and I love it.
Many people who aren't familiar with farming, don't understand the relationship that farmers have with their animals. What do you tell those people about what you do as a caretaker of your cattle?
There is a lot of misinformation out there about agriculture, specifically about cattle farming, cattle handling, and animal welfare, in general. I would encourage people not to be swayed by this misinformation. If you grow up around farmers and you become one and you spend time with them, you learn, first of all, this is a livelihood for them. So, they care deeply about what they are doing. Secondly, there is a connection with the animals that most folks don't get the chance to understand. We are fortunate here. In raising seed stock, we get to see our animals go out and do great things for other producers, in their herds, extending the relationship that began with us. We get to see these momma cows stay here and have calf after calf taking care of them, and for the most part they are fine on their own. But last summer we had a calf born over eight weeks early. For the next 17 days, 24 hours a day, we did all we could to keep that calf alive. We ended up losing it and I'll be honest with you, I bawled my eyes out because there is something special about the work you put in and giving them to opportunity to survive, thrive and flourish and it hurts to lose one. Unless you do this, most people have no idea how we feel about our animals.
What do you think about the farming life so far?
Farming cattle can be the ultimate, and I love it. I have so much respect for people in this industry because it really never stops. When I was playing football, I thought it'll be nice one of these years to ride the tractor around and bush hog and just breathe a little bit. I'll tell you there has not been a single day since I stopped playing football where I got to get on the tractor to bush hog and breathe a little bit! If I am on the tractor, I've got 15 other things to do. I have discovered that farmers never really slow down.
We are fortunate enough to live in a state that has so many resources for farm families to utilize and learn from. What has been your experience with some of those resources?
When we started this operation, I had a lot to learn. My family has been in it forever, but I personally had a lot to learn and that was a great challenge for me. But I completed the Master Cattlemen's program through extension last fall, and it was so fun to see the folks in there like me who were just ready to learn; just ready to soak it up. And it is true, we are fortunate here to have great resources through UK and otherwise. And because of those resources, the cattle industry here has grown so much. One of the fun things that I get to do is talk to folks about how Kentucky has the most cattle east of the Mississippi. In the Angus business, you meet a lot of people from other states like Montana, Kansas, Nebraska, and Texas where things are different in a way. But they have a lot of respect for what we do here in this state. They know how much the cattle industry means to us and we are excited to continue to be a part of that and a promoter of that.
On a scale of 1 to 10 how rewarding has this farming life been for you and what would you say to other young farmers looking to get into farming?
It's been a 10 for me because of my family history. There is really nothing more special than that to me. It has also been a phenomenal challenge, which I needed leaving the game of football. One thing Roger Staubach said years and years ago was, when you leave the NFL, you have to go 1000 miles per hour in another direction. If you aren't going to coach or play another year, you have to move in another direction for your mental health. The farm has been that for me. And I would tell others to remain tough even in the difficult times. Surround yourself with a community; your family, and other farm families and remember you never have to go it alone.
Going to raise your kids on the farm?
Absolutely!