KFB Candid Conversation: Adam Hinton, Hinton Mills
Posted on Jun 23, 2017


KFB Candid Conversation presents a discussion about the topical issues facing the agricultural industry in a question and answer format with a member of the agricultural community. In this column, Adam Hinton of Hinton Mills discusses the importance of rural communities and the farms and businesses that make up those rural economies. Hinton Mills is a multi-generation owned farm and feed supply business with five locations in three counties.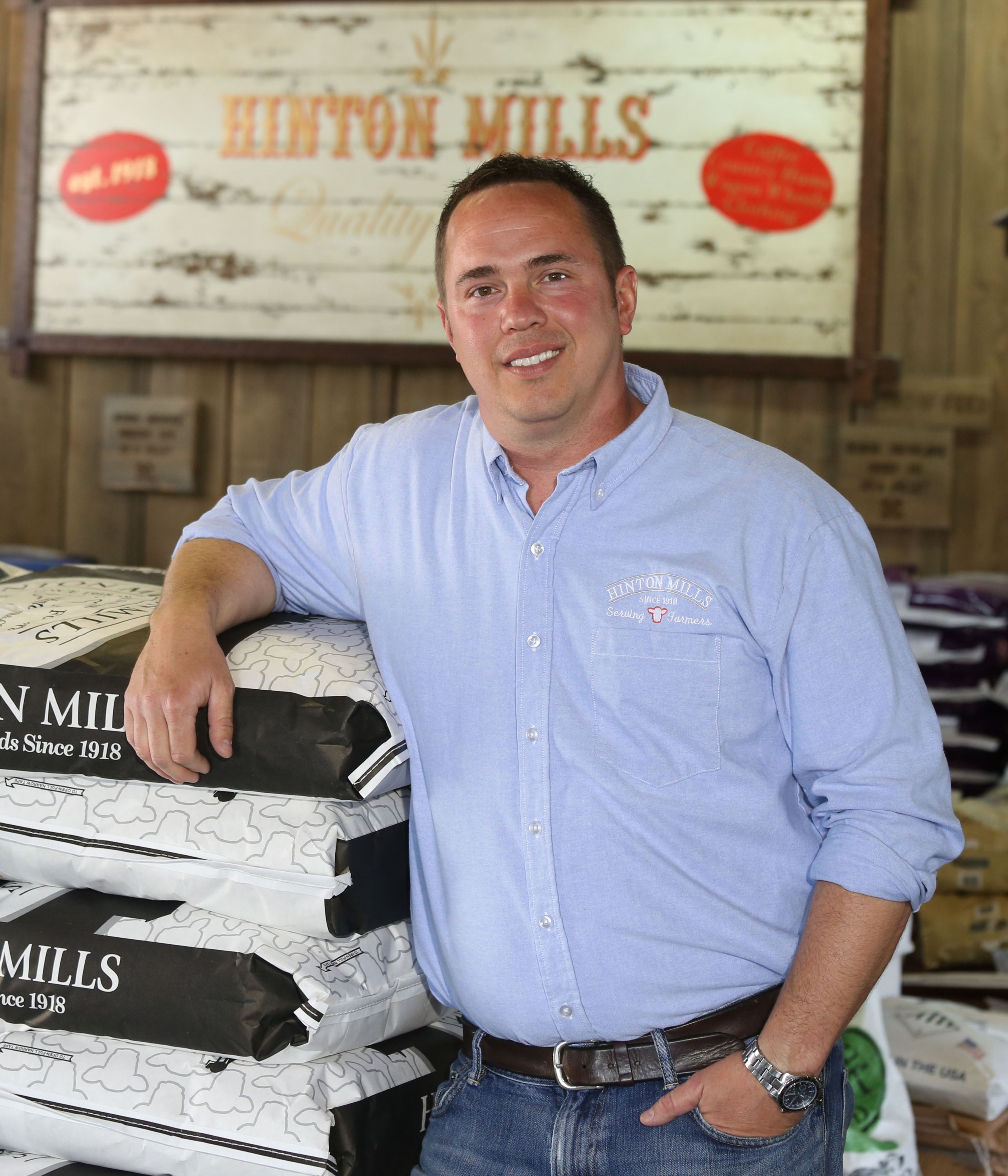 What is some of the history of Hinton Mills?
We've been in business for nearly 100 years. It was started in 1918 by my great grandfather Frank L. Hinton in Goddard, Kentucky. A few short years later he and my great grandmother took over the Plummers Landing location, which was started by his uncle O.L. Hinton as a wagon spoke factory. There was this rich history of agriculture in the family even before our business started. Over the years, an employee or two would be added along with additional store sites until we grew to have 50 employees working in five locations to serve the agriculture community six days a week. We rest on Sunday and get up and do it again the next day. While the businesses are located in three counties, we have regular deliveries all over the region. I feel like we have been able to make a difference in the agriculture industry in a much wider area than ever before.
Do you think the small town atmosphere lends itself to rural community businesses?
For rural businesses, one of the key things to success is having repeat customers who are satisfied and tell their neighbors. That is how we have grown over the last century. Growing through word of mouth has worked really well for us, the ag community as a whole, and rural communities in general. Growing through word of mouth, it's the true definition of grassroots. Historically and still today rural businesses are dependent on their neighbors. That sense of neighbor and community is strong in these smaller areas. We are dependent on the loyalty of these folks, our customers. Loyalty, community and neighbor are important words to Hinton Mills, and agriculture in general we are really glad to be a part of that.
Farming is primarily a family business, as often is the case with rural businesses. What has family meant to this business?
I'm one of three brothers who represent the fourth generation in the business and we bring three different perspectives to the business. We all had similar upbringings, living in Fleming County, going to the same schools and college, but after that we began to get diverse perspectives. I moved away and worked at an aeronautical university in Florida; my older brother Matt moved away and got his MBA and worked in the manufacturing industry; and Nathan came to work here straight out of college. I think we all have brought something unique and positive to the table with different views. But we have also kept traditions started by generations gone by like celebrating birthdays with our employees by letting them have that day off. Being away was something good but every time I came home, there was something pulling me back. I wanted to be a part of my grandparents' lives and family. Another thing was the rural and agriculture lifestyle. I missed that and there's no place like home. But we also saw the work my dad was doing and how it was positively impacting the business and community, it made it exciting to think about being a part of that.
How important are rural businesses to the farm communities they serve and beyond?
The things that Hinton Mills stands for are the same things found in every business in every small town throughout America. You'll find people who care about their community, they care about their neighbors, they care about their employees, and they care about their families. The business owners are at every town function that they are asked to participate in. They are behind the scenes of many things happing in those small towns - like little leagues, events with the local fire departments or local fundraisers for someone who is sick or going through hard times. These folks are passionate about their communities. They live their value system in their work. That is what has built America and the existence of that kind of mentality will continue to make America great in the future.
If you could send a message to USDA Secretary Sonny Perdue, who also hails from a small town, what would that be?
In borrowing a statement from Warren Beeler, head of the Governor's Office of Agricultural Policy, I would say, you really don't have to do anything for us; just don't do anything to us. The message is to let agriculture keep doing what we do. I don't think we need lots of special favors but we don't need over regulation. There's no one who cares more about their livestock, the ground in which they grow crops, and the people who are our friends, neighbors and consumers than farmers and their farming communities. Agriculture communities have historically done a good job and are still doing so today. Can we get better? Absolutely. Are there some things the government can do to help? Yes. However, I believe government can best help agriculture by letting us do what we do best. There are programs to help rural communities found in the current Farm Bill and while dollars are short, I would say at the very least, don't cut programs for agriculture and farm communities. Keep in mind, no matter where you live, all of us need food. It is a necessity.