Kentucky Proud-Kroger Partnership is off to a Strong Start in the First Six Months
Posted on May 14, 2015


FRANKFORT, Ky. –

Kentucky Proud

members and a

Kroger

official say they've seen positive results in the first six months of the partnership between the supermarket chain and the state's official farm marketing program.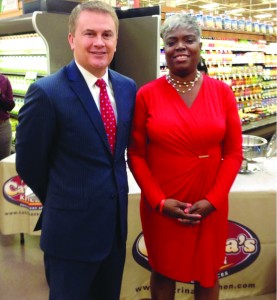 "Consumers love the expanded selection of local, high-quality Kentucky Proud products at Kroger stores," Agriculture Commissioner James Comer said. "We were sure this initiative would do well, but it is succeeding beyond even our wildest expectations."
Tim McGurk, public affairs manager for Kroger's Louisville division, agreed that the partnership has been successful so far.
"The Kentucky Proud products have exceeded our expectations in terms of sales results and customer response," McGurk said. "They are clearly top-quality items and represent some of the best locally produced products available anywhere. We look forward to seeing this program expanded further."
Last November, Commissioner Comer announced that Kroger would sell 125 Kentucky Proud products in 88 stores throughout the Commonwealth. Commissioner Comer and Kroger officials unveiled a Kentucky Proud kiosk that was placed in the Kroger stores. Kroger supported the initiative with a statewide television advertising campaign in which select participating Kentucky Proud members tell their stories.
"Kroger has been really great to work with. It's made a huge difference in our business," said Catrina Hill of Louisville, founder of Catrina's Kitchen, a maker of mixes and seasonings. "Kroger didn't have to do what they're doing, but I appreciate we're one of the people they chose. I really hope we can go nationwide with Kroger someday."
"We've had more sales, absolutely," said Ernest "Mac" Weisenberger of Weisenberger Mill in Midway. "Kentucky Proud has given us a lot of exposure, which has led to increased sales."
In February, the Kentucky Department of Agriculture hosted a meeting of 41 Kentucky Proud members with three Kentucky-based retail distributors in an event dubbed "Fish Tank." The distributors assessed the producers' operations and gave them pointers on getting their businesses retail-ready, whether in Kroger or other retailers. The event was so popular that the department plans to hold another as soon as enough Kentucky Proud members express an interest.
"Consumers are getting great products produced right here in Kentucky," Commissioner Comer said. "Kentucky Proud farmers and small businesses are seeing more revenue. Kroger is increasing its sales. This partnership is paying off for everyone."
Press release courtesy of Kentucky Department of Agriculture.
Tagged Post Topics Include: Fish Tank, Kentucky, Kentucky Proud, Marketing, Midway, Supermarket, Tim McGurk, Weisenburger Mill