Kentucky Proud Foods Will Set The Pace at Saturday's Quaker State 400
Posted on Jun 25, 2014


FRANKFORT, Ky. — Kentucky Proud foods will be served to fans at the Kentucky Speedway for Saturday's Quaker State 400 Presented by Advance Auto Parts and for the remainder of the racing season, Agriculture Commissioner James Comer announced.

"Our partnership with the Kentucky Speedway will bring Kentucky Proud to a wider audience when the eyes of the auto racing world turn to Kentucky this weekend," Commissioner Comer said. "At the same time, it will generate new income for participating Kentucky Proud farms and businesses. I'm grateful to Bob Magers with Levy Restaurants [the food service vendor for the Kentucky Speedway], Valerie Horn with Community Farm Alliance and Grow Appalachia, and everyone else who helped make this happen."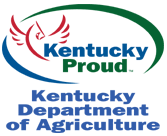 Magers said Chef James Pierson will use honey from Appalachia Proud producer Ted Ratliff of Letcher County to serve with the country fried chicken and biscuits served on the suite level; as an ingredient in the honey mustard sauce for the Kentucky Stillhouse; and in a cocktail made with Jim Beam bourbon called Honey You Devil. They also will serve local Kentucky Proud produce as they have every year since 2011.
"At Levy, we do a good deal of sourcing locally when we can," said Magers, a native of Louisville. "Kentucky Proud has been a good partner, and we do what we can to celebrate Kentucky foods."
"I'm just a little old country boy trying to make a dollar," said Ratliff, 75, an Air Force veteran who sells his honey locally and at area fairs and festivals. "This will be a big splash for me."
The Kentucky Department of Agriculture is working to source meats, cheeses, and other Kentucky Proud foods for the rest of the Speedway season, said Ben Shaffar, director of business development for the KDA's marketing office.
The Quaker State 400 will return to the Kentucky Speedway for the fourth time in the history of the Sparta, Kentucky, facility. The race will be broadcast nationally on TNT.
Kentucky Proud stands for farm products grown, raised, or produced in Kentucky by Kentuckians. Thousands of farmers, processors, retailers, restaurants, school districts, farmers' markets, Kentucky state parks, and Kentucky Farm Bureau roadside markets are members of Kentucky Proud.
Press release courtesy of the Ky Department of Agriculture.
Tagged Post Topics Include: Advanced Auto Parts, Ben Shaffar, Bob Magers, Commissioner of Agriculture, Community Agriculture Alliance, James Comer, James Pierson, Jim Beam, Kentucky Proud, Kentucky Speedway, Kentucky Stillhouse, Letcher County, Levy Restaurants, Quaker State 400, Ted Ratliff, TNT, Valerie Horn