Kentucky Farm Bureau's Bluegrass & Backroads nominated for five Emmy® Awards
Posted on Jun 8, 2015


Louisville, KY (June 8, 2015) –

Kentucky Farm Bureau

's

Bluegrass & Backroads

, a 30-minute television program that explores agricultural, cultural, historical and artistic stories unique to the state, has been nominated for five Emmy® Awards.

The National Academy of Television Arts and Sciences

(NATAS) announced nominees for the 51st Annual

Ohio Valley Regional Emmy

® Awards, giving the nod to

Bluegrass & Backroads

for five entries in the Best Magazine Feature/Segment category.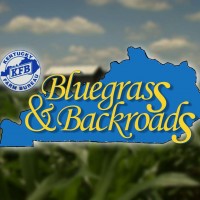 The show's Emmy®-nominated segments provide viewers with the rich backstories of a wood sculptor, a stone sculptor, a dulcimer craftsman, a clockmaker and an artisan chocolatier:
"Kentucky is uniquely blessed to have so many amazing and talented artists, and it's our great pleasure to share their gifts with our eager audience," said Bob Shrader, Kentucky Farm Bureau's video production coordinator.
Shrader and Matt Hilton, who make up Kentucky Farm Bureau's two-man video production team, are responsible for writing, filming, interviewing, hosting, directing and editing each show. The duo is now busy filming the 12th season of Bluegrass & Backroads.
"Producing a show like Bluegrass & Backroads has given me a deeper appreciation for this state and its people," said Hilton. "My goal with each segment we produce is to highlight just how special that heritage is."
The Ohio Valley Chapter of NATAS will unveil all the official winners of the coveted Emmy® Awards on July 25th during a black-tie event held at Keenland in Lexington.
Including this year's nomination, Bluegrass & Backroads has now been nominated for a total of 13 Emmy® Awards over the show's history, and has won the prestigious award three times.
Bluegrass & Backroads is a weekly program aired on Kentucky Educational Television's (KET) family of channels and several other network stations statewide. It is additionally seen nationally on RFD-TV through Dish Network, DirecTV and several major cable outlets. For a complete list of the stations and schedule on which Bluegrass & Backroads airs, or to view the show's Emmy®-winning segments and other episodes streaming online, visit bluegrassandbackroads.com.
"Like" and "Follow" Bluegrass & Backroads at:
facebook.com/bluegrassandbackroads | twitter.com/backroadstv
Tagged Post Topics Include: 51st Annual Ohio Valley Regional Emmy Awards, Agriculture, Artisan Chocolatier, Award, Best Magazine, Bill Kolok, Bluegrass & Backroads, Bob Shrader, Category, Cellar Door Chocolates, Clockmaker, Culture, Directing, Dulcimer Craftsman, Emmy Awards, Episode, Erika Chaves-Graziano, Eubank, Feature, Filming, Hosting, Keenland, Keith Chambers, Kentucky, Kentucky Farm Bureau, KET, KY, KYFB, Lexington, Louisville, Mark Eubank, Matt Hilton, NATAS, Nominated, Nominees, on Kentucky Educational Television, Online, Owensboro, Ravenna, RFD-TV, Segment, Show, State, Stations, Stone Sculptor, Streaming, Television Program, The National Academy of Television Arts and Sciences, The Ohio Valley Chapter of NATAS, Tim Hall, Video Production Coordinator, Wood Sculptor