Kentucky Farm Bureau sets state and national priority issues for 2018
Posted on Dec 4, 2017


Louisville, Kentucky (December 2, 2017) - Kentucky Farm Bureau (KFB) concluded its 98th annual meeting today with its Board of Directors approving priority issues for the 2018 legislative session and continuing advocacy efforts. The organization's delegates adopted policy positions at its business session. Members also heard from many local, state, and federal leaders during the course of the meeting.

State priorities

Agricultural programs and services priorities included: maintaining the 50 percent allocation of Master Settlement Agreement funds to the Agricultural Development Board; support continued funding of the Soil Erosion and Water Quality Cost Share program; support an efficient, well-administered and adequately funded Kentucky Department of Agriculture; and the recommendation that sufficient funding be made available to maintain a strong grain elevator inspection program for the protection of farmers, and to protect the farmer-financed Grain Insurance Program.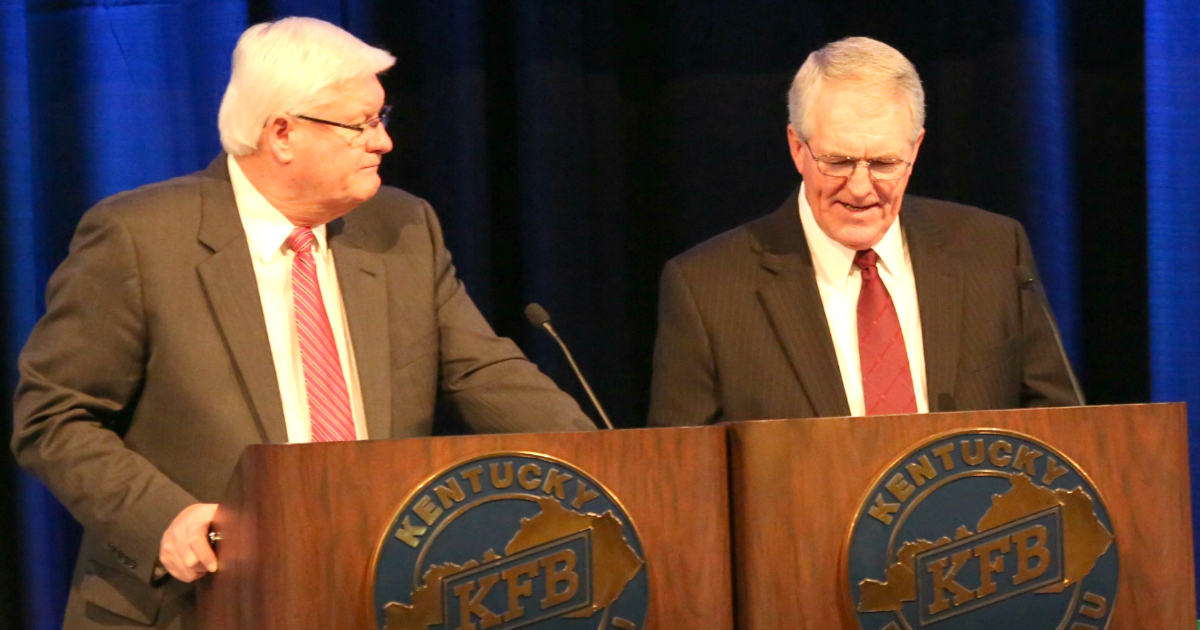 Priority issues related to taxation, included: Kentucky's tax code should be reformed based on sound economic principles; strongly oppose freezing the state real property tax rate; support the provisions of House Bill 44 which states property taxes should continue to be limited to four percent plus new growth. Any proposals to exceed that four percent should automatically go to voters. Also a priority is maintaining Kentucky's sales tax exemptions for production agriculture.
Support of the rural secondary and county road aid programs along with the continuation of the 22.2 percent allocation of the state gasoline tax revenue for rural roads was a priority issue approved by the Board, as well.
Rural communications continues to be a priority at KFB with support of sufficient broadband services across the state and the support of efforts and incentives to improve all telecommunications in rural Kentucky.
A state priority related to effective wildlife management that will reduce the wildlife population in an effort to alleviate continued crop damage, automobile accidents, human injuries, and loss of life was approved.
Other state priorities of note included support of the Kentucky Water Resources Board and the recommendation that state water resource policy and regulations be based on adequate scientific research data.
In addition, priority issues related to regulatory authority and support of opportunities for woodland owners were approved.
National priorities
From a national perspective, the support of modifying USDA Rural Development broadband programs to increase access to broadband service that meets or exceeds FCC standards was approved, as was supporting immigration reform that includes restructuring the H-2A program to streamline the process making it more reliable, economical, and simple for farmers to participate.
Health care reform was another priority, specifically supporting increased access to Association Health Plans and the support of changes to current health care law that will stabilize the market, encourage competition that will reduce health care costs, and increase consumer choice.
Crop insurance priorities were also high on the KFB national priority list including maintaining federal crop insurance at current levels to provide an effective agricultural safety net, and the support of crop insurance initiatives to maintain the integrity of crop insurance.
In relation to trade, a priority supporting fair and open multilateral trade agreements that will open new markets and expand existing markets for U.S. agricultural products was approved, along with regulatory reform priorities to support a thorough regulatory review to ensure regulations do not impose an undue economic burden on any segment of society and the regulatory process is transparent, and results achievable.
A regular visitor to the annual meeting each year has been Senate Majority Leader Mitch McConnell. This year, he missed the last general session due to being in Washington for a vote on tax reform. McConnell did however, make it to the Saturday KFB Board meeting to discuss some of the issues taking place at the federal level.
He mentioned many successes taking place in Washington and some of the big pieces of legislation currently being debated including the tax reform bill, which was recently passed by the Senate, the upcoming budget vote, and next year's Farm Bill.
"We are moving forward [on the Farm Bill] and it's an item for next year. I can't imagine I won't be calling it up when they tell me it's ready," said McConnell. "This is a Congress very oriented toward rural America, and I think we are going to be pretty sensitive to getting the Farm Bill as right as we can."
Kentucky Farm Bureau, with more than 478,000 member families statewide, is the state's largest general farm organization. Approximately 2,500 members attended KFB's 98th annual meeting in Louisville, November 29 – December 2, to recognize this year's individual and organizational achievements and adopt policy for 2018. To view all the updates released from this year's annual meeting, visit KYFBNewsroom.com.