Kentucky Farm Bureau Receives 2019 Agribusiness of the Year Award
Posted on Nov 19, 2019


Kentucky Farm Bureau, the state's largest and most influential farm organization, has been named winner of the 2019 Agribusiness of the Year award.

The award, sponsored by the Agribusiness Industry Network, was presented today to Mark Haney, president of Kentucky Farm Bureau, during the annual Farm-City Luncheon at the Kentucky Expo Center.

Now in its 27th year, the Agribusiness of the Year designation honors a Louisville-area agribusiness which excels in financial growth and stability, employee relations and contributions to the overall ag economy.

Kentucky Farm Bureau is celebrating its centennial this year, tracing its origins to an organizational meeting held in Louisville one hundred years ago this month. Farmers from some 35 Kentucky counties gathered at the Hotel Henry Watterson to approve the founding of Kentucky's first statewide advocacy group representing agriculture.

From that very modest beginning, Farm Bureau has grown into one of Kentucky's premier civic organizations and has established a strong business presence through its affiliate company Kentucky Farm Bureau Insurance.

Currently Farm Bureau boasts a membership of just under a half million Kentucky families, has offices in all 120 Kentucky counties and has grown to become the state's largest property and casualty insurance company. More than 500 employees work at the firm's statewide headquarters on Bunsen Parkway in eastern Jefferson County.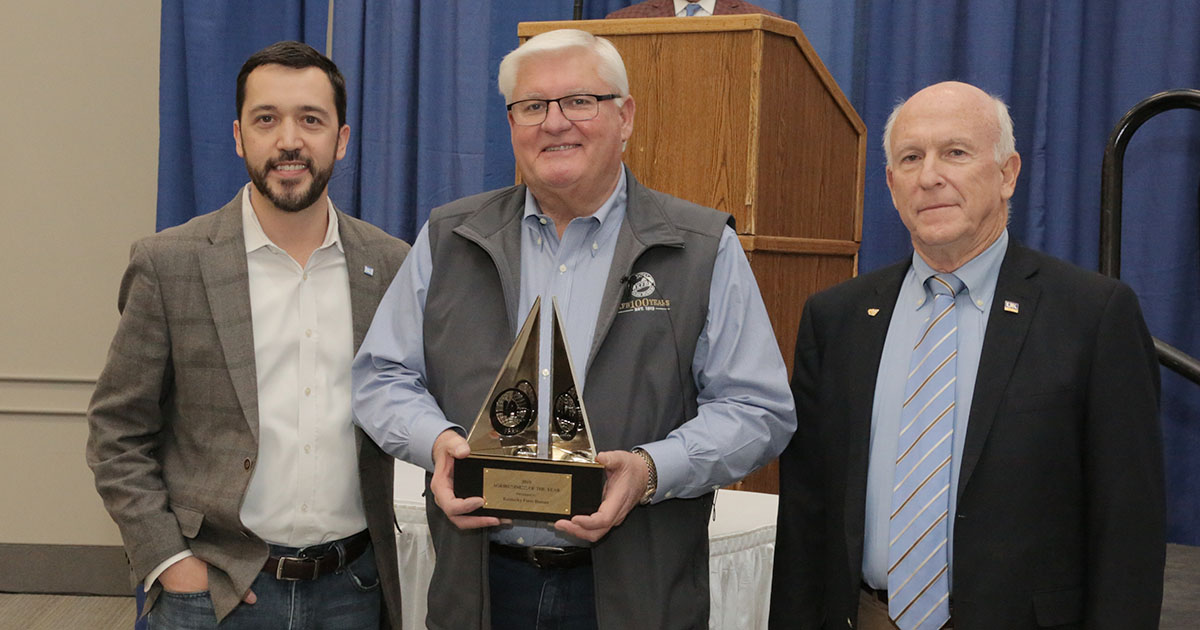 Farm Bureau has, for decades, been considered one of the pre-eminent lobbying organizations in Frankfort and in Washington. Their comprehensive public affairs program targets a broad range of issues affecting farmers, rural communities and agribusinesses, including tax policy, transportation, environmental regulations and international trade.
The group also offers programs to benefit member families, including college scholarships, young farmer and women's activities and leadership development.
On the business side, Farm Bureau Insurance employs some 370 agents working out of 176 offices across the state. The firm's 1.3 million policies in force place it in the number one spot among Kentucky insurers. Farm Bureau's growth has been fueled in part by an effective statewide marketing campaign, under the familiar banner "Big on Commitment."
A wide-ranging member service program offers KFB families discounts on farming inputs through a farm chemical group purchasing plan. Identity theft protection, travel discounts and a low-cost online banking service are also available for dues-paying members.
The KFB Education Foundation has awarded more than 1,800 scholarships worth nearly $3 million to students since its founding in 1953. The annual Farm Bureau Country Ham Breakfast, a highlight at the State Fair, has produced $14 million for Kentucky charities, colleges and non-profits through its grand champion ham auction.
In recent years, the growing interest in direct farmer-to-consumer food sales has been reflected in the expansion of Farm Bureau's Certified Roadside Market Program. This year 83 farmer-operated food markets in 53 Kentucky counties enrolled in the program, offering everything from fresh seasonal produce to processed meats and vegetables, as well as crafts, flowers and souvenirs.
At next month's Kentucky Farm Bureau annual meeting a 100th anniversary souvenir book will be introduced chronicling the many milestones in Farm Bureau's growth, as well as the dedicated leaders who have led the organization over the past 100 years.
"It's an honor to be named the 2019 Agribusiness of the Year award winner," said KFB President Mark Haney. "A special thanks goes out to our dedicated members across the state who work so tirelessly on behalf of this organization and our agriculture industry to make it a success.
"As we celebrate our centennial we take pride in our past accomplishments and look forward to beginning a new century for generations to come."