Kentucky Farm Bureau Day at the State Fair: A $1 Million Ham Takes Centerstage
Posted on Sep 10, 2019


Another Kentucky State Fair is in the books, and, as usual, it proved to be a great event from the opening Commodity Appreciation Breakfast to the final concert.

Each year approximately 600,000 people make their way to the Kentucky Exposition Center to take part in the festivities, the entertainment and the local food that have become a staple at this massive event.

And Kentucky Farm Bureau (KFB) was an integral part of the fair, as it has always been, especially during KFB Day at the Fair. This year, the Grand Champion Ham, produced by Penn Country Hams of Mannsville, in Taylor County, brought an impressive $1 million from top bidder Central Bank during the annual KFB Country Ham Breakfast and Charity Auction.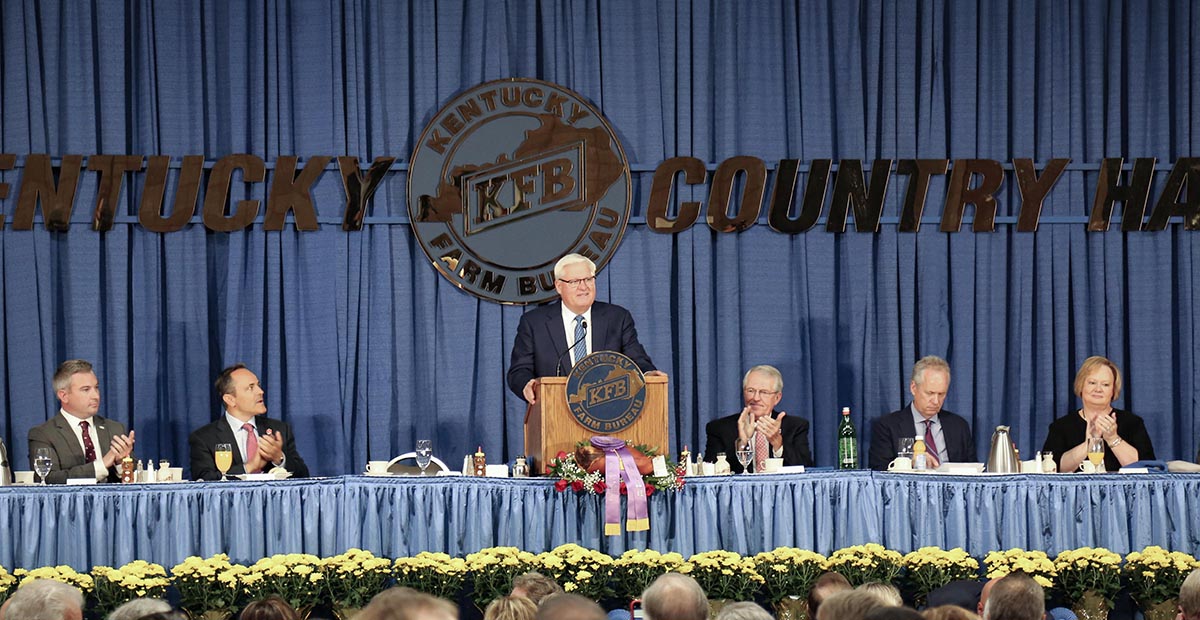 Central Bank's President and CEO Luther Deaton made the winning bid and said how proud the organization was to have won this year's award-winning country ham.
"We are grateful to Kentucky Farm Bureau for providing us with this opportunity by hosting the Country Ham Breakfast at the Kentucky State Fair for the 56th year," he said after the event. "Providing businesses like ours a chance to attend an event highlighting the best of Kentucky agriculture and its influence on our state, while encouraging charitable giving, is a great way to celebrate all that we stand for as Kentuckians. We are always excited to give back to our communities and are grateful for the chance to do so through this auction today."
Proceeds from the winning bid will be donated to a variety of non-profit organizations and charities including Transylvania University, the University of Kentucky Gatton College of Business, the University of Kentucky Markey Cancer Center, St. Elizabeth's Hospital in Northern Kentucky, the University of Kentucky Athletics Program and UK HealthCare.
In addition to the auction, the more than 1,500 attendees at the breakfast were served a variety of Kentucky Proud food as they listened to speeches from some of Kentucky's top officials, including Governor Matt Bevin, Kentucky Agriculture Commissioner Ryan Quarles, and Louisville Mayor Greg Fischer. Miss Kentucky 2019, Alex Francke, displayed the award-winning ham for breakfast attendees.
KFB President Mark Haney emceed the event and noted, during his remarks, KFB's Centennial Celebration and the advocacy efforts that have been made by the organization throughout its history.
"Kentucky's rural communities have served as a foundation for so many of us in this room today supporting the values we live by and pass on to future generations," he said. "Kentucky Farm Bureau serves as an advocate for those communities and those values. That's been our hallmark for 100 years."
Haney also pointed out the many people and organizations that come together to not only help the Ham Breakfast be successful but the entire State Fair.
"I've often said how important partnerships are when it comes to achieving common goals and being successful. The State Fair and all the events we are a part of serve as prime examples of that," he said. "I am so thankful for the many people who come together to make our annual Ham Breakfast a premier event, including KFB staff and leadership, the Kentucky State Fair Board, all the staff at the Kentucky Expo Center, the capacity crowds that come each and every year, our legislative and government leaders, and our friends in law enforcement. You all truly make the State Fair and KFB Day a success and your contributions do not go unnoticed."
Since 1964, the Kentucky Farm Bureau Country Ham Breakfast has raised nearly $14 million for nonprofit organizations and charities.
Pride of the Counties
For more than 35 consecutive years, KFB Insurance has sponsored the Pride of the Counties area at the Kentucky State Fair. This area of uniquely Kentucky exhibits occupies 27,000 square feet in the South Wing of the Expo Center where exhibits provide county tourism representatives across the state with an ideal venue to promote business, celebrate heritage, display treasures, and speak to new audiences.
Each year, one of the county exhibits is chosen to be "Best Exhibit" and presented an award from KFB leadership. This year's winner was Edmonson County.
"This is a long-standing tradition for our company's sponsorship of this exhibit space, and we commend the entire Edmonson County crew for their exceptional display," said KFB Insurance CEO and Executive Vice President John Sparrow.
Gospel Music Showcase
This year's Gospel Music Showcase featured 12 gospel music acts from across the state vying for the "Best in Show" award.
KFB has sponsored a Gospel Music Contest and has had a Gospel presence at the State Fair for over 70 years. This year a few significant changes were made, including a switch in venue location and starting time, to improve the experience for both the performer and the audience.
Top honors went to The Mater's Trio representing Bath County. They were also chosen as Best Variety Gospel act. Best Gospel Soloist honors went to Tiffany Porter-Kennedy, representing Carter County, and Best Gospel Quartet winners were The Noblemen, from Shelby County.
Championship Drive
This year marked the second for the Championship Drive, a showcase of more than 60 4-H and FFA exhibitors coming together to exhibit their animals for top State Fair honors. KFB serves as one of the Platinum Sponsors of the event.
KFB First Vice President Eddie Melton said the atmosphere created by the event is like none other he has seen at youth livestock shows.
"It's incredible to be a part of the excitement when the spotlight focuses on these young people and their animals," he said. "They work so hard all year long to get to this level and they learn so much in caring for their animals. It makes me proud to be a part of it and confident in the direction in which our next generation will take our industry."
CHAMPIONSHIP DRIVE WINNERS:
Grand Champion Steer: Addison Arnett, Montgomery Co. 4-H
Reserve Champion Steer: Blake Quiggins, Hart Co. FFA
3rd Overall Steer: Macey Shelton, Bourbon Co. FFA
4th Overall Steer: Addison Arnett, Montgomery Co. 4-H
5th Overall Steer: Macey Shelton, Bourbon Co. FFA
Kentucky Proud Champion: Elli Ramey, Pendleton Co. FFA
Kentucky Proud Res Champion: Colby Cooper, Fleming Co. 4-H
Grand Champion Hog: Brayden Lancaster, Meade Co. 4-H
Reserve Champion Hog: Blair Cupps, Boone Co. 4-H
3rd Overall Hog: Kasey Johnson, Mason Co. FFA
4th Overall Hog: Saulyer Logsdon, McLean Co. FFA
5th Overall Hog: Kirstin Ayer, McLean Co. FFA
Kentucky Proud Champion: Saulyer Logsdon, McLean Co. FFA
Kentucky Proud Res Champion: Kasey Johnson, Mason Co. FFA
Grand Champion Lamb: Blake Quiggins, Hart Co. FFA
Reserve Champion Lamb: Clayton Burks, Breckenridge Co. FFA
3rd Overall Lamb: Carlee Church, Mason Co. 4-H
4th Overall Lamb: Mason Miracle, Bourbon Co. FFA
5th Overall Lamb: Macey Shelton, Bourbon Co. FFA
Kentucky Proud Champion: Mason Miracle, Bourbon Co. FFA
Kentucky Proud Res Champion: Wyatt Acey, Boyle Co. 4-H
Grand Champion Goat: Allison Fink, Clark Co. FFA
Reserve Champion Goat: Avery Holman, Boyle Co. 4-H
3rd Overall Goat: Madison Goecke, Bracken Co. FFA
4th Overall Goat: Phoenix Stacy, Greenup Co. 4-H
5th Overall Goat: Madison Goecke, Bracken Co. FFA
Kentucky Proud Champion: Avery Holman, Boyle Co. 4-H
Kentucky Proud Res Champion: Chance Flach, Mercer Co. FFA