Kentucky Farm Bureau Announces "Generation Bridge Core Leadership Committee" during 101st Annual Meeting
Posted on Dec 4, 2020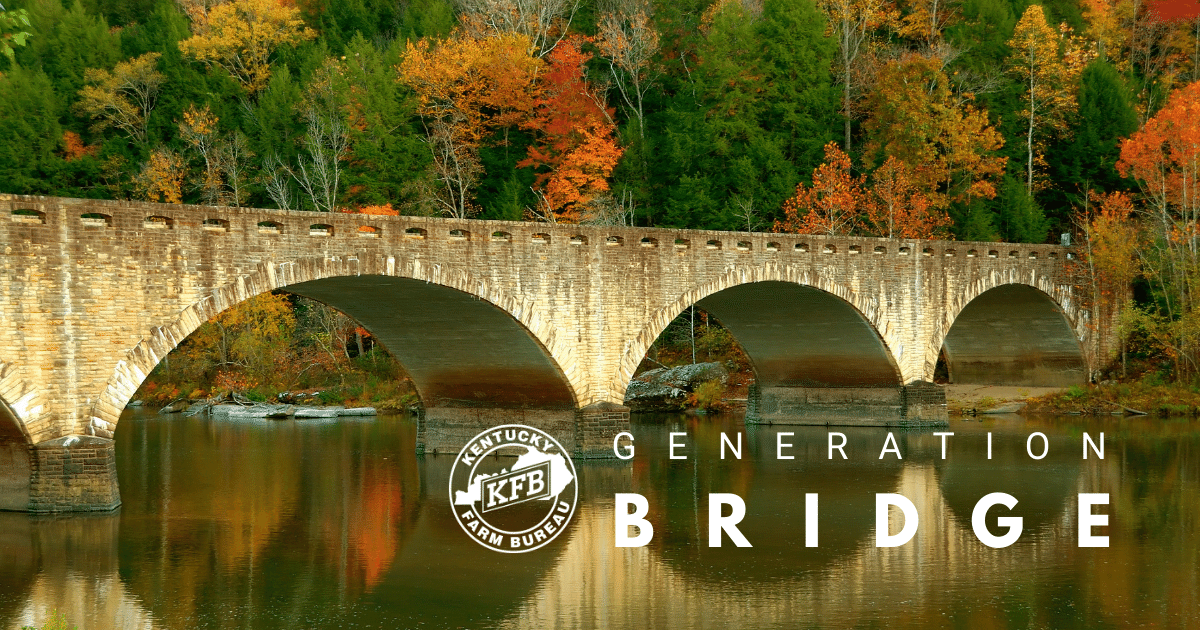 Louisville, KY (December 4, 2020) – During Thursday's session of Kentucky Farm Bureau's 101st annual meeting KFB President Mark Haney delivered his remarks and KFB leadership announced an exciting new initiative -- Generation Bridge.
Mr. Haney's year-in-review remarks, titled "Still Farming," highlighted the work of Kentucky farmers during the global pandemic and talked about the organization's priorities. His full remarks can be viewed here.
The session also brought excitement around Generation Bridge, a result of KFB's Vision 100 Committee, formed to cultivate new and rising leaders between the ages of 36-49 through opportunities and grassroots involvement in KFB and throughout the agricultural industry. BRIDGE is an acronym highlighting the goals for the committee: Build Relationships, Innovation, and Dynamic Growth through Engagement.
KFB Second Vice President Sharon Furches and co-chair of the Vision 100 Committee said despite all the uncertainty that KFB members have faced this year, the need to look toward the future is paramount in ensuring the success of the organization.
"The Vision 100 Committee recognized a gap in available programs, especially following the Young Farmer program for both men and women," Furches said. "There's no question that we need to keep farmers engaged in every stage of their career, so Generation Bridge is really going to hone in on the skills of this age group, giving them outlets to use those skills to advocate and lead Kentucky agriculture as a whole."
Read more here about KFB's Vision 100 Committee and how Generation Bridge came to be.
A core leadership committee for Generation Bridge has been selected from a pool of applicants from across the state. The inaugural members of the new Generation Bridge Core Leadership Committee are:
Byron Amburgey, Montgomery County
Nathan Boggs, Harlan County
Scott Bouldin, Warren County
Josh Brown, Lincoln County
Jed Clark, Graves County
Amanda Gajdzik, Shelby County
Sarah Beth Guffey, Clinton County
Rob McClanahan, Pendleton County
Melissa Miller, Hardin County
Brad Schwenke, Boone County
Donevon Storm, Laurel County
Jennifer Tucker, Warren County
Tammy White, Union County
Kyle Kelly, Director of Local Affairs, is the KFB staff person helping to spearhead the Generation Bridge initiative.
This group will begin meeting in 2021 to set a strategic course for the Generation Bridge initiative, elect leadership, and plan program activities.