Kentucky Department of Agriculture awarded more than $300,000 for specialty crop projects
Posted on Oct 6, 2014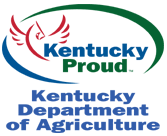 Frankfort, KY (October 6, 2014) — The
Kentucky Department of Agriculture
was awarded a
Specialty Crop Block Grant
for $302,620.11 from the
U.S. Department of Agriculture
to work with the
University of Kentucky
and other organizations and commodity groups to strengthen markets for specialty crops in Kentucky.
"This funding will greatly enhance our efforts to help Kentucky's specialty crop businesses grow and prosper," Agriculture Commissioner James Comer said. "This investment in our specialty crop industry will boost Kentucky's rural economy."
A USDA news release announcing the grants said the Kentucky projects include: · Partner with the University of Kentucky to increase demand for Kentucky fruits, vegetables, nuts, and herbs by developing, disseminating, and demonstrating new recipes featuring local seasonal specialty crops to market Kentucky foods as part of a healthy lifestyle. · Partner with Local Food for Everyone to promote and secure sales for local specialty crops producers by creating a promotional campaign targeting low-income communities and a program to connect local specialty crop producers with local schools and other consumers. · Partner with the Kentucky Alliance of Boys & Girls Clubs to increase learning about specialty crops in areas of Kentucky where they are not readily accessible and enhance youths' basic food knowledge about what produce is available by conducting field trips to local agriculture businesses and hosting guest speakers, integrating specialty crop activities into existing curricula, and facilitating hands-on gardening activities. · Partner with New Roots to increase knowledge and consumption of Kentucky specialty crops by families in Louisville's underinvested neighborhoods through direct marketing and leadership development. · Partner with the Kentucky Nursery and Landscape Association to increase the knowledge of growers, retail operators, landscapers, and others involved in the green industry in Kentucky on topics such as nursery and greenhouse production, business management, disease & pest management, garden center/landscape maintenance, landscape installation and design, sustainability in the green industry, business management, and personnel training. · Partner with the University of Kentucky to increase specialty crop producer awareness and utilization of marketing programs, technical resources, and risk management resources by providing producers with trainings, workshops, and webinars. · Partner with the University of Kentucky to identify the production potential of high-quality apple cultivars currently grown in Kentucky by measuring sugar accumulation, Titratable Acidity, and juice pH to determine usefulness for the production of hard apple cider. · Partner with the Kentucky Blueberry Growers Association to introduce new blueberry value-added products into public schools and retail markets by increasing the capability of local blueberry producers to sort, wash, and dry blueberries.
The projects were selected through a competitive process prior to being awarded Specialty Crop Block Grant funds.
The Kentucky Department of Agriculture works with numerous public and private partners to promote specialty crops and other Kentucky food products and help Kentucky producers find markets for their products.
USDA awarded a total of $66 million in Specialty Crop Block Grants to all 50 states, the District of Columbia, and four U.S. territories. The grants were authorized through the 2014 Farm Bill.
Specialty crops include fruits, vegetables, tree nuts, horticulture and nursery crops. The USDA news release said U.S. sales of specialty crops total nearly $65 billion per year.
For more information about the Specialty Crop Block Grant awards, go to http://www.ams.usda.gov/AMSv1.0/.
Article source: Kentucky Department of Agriculture press release
Tagged Post Topics Include: Apple, Blueberry, Cider, Commodity, Crops, Farm Bill, Fruits, Gardening, Greenhouse, Herbs, Horticulture, KDA, Kentucky Alliance of Boys & Girls Clubs, Kentucky Blueberry Growers Association, Kentucky Department of Agriculture, Kentucky Nursery and Landscape Association, Local Food for Everyone, Louisville, New Roots, Nursery, Nuts, Recipes, Risk Management, Rural Economy, Specialty Crop Block Grant, Specialty Crops, US Department of Agriculture, UK, University of Kentucky, USDA, Vegetables