KDA marketing chief tells panel Kentucky Proud members benefit from program improvements
Posted on Jul 2, 2015


Frankfort, Ky. – New program launches, alterations to existing programs, and a stronger emphasis on farm impact are paying off for

Kentucky Proud

members, the

Kentucky Department of Agriculture

's Kristen Branscum told a legislative panel on Wednesday.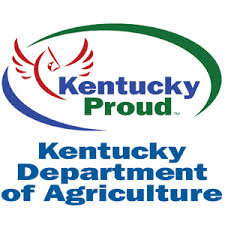 "Everything we do at Kentucky Proud, we want to make sure that puts more dollars into our farm families' pockets," Branscum told the Tobacco Settlement Agreement Fund Oversight Committee. "That's what we look at and what we think about when we make any decision about how we spend these funds."
Branscum is executive director of the department's marketing office, which administers Kentucky Proud. The program is funded by the Kentucky Agricultural Development Fund.
Among the highlights of Branscum's presentation:
- Awards from the Kentucky Proud Promotional Program, which were matched by recipients, resulted in $311 million in farmgate impact. The Kentucky Proud Promotional Program is a 50-50 cost-share program that provides funding for marketing, advertising, signage, food demonstrations, trade show participation, and other promotional expenses.
- The Restaurant Rewards program has been expanded to include schools, corporate cafeterias, hospitals, and any other concern with "large purchasing power," Branscum said. Last year, more than 400 Restaurant Rewards recipients made an estimated 2,000 purchases totaling between $2.75-$3 million.
- Kentucky Proud and Kroger launched a partnership last fall in which the nation's largest retailer is selling 125 Kentucky Proud products from 34 vendors in 88 Kentucky supermarkets. The initial order totaled $350,000, a record for a single Kentucky Proud transaction.
- In February, the department brought 41 producers interested in making the jump to retail with Kentucky-based distributors for a meeting dubbed the "Fish Tank" where the retailers could assess the producers' businesses and give them advice for getting their products on store shelves.
- Kentucky Proud Popcorn is sold in Kroger stores and at home games of the Florence, Lexington, and Louisville minor league baseball teams. The western Kentucky farmers who grow the popcorn receive bonuses from the processor, Preferred Popcorn of Nebraska.
- Udderly Kentucky milk, which started out i n Walmart stores, now is purchased by universities, Boone Creek Creamery, Orange Leaf Frozen Yogurt, University of Kentucky Dining, restaurants, and a church. Udderly Kentucky is the brand for 100 percent Kentucky Proud milk. Participating dairy farmers receive a premium for every gallon of Udderly Kentucky milk sold.
- Homegrown By Heroes, a brand that designates agricultural products produced by a Kentucky veteran of the U.S. Armed Forces, had 81 members as of March 1. The national version of the brand has expanded to more than 40 states.
- The Kentucky Proud Farm to Campus Program now has 10 member colleges and universities. Farm to Campus helps institutions of higher learning connect with local food producers to put fresh products in campus cafeterias and shelf-stable products in campus book stores.
- Branscum said the department works with Kentucky state parks to help them locate and buy local foods. She said lack of funding sometimes makes it difficult for parks to buy local foods. Roger Thomas, executive director of the Governor's Office of Agricultural Policy, said the state Justice Cabinet added to its procurement contract that a percentage of food procurements must be local food.
Branscum expressed thanks to the committee and the Governor's Office of Agricultural Policy for their support of Kentucky Proud.
"I just wanted to take a brief second to commend the Department of Agriculture under the leadership of Commissioner Comer and what you all have been able to do taking that department from worst to first around the nation," said state Rep. Jonathan Shell, R-Lancaster. "You all have been top-notch, 100 percent for the farmers the entire time."
"I can't thank you enough, you and the staff and Commissioner Comer, for what you've done and what you've taken Kentucky Proud to," said state Sen. Dennis Parrett, D-Elizabethtown.
Kentucky Proud is the official state program for agricultural products grown, raised, processed, or manufactured in Kentucky. Nearly 4,000 farmers, retailers, processors, restaurants, farmers' markets, colleges and universities, school districts, Kentucky state parks, and Kentucky Farm Bureau certified roadside markets are members of Kentucky Proud.
Also at the committee meeting, GOAP staff testified on the Kentucky Agricultural Development Board's award of up to $500,000 in state and county grants and a loan to Atalo Holdings of Clark County for an industrial hemp seed processing plant. Joel Neaveill, chief of staff for the GOAP, said 33 farmers will grow a planned 545 acres in connection with the Atalo project.
"We are ahead of the game" on industrial hemp, Branscum said. "Everybody is looking to Kentucky and trying to catch up with Kentucky." The Atalo project, she said, "pushes us even further ahead of everyone else as far as where we are with industrial hemp production."
Branscum said a shipment of hemp seeds could not be completed because of a foreign exporter's failure to comply with a federal requirement. She said the department may schedule enrollment for pilot hemp projects earlier in the fall to allow more time to obtain seeds in the future.
Agriculture Commissioner James Comer has championed the cause of legalizing industrial hemp production since he took office in 2012. Commissioner Comer revived the Kentucky Industrial Hemp Commission and in 2013 led the charge for state legislation that authorizes the department to create a regulatory framework for industrial hemp production in Kentucky. The 2014 farm bill authorizes industrial hemp pilot projects under the jurisdiction of state departments of agriculture in states where industrial hemp production is legal.
Source: Kentucky Department of Agriculture press release
Tagged Post Topics Include: 2014 Farm Bill, Agriculture Commissioner, Atalo Holdings, Benefit, Boone Creek Creamery, Comer, Commissioner Comer, Commissioner of Agriculture, Dennis Parrett, Farm Impact, Fisk Tank, Florence, Frankfort, GOAP, Governor's Office of Agricultural Policy, Hemp Seed, Homegrown by Heroes, Industrial Hemp Production, James R Comer, Joel Neaveill, Jonathan Shell, Justice Cabinet, KDA, Kentucky, Kentucky Agricultural Development Board, Kentucky Agricultural Development Fund, Kentucky Department of Agriculture, Kentucky Farm Bureau, Kentucky Industrial Hemp Commission, Kentucky Proud, Kentucky Proud Farm to Campus Program, Kentucky Proud Popcorn, Kentucky Proud Promotional Program, Kentucky State Parks, KFB, Kristen Branscum, Kroger, KYFB, Legislative Panel, Lexington, Louisville, Members, Milk, Minor League Baseball, Orange Leaf Frozen Yogurt, Partnership, Preferred Popcorn of Nebraska, Programs, Restaurant Rewards Recipients, Roadside Markets, Roger Thomas, The Restaurant Rewards Program, Tobacco Settlement Agreement Fund Oversight Committee, US Armed Forces, Udderly Kentucky, Universities, University of Kentucky Dining, Veterans, WalMart, Western Kentucky Farmers