Johnson County Farm Family Making the Best of Available Resources
Posted on Nov 7, 2019


The Fergusons saw an opportunity in a place others might have missed

Getting to Flat Gap, Kentucky is not the easiest of trips, but well worth it once you arrive. The small eastern Kentucky town is located in the heart of the mountain region of Johnson County as well as in the state's rich coal mining country.

Tyler Ferguson, Kentucky Farm Bureau's 2019 Young Farmer Committee Chair, and wife Andrea had a dream of owning their own farm in an area they called home. But large parcels of farmland are generally not the rule of thumb in this mountainous terrain.

In recognizing that fact, Ferguson discovered land that had previously been used for surface mining purposes, and saw an opportunity in a place many others might have overlooked.

"We have about 100 acres of farmland that is actually reclaimed strip mine land where we currently run 40 cows," he said. "We bought the land in 2008 and started clearing it to build a house and barn, and to get the pastures in shape."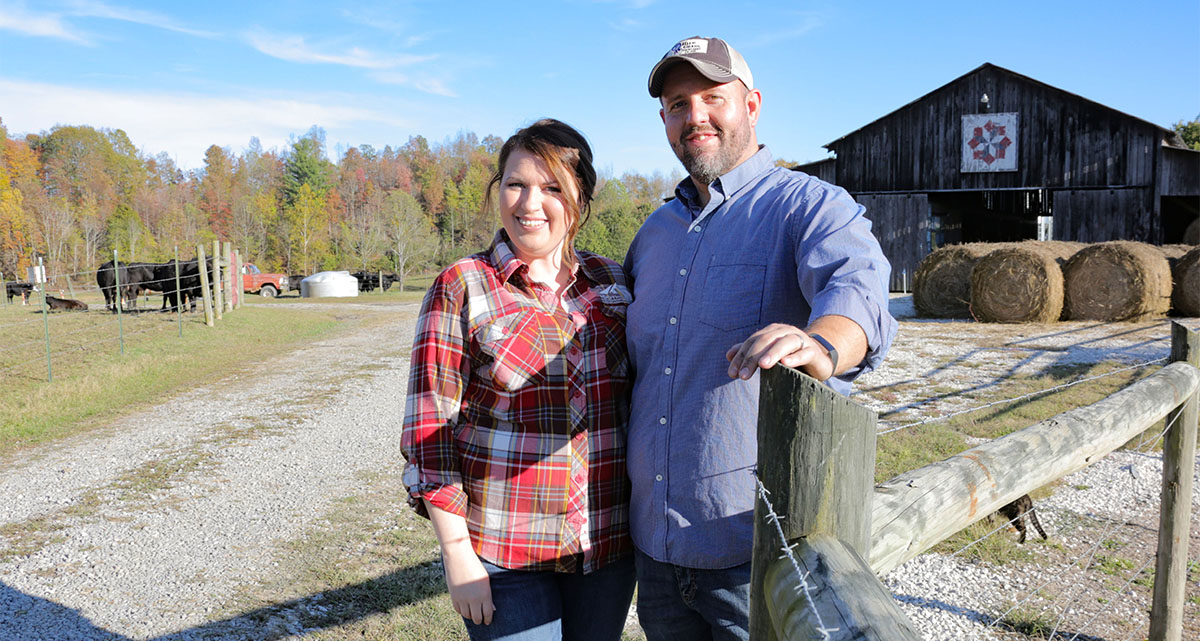 Ferguson also utilizes his grandmother's nearby farm to cut hay which is on another section of the same reclaimed strip mine.
"We grew up in this area and descent, available land is scarce, so any flat land with grass, there was usually someone already grazing cows on it," he said.
But Ferguson, indeed found some of the coveted flat land in his area that had once been home to a surface mine.
The land that now belongs to the Fergusons is referred to as "pre-law" land or land that did not fall under the regulation of the Surface Mining Control and Reclamation Act of 1977, which required coal companies to return strip mine land to pre-mining condition once surface mining had stopped.
Because the mining activities finished on this land before the law passed, it was left flat in an otherwise mountainous area, a fact that has worked well for re-growing the pastures, and has proven conducive for cattle production.
"People don't often see how useful this land is after mining, once the pastures come back. When we bought the farm, it was just brush and deer trails, so we began to work with it, clear a spot for the house and turn it into our dream farm," he said.
Turning coal land into cattle land
But Ferguson had to go through some growing pains before the farm became a dream.
"I started with five cows and an electric fence and I thought I was in the cattle business," he said, with a laugh.
Ferguson soon found out there was more to that cattle business than having a few cows and a fence. So, he sold everything and started again, this time with more of a plan.
"It took me a few months to see that I had to re-group, so I sold everything I had, then started building a barn, putting up fences, dividing up pastures, and doing things the right way," he said.
This planned-method proved to be more expensive and slower than Ferguson would have liked, but it has turned out to be best for this young farmer.
"We've grown slowly but we have learned to get advice from others who have done the same thing," he said.
In doing so, Ferguson took advantage of learning resources such as local extension, Farm Bureau's Young Farmer program, the local cattlemen's association and university services, all of which have helped make the farm successful. He also lives near his parents who are always willing to help around the farm.
And while he grew up working on his grandparent's farm and for other local farmers, Ferguson considers himself a first-generation farmer.
"It's not like I had never seen a farm, but we didn't inherit any land or equipment and everything we have done here, we have done from scratch," he said.
Ferguson admits that using the resources around oneself is not always the most convenient thing to do. For example, one farm he leases in order to cut hay is 30 miles away and offers some challenges in getting from one place to another.
"It's not the most efficient way to get the hay that we need, but it is what I have available," he said. "It's what I can get that no one else has."
Using what is available to him has become a way of farming life for Ferguson, but it has led to the dream farm he owns today.
"This farm is a perfect example of taking advantage of my available resources. This land had been dormant since the 70s and I had passed it by for years without taking a look," he said. "But once I started an earnest search for farmland, I walked through it one day and saw the potential of what this land could be."
Ferguson pointed out that a "turn-key" farm comes at a premium price but because he has moved slowly as to cash-flow the operation, he has stayed away from farm debt and built a place that will live on for generations.
"I found ground that had been passed by for 30 years, but when we looked at this from a long-term perspective, we saw the potential," he said. "We take a lot of pride in this farm and we just couldn't be in a better place at a better time. And if you look hard enough, you may just find your dream farm is right outside your back door."
Incidentally, the Ferguson's named the farm, "Blessed Ridge Farm." A fitting name for a beautiful place that almost went unnoticed.