Homegrown by heroes goes national: Kentucky brand will help vets across the U.S.
Posted on Nov 11, 2013


LOUISVILLE, Ky. — A Kentucky initiative to identify farm products produced by veterans will become a national brand, Kentucky Agriculture Commissioner James Comer announced on Veterans Day at the

Frazier History Museum

in Louisville.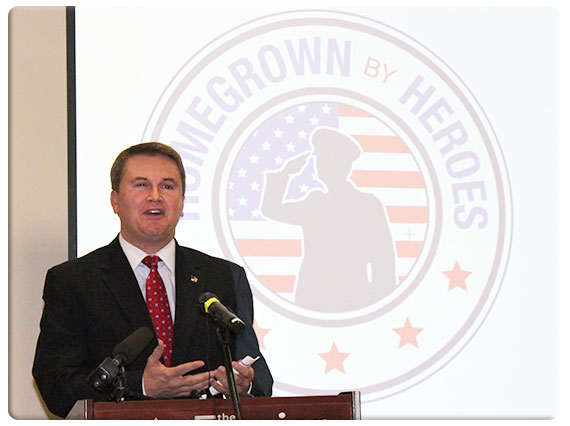 The Farmer Veteran Coalition will administer the Homegrown by Heroes program on the national level. At Monday's announcement, the Farm Credit System announced a $250,000 commitment to fund the national program. U.S. Sen. Mitch McConnell, U.S. Reps John Yarmuth and Andy Barr, and Louisville Mayor Greg Fischer all spoke in support of the program.
"From the day we started Homegrown by Heroes, it was my intention to take it national so it can benefit veterans from every state," Commissioner Comer said. "Today, I am pleased to announce that intention is becoming a reality with the help of our generous partners. This is something we in agriculture can do to show our respect and appreciation for our military veteran farmers across the United States."
The Farmer Veteran Coalition, based in Davis, Calif., helps veterans develop careers in agriculture through collaborations of the agricultural and military communities.
"The veterans we work with have served their country twice — once by defending it, and now by feeding it," said Michael O'Gorman, executive director of the Farmer Veteran Coalition. "When Kentucky became the first state to honor them for that service in the marketplace, we were anxious to see every farmer veteran in America get that same recognition."
"Many of the men and women who serve proudly in our military come from America's rural areas and small towns," said Everett M. Dobrinski, board chairman for CoBank and director for the Farm Credit Council board. "The Farm Credit System has a mission to serve rural America. By supporting the expansion of the Homegrown by Heroes effort, we hope to increase economic opportunity for those veterans who choose to return to agriculture and, in doing so, help our rural communities thrive."
Farm Credit's contribution to the Farmer Veteran Coalition's Homegrown by Heroes program was made possible by the generous support of Agribank of St. Paul, Minn.; AgFirst of Columbia, S.C.; CoBank of Denver, Colo.; and Farm Credit Bank of Texas, based in Austin.
"I have the honor today to be the proudest Kentucky Proud farmer," said farmer/veteran Michael Lewis of Berea, director of Growing Warriors, which helps veterans get started in farming. "The Kentucky Department of Agriculture has, and will continue to, create opportunities for family farmers in Kentucky. Now, with this partnership, that opportunity is going to cross borders and create economic opportunities for farmer/veterans in other states, and for that, I am exceedingly grateful."
Commissioner Comer launched Homegrown by Heroes in January as a brand that identifies agricultural products produced by Kentucky military veterans, providing an incentive for consumers to buy those products and for retailers to stock them on their store shelves.
"I've never seen anybody clean up a mess and get on offense and come up with new and effective things to do faster than Commissioner Comer," Sen. McConnell said. "I'm here basically to salute you, Commissioner, for the great job that you are doing and thank all of our veterans, particularly those who are going into agriculture, for all you do."
"With this partnership, we are ensuring that Homegrown by Heroes extends beyond the borders of Kentucky and beyond my time as agriculture commissioner," Comer said. "Farmer/veterans from Maine to California, and from this day forward, will be able to use this brand to tell consumers that someone who served in defense of our country made that product. And consumers can say 'Thank you for your service' by buying that product and helping that veteran make a living on the farm."
Source: Press release courtesy of Kentucky Department of Agriculture
Tagged Post Topics Include: AgFirst, Agribank, Andy Barr, Berea, CoBank, Commissioner of Agriculture, Everett M Dobrinski, Farm Credit Bank of Texas, Farmer Veteran Coalition, Frazier Museum, Greg Fischer, Growing Warriors, Homegrown by Heroes, James Comer, John Yarmuth, Kentucky Department of Agriculture, Kentucky Proud, Louisville, Michael Lewis, Michael O'Gorman, Mitch McConnell, Veterans day