Halcomb's Knob is more than a B&B
Posted on Jul 3, 2014


Traveling down Ky. 954 in Garrard County is best done at a Sunday-driver's pace. Passing through the tiny town of Cartersville, a sign says "congested area," referring to several pick-up trucks pulling in and out of Cartersville Grocery store, presumably getting gas from the old-time working pumps or a sandwich and soft drink.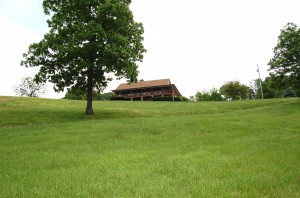 Pass the sign to Maywoods and stick to 954, veering left, and the scenery remains a rural mix of pastures, hills, tall hills, creek, ponds and various livestock grazing. When you find White Lick Road, you're well on your way to Halcomb's Knob.
The Knob is actually on Wallacetown Road, with a gated entrance flanked by a welcoming "Halcomb's Knob BED & BREAKFAST" sheltered sign on one side and a sign noting its participation in KFB's Roadside Markets program. The B&B sits atop a hill above some 31 acres of fields and forest.
Owner Deborah Messenger meets me at the side door. She asks me not to take photos of the kitchen from a certain angle; she's in the midst of a great bake-off for an event which requires most of her dry goods to be on display. It doesn't usually look like this, she says.
We sit in the front room, the house quiet with only birds and a brewing wind heard outside.
I understand quickly as we begin to talk that this enterprise is dear to her. An environmentalist with a college degree in Forestry, she has a passion for the land and fore growing things. She formerly worked for an environmental consulting firm, assisting in biological studies for the government involving endangered species
She and her mother bought Halcomb's Knob in 2004 and began a help exchange -- those who wanted to work could get room and board, whether they were traveling through or simply wanted to experience what it's like to run a farm. She's always envisioned an environmental learning center here, she says.
"It's an LLC - I'm the owner and operator, but I only own the farm on paper. Really, it's God that owns the farm, I'm simply the caretaker of it," Deborah says.
Her mom passed in 2011, and Deborah had already begun planning for the bed and breakfast operation. It was a natural transition to switch to providing a place for people to relax and rest, plus provide some income for the farm. She has five men who help her out and an intern staying for the summer.
April through October is the busiest of her seasons, and things pick back up for Thanksgiving and Christmas. There are three guest rooms. Deborah lives on the other side of the house in private quarters, and has a full basement she often lends to cyclists pedaling through the area who need a dry space and don't desire to camp in the fields. She has a fondness for these types of adventurers; she's been known to bake them goodies and do their laundry when they are around.
The house is lined with flower beds in certain areas; not too much and just enough to make guests want to wander around. Deborah mentions 60 varieties of plants and flowers. She also grows peaches, pears, apples, cherries, raspberries, black raspberries, strawberries, red and green grapes, to name a few. These go into jams, muffins, pies, breads. She grows herbs, lettuce, rhubarb, beans, radishes, peas, cucumbers, zucchini, winter squash and other veggies. All of these are used to sell alone or in the baked goods in the Road Side Market, a program she firmly believes in.
"People can come to me instead of me going to them, to get fresh produce. I can literally go up and pick what they need. It reduces the cost of overhead, no transportation cost for me, less waste and the baked goods are always fresh."
Deborah says what she sells is only what she can pick or make from the farm, which has become increasingly important to her as she's dealt with the many ways certain foods affect her illness. Eating locally grown, clean and healthy food can improve anyone's life, she says.
We walk to the tobacco barn at the bottom of the hill, which she said comfortably holds up to 75 for dinners and events. There was a destination wedding here not too long ago of a couple from Kansas who got married in the meadow. A family member built the platform they stood on and they had the area looking just beautiful, she says. An overhang from the barn provides shelter and there are electrical outlets. The woodshed provides the campfire supper area, which they have several times over the summer, usually offering hot soup or stew with biscuits and cornbread, or campfire pizza made in a cast iron skillet. If you've not had campfire pizza, Deborah pokes, you don't know what you're missing.
The barn and woodshed are also used for the many workshops the Knob offers, ranging from starting your own garden or chicken coop, to an in-depth two-day survival skills class where participants only eat what they find and cook, and sleep in the shelter they make.
These workshops are important, she says. So many want to learn how to grow or raise their own food in this economy, and it's important to know how to do these things other than what you can learn from reading a book. And the survival skills offering is something everyone should do at least once, she says.
"It's different when you have an instructor who has already mastered what it is you want to learn."
Walking back up toward the house, Deborah says she has cattle here around August, totally grass fed. Her philosophy is "Why raise grass fed beef if you spend the last three weeks giving them corn?"
The road up the hill is laced with tall grasses; she doesn't bush hog until end of July to allow the ground birds to continue their nesting. Everything on the farm is done according to nature's schedule, she says. As we walk, she talks about the nesting habits of the bluebirds, how the bats of the area keep the bugs from pestering her guests. "Did you know that one bat can eat up to 10,000 mosquitoes?" she asks. This is precisely why she has bat houses -- her guests can sit comfortably, with minimal pestering from mosquitoes and such, all summer long on her wrap-around porch.
The view from the deck is extensive. Deborah says on the Fourth of July, there are four different fireworks shows on display and easily seen from the porch: Danville, Lancaster, Richmond and Berea.
Along with her environmental prowess, Deborah has a knack for baking. She says she started baking two years ago to help make ends meet. Her homemade rosemary, garlic and sweet red pepper bread fills the kitchen with an unbelievable aroma. She's most known for her cinnamon rolls. "I'm told they're out of this world," she said.
Some guests who stay travel six miles into Berea, Deborah says, and take advantage of fine dining at Boone Tavern or the many casual eateries. Some will go hiking at the Pinnacles or Anglin Falls. There are farm wineries in the area plus plenty of places to hike.
"Whatever they do, I just hope they feel the way I intend them to feel. I want this to be their home away from home," said Deborah.
Info:
(859) 925-9936
Tagged Post Topics Include: Anglin Falls, Bed and Breakfast, Berea, Boone Tavern, Cartersville, Cartersville Grocery, Danville, Deborah Messenger, Events, Garrard County, Halcomb's Knob, Lancaster, Pinnacles, Produce, RIchmond